¡Hola comunidad Hive!
Hello Hive Community!
---
Si alguna vez haz dicho
"No puedo usar pestañas postizas, ¡Es imposible!"
Pues esta publicación es para ti.
If you've ever said
"I can't wear false eyelashes, it's impossible!"
Then this publication is for you.
---
Las pestañas postizas no siempre forman parte fundamental en un look de maquillaje, pero si son muy bonitas. A mi me encanta y las uso todo el tiempo, incluso cuando voy a salir a comprar cualquier cosa, no me suelen incomodar ni me pesan tampoco, y es que estoy muy acostumbradas a utilizarlas que es muy raro que en algún maquillaje no las lleve puestas. Unas buenas pestañas le dan vida a cualquier look, así que es bueno saber colocarlas aunque no las vayas a utilizar todo el tiempo.
False eyelashes are not always a fundamental part of a makeup look, but they are very beautiful. I love them and I use them all the time, even when I go out to buy anything, they don't usually bother me or weigh me down either, and I'm very used to using them and it's very rare that in some makeup I don't wear them. Good eyelashes bring life to any look, so it's good to know how to put them on even if you're not going to use them all the time.
---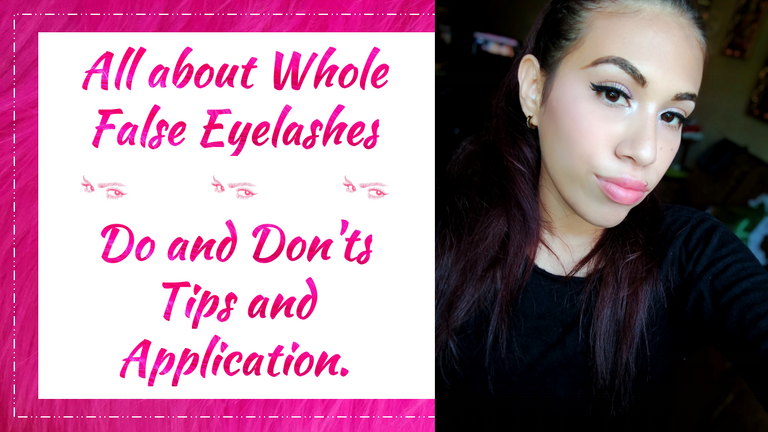 ---
El motivo que me llevo a realizar esta publicación viene de las bellas @josehany y @ambarvegas. Gracias chicas, son unos soles lindos y bonitos 🌟💕 Así que, hoy hablaremos de algunos Tips para que no se vean unas pestañas plásticas, también como colocarlas correctamente y finalmente que hacer y que NO hacer.
The reason that led me to make this publication comes from the beautiful @josehany and @ambarvegas. Thanks girls, they are beautiful and pretty suns 🌟💕 So, today we will talk about some tips to avoid looking at plastic eyelashes, also how to place them correctly and finally what to do and what NOT to do.
---


---
No necesitas de pestañas tan costosas para que tu look se vea divino. Sí, es cierto que son de mejor material, ya sean de Mink o Faux Mink. Considero que si eres principiante es mejor comenzar por pestañas económicas para ir practicando, en mi experiencia son muy buenas y las utilizo casi siempre. Y las que son un poco más costosas son muy buenas igualmente, incluso hay estilos mucho más bonitos.
You don't need expensive eyelashes to make your look look divine. Yes, it's true that they are made of better material, whether they are Mink or Faux Mink. I think that if you are a beginner it is better to start with cheap eyelashes to practice. In my experience they are very good and I use them almost always. And those that are a little more expensive are very good anyway, there are even much nicer styles.
---
---
Si bien son muy económicas pueden llegar a durarte unos cuantos meses, si las cuidas muy bien, limpiándolas con cuidado y guardándolas en su estuche o en un lugar donde no se aplasten.
En mi experiencia: Pueden llegar a durarme 3 o 4 meses, ya que me maquillo casi a diario y soy un poquito desastrosa.
Even though they're very economical, they can last a few months if you take good care of them, cleaning them carefully and storing them in their case or in a place where they won't be crushed.
In my experience: They can last me 3 or 4 months, since I make up almost every day and I am a little disastrous.
---

---
Este estilo en particular es uno de mis favoritos, lo he recomprado ya 3 veces, así que aproveche que lo había adquirido hace algunos días para grabar este pequeño tutorial.
Como muestro en el "Gif", después de cortar la pestaña (Más adelante hablo de esto). Primero cepillo las pestañas con uno de los peines para cejas, separando los pelitos y despeinándolas, esta es la clave para que se vean menos falsas.
Luego si es necesario las rizo con una rizadora de pestañas, esto pueden hacerlo cuantas veces quieran, pero con cuidado para que no quede una marca y se vea falso.
This particular style is one of my favorites, I have already bought it 3 times, so I took advantage of that I had acquired it some days ago to record this little tutorial.
As I show in the "Gif", after cutting the tab (I will talk about this later). First I brush the eyelashes with one of the eyebrow combs, separating the hairs and combing them, this is the key to make them look less fake.
Then, if necessary, I curl them with an eyelash curler. You can do this as many times as you like, but be careful not to leave a mark and make them look fake.
---

---
Creo que esta es la mayor confusión que pueden tener algunas personas, así que lo voy a explicar lo más sencillo posible. Recalcando antes que debes tener una muy buena pega de pestañas, de lo contrario se te va a resultar muy complicado hacerlo.
Puedes usar dos técnicas para pegarlas, una es sosteniéndola con los dedos y la otra con pinzas para pestañas, si no tienes de estas entonces con pinzas para las cejas también funciona excelente.
Las pestañas se sostienen por el medio siempre y se empieza colocándola LO MÁS PEGADO a la linea de las pestañas naturales, comenzando en el medio, luego en la esquina interior y finalmente la esquina superior.
I think this is the biggest confusion some people can have, so I will explain it as simply as possible. Emphasizing before that you must have a very good eyelash glue, otherwise it will be very complicated to do so.
You can use two techniques to paste them, one is holding it with your fingers and the other with eyelash tweezers, if you don?t have these then with eyebrow tweezers also works excellent.
The eyelashes are always held in the middle and you start by placing it AS CLOSE as possible to the natural lash line, starting in the middle, then the inside corner and finally the top corner.
---

---
Siempre deben de aplicar mascara de pestañas, de lo contrario se vera una GRAN diferencia entre las sus pestañas reales y las falsas.

Cotar las pestañas dependiendo del largo de tu ojo. Siempre, siempre y siempre deben verificar si el largo de la pestaña corresponde al tamaño de sus ojos.

No pegar bien los extremos. Este es un Gran error, por aquí muestro en la foto un ejemplo claro de ello, se ve muy mal, cuando esto pase es importante despegar la pestaña y colocarla nuevamente, o si no es mucho entonces con mucho cuidado colocar un punto de pega en el sitio y pegarla nuevamente.
You should always apply mascara, otherwise you will see a BIG difference between your real and fake lashes.
Cut your lashes depending on the length of your eye. Always, always and always check if the length of your eyelashes corresponds to the size of your eyes.
Not sticking the ends together properly. This is a big mistake, here I show in the photo a clear example of this, it looks very bad, when this happens it is important to take off the eyelash and place it again, or if it is not much then very carefully place a glue point on the site and paste it again.
---
---
Colocar lápiz negro en la línea de agua superior. esto es mucho más importante que aplicar delineador liquido cuando se trata de pestañas postizas.

Pegar las pestañas muy por encima de las naturales. Otro gran error y el más común. Visualmente se nota muchísimo la diferencia y cuando esto ocurre normalmente suelen pesar mucho más las pestañas.

No limpiar adecuadamente las pestañas postizas. Al momento de quitarlas estas deben limpiarse con desmaquillante o en su defecto con alcohol, muy suavemente para que no se desprenda la banda que sostiene los cabellos de la pestaña.

No esperar que la pega de pestañas se prepare lo suficiente. Normalmente con las pegas para pestañas debe esperar de 30 segundos a 1 minuto para que s ponga un poco pegajosa y se puede adherir correctamente. De lo contrario si esta muy liquida la pestaña no se une y se va para todas partes.

This is much more important than applying liquid eyeliner when it comes to false lashes.
Glue the lashes well above the natural ones. Another big mistake and the most common. Visually the difference is very noticeable and when this happens normally the lashes tend to weigh much more.
Not properly clean the false lashes. When removing them, they must be cleaned with make-up remover or alcohol, very gently so that the band that holds the hair of the eyelash does not come off.
Do not wait for the eyelash glue to be prepared sufficiently. Normally with eyelash glues you should wait from 30 seconds to 1 minute for it to become a little bit sticky and adhere correctly. Otherwise, if it is too liquid, the eyelash will not stick and will go everywhere.
---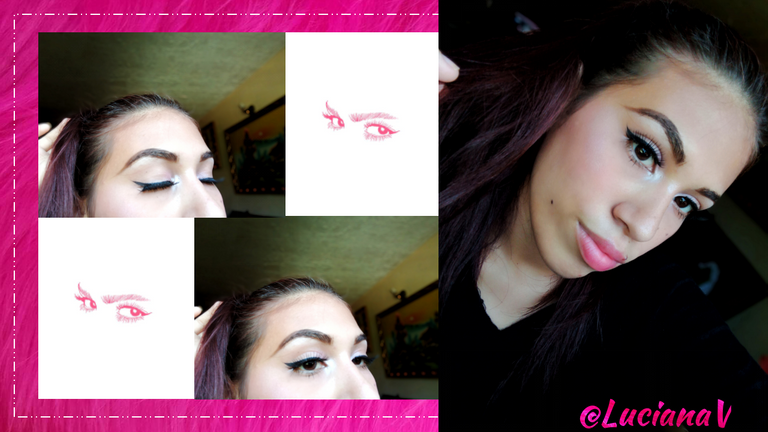 ---
Creo que pude abarcar varios puntos importantes con respecto a pestañas postizas enteras, con las individuales no he tenido mucha experiencia ni tampoco con las que vienen en grupos. Espero que esta "Biblia de pestañas postizas" les sea de ayuda para todas las chicas y chicos que deseen aplicarlas correctamente, ya sea para que se realicen un maquillaje artístico, un maquillaje más casual o simplemente como yo tengan ganas de ponerse pestañas postizas.
I think I was able to cover several important points regarding whole false lashes, with the individual ones I haven't had much experience nor with the ones that come in groups. I hope that this "false eyelash bible" will be helpful for all the girls and boys who want to apply them correctly, whether it is for artistic make-up, more casual make-up or just like me they feel like putting on false eyelashes.
¡Gracias por leer mi post! ¡Espero que les haya gustado!
Fotos de mi propiedad. Editadas y creadas por mi.
Cámara: Teléfono Xiaomi Redmi 9.
Thanks for reading my post! I hope you enjoyed it!
Pictures of my property. Edited and created by me.
Camera: CellPhone Xiaomi Redmi 9.