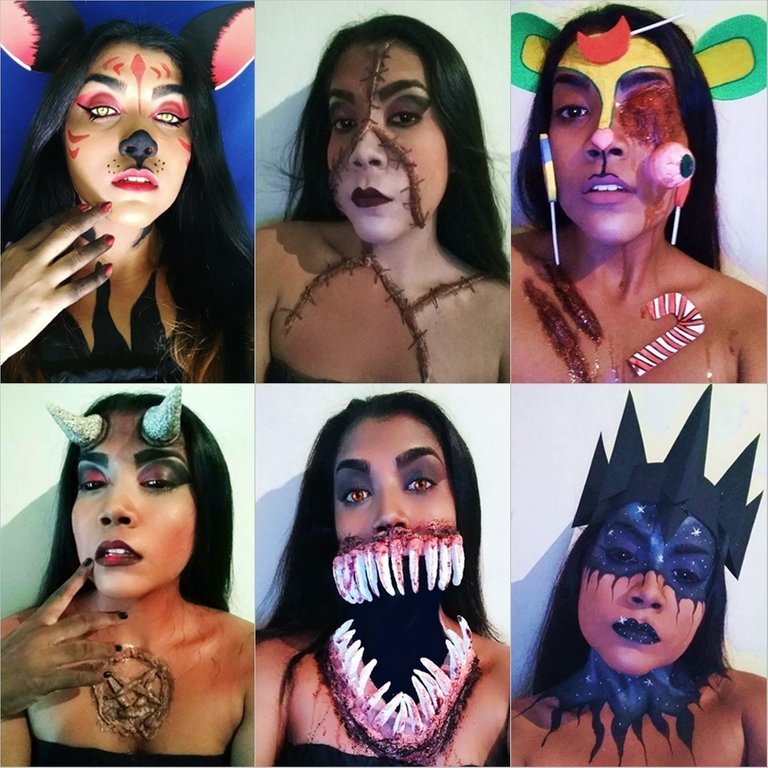 2020 me permitió descubrir un talento que no pensé que tendría, gracias a la comunidad #makeuppower quienes con sus innumerables retos nos motivan a explotar nuestro lado creativo y expresarlo con maquillaje, cuando inicié en la comunidad estaba un poco nerviosa, todas las muestras de talento y amor al maquillaje me intimidaron, pero mis ganas por probar algo que para mi era nuevo seguían latentes, en cada caracterización me exigía más y siempre agregando un toque personal al dar a mis creaciones un tinte oscuro y misterioso, por ello antes de mostrar nuevos maquillajes quiero realizar un recuento de las creaciones que más disfrute realizar, cabe mencionar que para este post tomé como inspiración la publicación de @tefyart los invito a revisar su perfil se asombrarán con el talento de esta chica.
2020 allowed me to discover a talent that I didn't think I would have, thanks to the #makeuppower community who with their innumerable challenges motivate us to exploit our creative side and express it with makeup, when I started in the community I was a little nervous, all the signs of talent and love for makeup intimidated me, but my desire to try something that for me was new was still latent, in each characterization I demanded more and always adding a personal touch by giving my creations a dark and mysterious dye, so before showing new makeup I want to make a count of the creations that I enjoy doing most, it is worth mentioning that for this post I took as inspiration the publication of @tefyart I invite you to review her profile you will be amazed with the talent of this girl.


Aun me queda un largo camino que recorrer para mejorar en mis creaciones y lograr un acabado profesional, me he propuesto en este nuevo año seguir avanzando en el mundo del maquillaje artístico, verán mucho de mi familia #hive. Como siempre estoy abierta a cualquier critica constructiva que me permita mejorar, leer sus comentarios de aliento y consejos de aquellas personas que tienen más experiencia siempre es un gusto.
¡Gracias por todo el apoyo!
I still have a long way to go to improve my creations and achieve a professional finish, I have proposed in this new year to continue advancing in the world of artistic makeup, you will see much of my family #hive. As always I am open to any constructive criticism that allows me to improve, read their encouraging comments and advice from those who have more experience is always a pleasure.
Thanks for all the support!
Makeup number 6.

Mythological Creatures || "Kitsune" Japanese Mythology.

Maquillaje creado para el Inspired Makeup Look by #4 que tenía como tema las criaturas mitológicas.
Makeup created for the Inspired Makeup Look by #4 which had as its theme mythological creatures.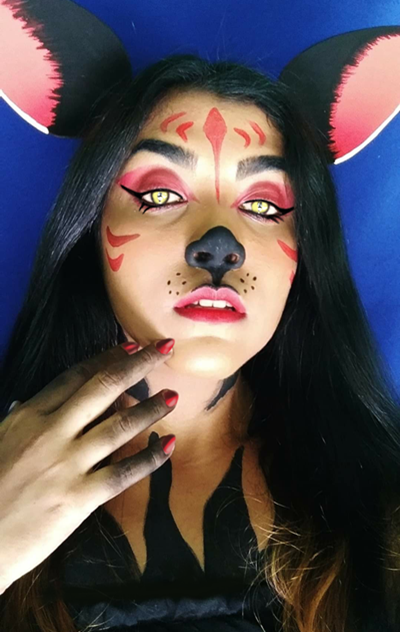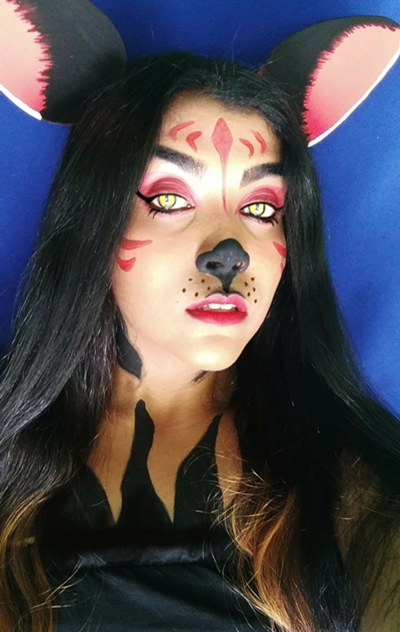 ---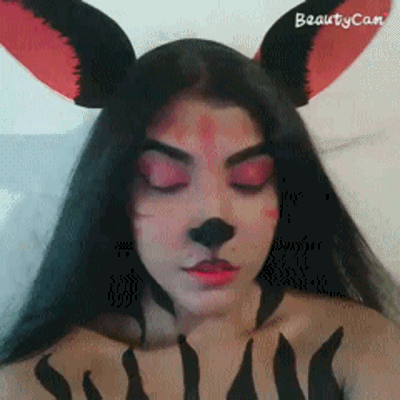 Este es uno de los primeros maquillajes en los que comencé a incluir utilería, es un maquillaje muy simple en colores rojos y negros, pero que al unir todos los elementos (utilería, maquillaje y edición) logré un resultado que me dejó complacida.
This is one of the first make-ups in which I began to include props, it is a very simple make-up in red and black colors, but by joining all the elements (props, make-up and editing) I achieved a result that left me pleased.
---
Makeup number 5.

#MakeupChallenge || WEEK 14 || HALLOWEEN || Frankenstein Bride.

Esta fue mi propuesta para la semana 14 del #makeupchallenge dedicada al mes de halloween.
This was my proposal for week 14 of #makeupchallenge dedicated to the month of halloween.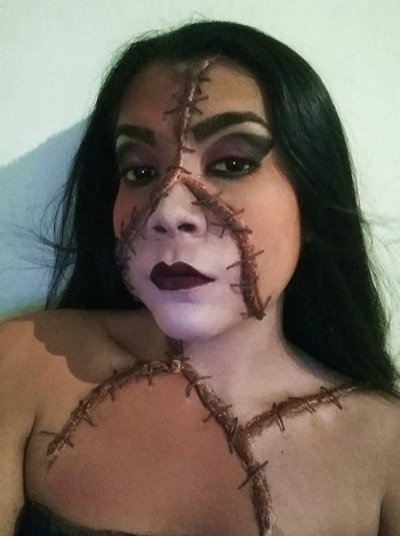 ---
Uno de los maquillajes que me ha tomado más tiempo realizar, mi intensión era crear un cadáver hecho con varios tipos de piel y complementar con un maquillaje de ojos oscuro, no es mi fuerte el maquillaje de ojos por ello siempre hago cosas simples en esa zona, para nuevas creaciones quiero experimentar más en ese ámbito.
One of the make-ups that has taken me more time to make, my intention was to create a corpse made with various types of skin and complement it with a dark eye make-up, eye make-up is not my strong point so I always do simple things in that area, for new creations I want to experiment more in that area.
---
Makeup number 4.

Geek Meet || Happy Tree Friends (Nutty) || Cosplay.

Mi participación para el concurso #Geekmeet fusión de tres proyectos de la plataforma #Makeuppower, #Hive-con y #Hivesicians.
My participation for the contest #Geekmeet fusion of three projects of the platform #Makeuppower, #Hive-con and #Hivesicians.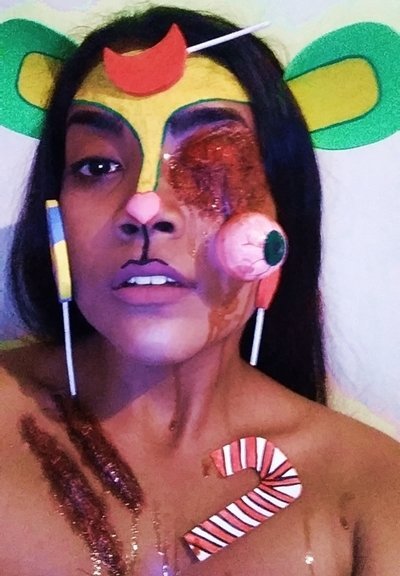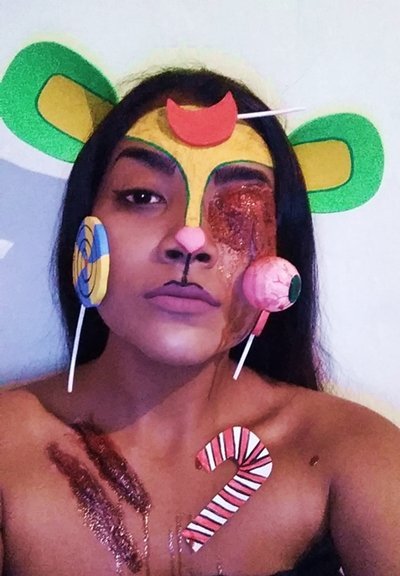 ---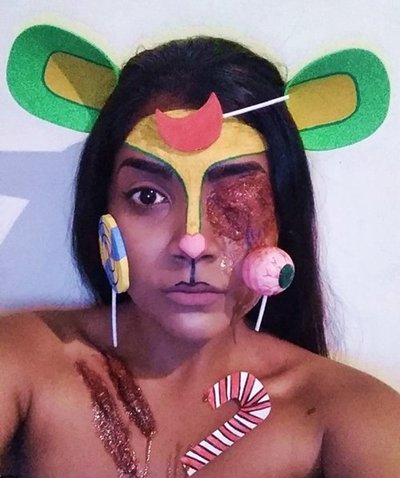 Un cosplay que une lo tierno y sangriento en una sola creación, fue muy divertido representar a este personaje de la icónica seria happy tree friends, elaboré varios elementos para complementar la imagen de Nutty una ardilla adicta a las golosinas que sufre un accidente en el pierde un ojo.
A cosplay that unites the tender and bloody in a single creation, it was very fun to represent this character of the iconic happy tree friends, I elaborated several elements to complement the image of Nutty a squirrel addicted to sweets who suffers an accident in the loss of an eye.
---
Makeup number 3.

Halloween makeup || Demon.

Segunda propuesta para halloween, una sexy demonia.
Second proposal for halloween, a sexy demon.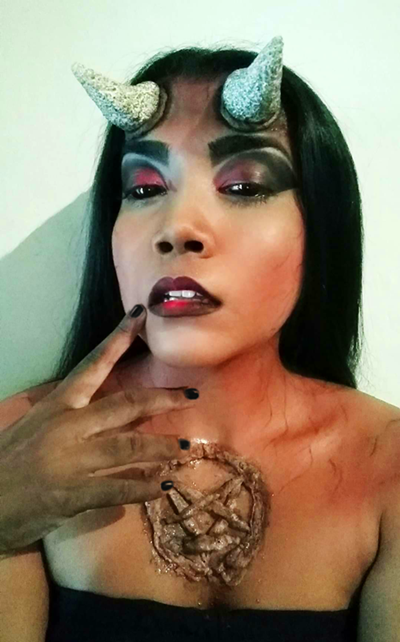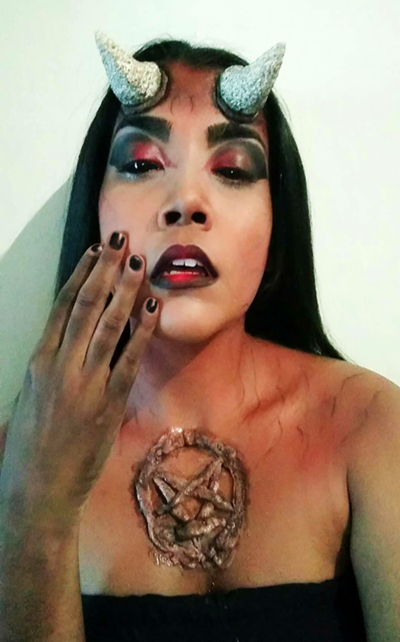 ---
Es uno de mis maquillajes preferidos, aunque ahora que detallo lo que hice pienso que puedo mejorar ciertas cosas, pero en general el resultado fue lo espere, un personaje oscuro y sexy. Añadí elementos como los cuernos que cree de forma casera usando materiales que todos poseemos en nuestros hogares.
It is one of my favorite make-ups, although now that I detail what I did I think I can improve certain things, but in general the result was what I expected, a dark and sexy character. I added elements like the horns that I created at home using materials that we all have in our homes.
---
Makeup number 2.

Halloween makeup || Carnivorous beast.

Primera propuesta para el mes de halloween, una bestia carnívora.
First proposal for the month of halloween, a carnivorous beast.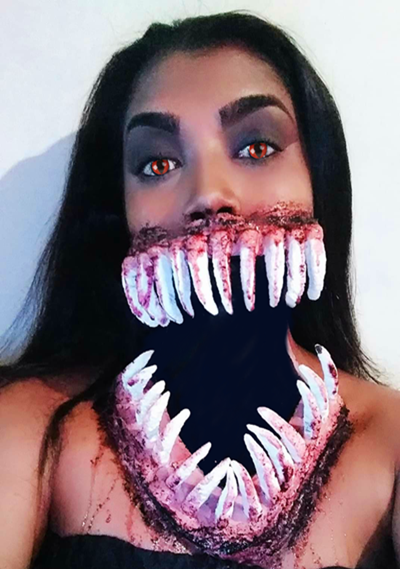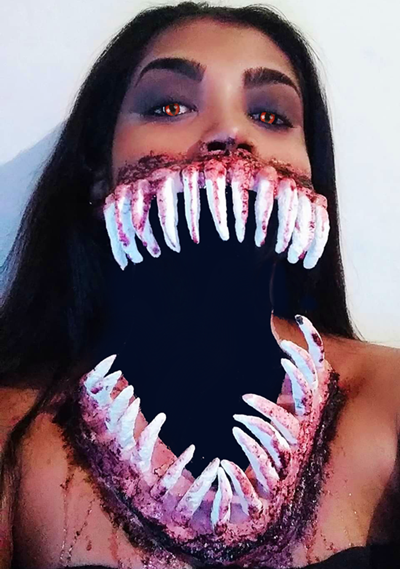 ---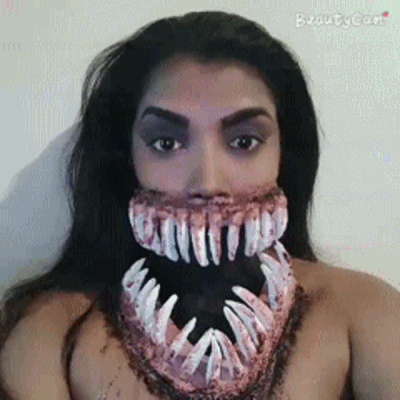 Al ver este maquillaje recuerdo el trabajo arduo que me tomó, ha sido la caracterización más ambiciosa que he realizado hasta los momentos, cree todo desde cero y usando materiales de fácil acceso, me tomó alrededor de 2 días crear la dentadura no sabía si quedaría bien, pero al unir la utilería con el maquillaje y otros elementos (sangre falsa), todo el trabajo había valido la pena.
When I saw this makeup I remember the hard work it took me, it has been the most ambitious characterization I have done so far, I created everything from scratch and using easily accessible materials, it took me about 2 days to create the teeth I did not know if it would look good, but by joining the props with the makeup and other elements (fake blood), all the work had been worthwhile.
---
Makeup number 1.

Makeup Inspired || Queen of Galaxy.

Entrada para el #Makeuppower con temática galaxia.
Entrance for the #Makeuppower with galaxy theme.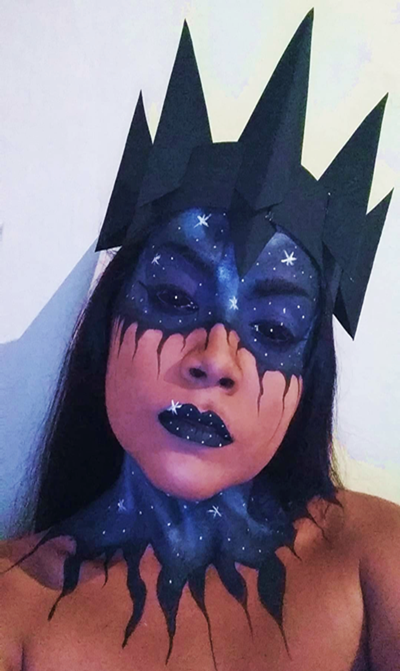 ---
Hasta los momentos este es el maquillaje con el acabado más limpio que he realizado, todo en el me fascina, la mezcla de colores, los elementos empleado y el tema en general. Aunque a diferencia de otras creaciones, este maquillaje no me tomó gran cantidad de tiempo pero experimente con el difuminado de sombras, lo que permitió conseguir ese acabado tan prolijo.
So far this is the cleanest finish makeup I've done, everything about it fascinates me, the mix of colors, the elements used and the overall theme. Although unlike other creations, this makeup didn't take me a lot of time but I experimented with shadow blending, which allowed me to achieve such a neat finish.

¿Cuál es tu preferido? || Which one is your favorite?

Nuevas creaciones me esperan, mi objetivo es mejorar y seguir ofreciendo contenido que sea de su agrado, nuevamente gracias por todo familia hive.
New creations are waiting for me, my goal is to improve and continue offering content that is to your liking, again thank you for every family hive.

Thank you for reading this publication!

Imágenes tomadas desde mi Alcatel One Touch Idol 4. || Images taken from my Alcatel One Touch Idol 4.
Separadores hechos en PhotoScape. || Dividers made in PhotoScape.
Imágenes tomadas de publicaciones anteriores. || Images taken from previous publications.
Translator Deepl.