I bake my own bread, and I think that I make the tastiest bread... well, everyone who has tasted my bread says it is.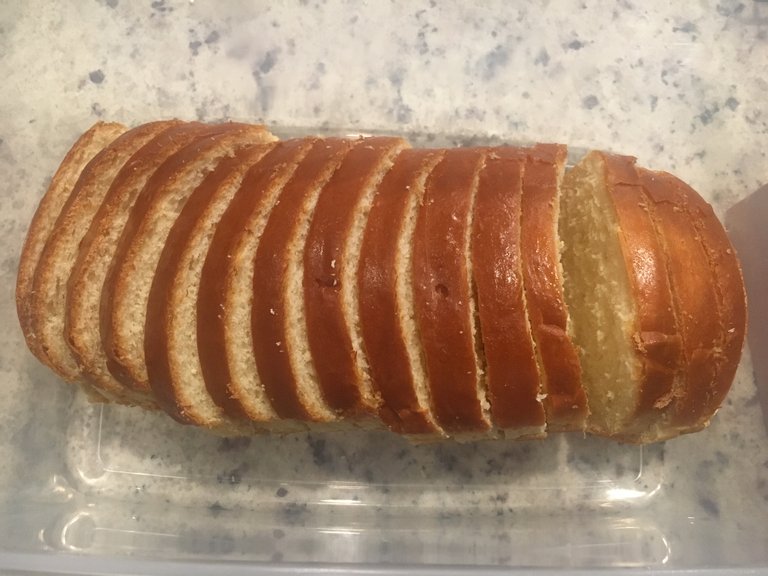 Here's a simplified overview of how I make sliced bread!
---
First, activate the yeast in warm milk and sugar. When the yeast has bloomed, the eggs and melted butter are stirred into the same cup...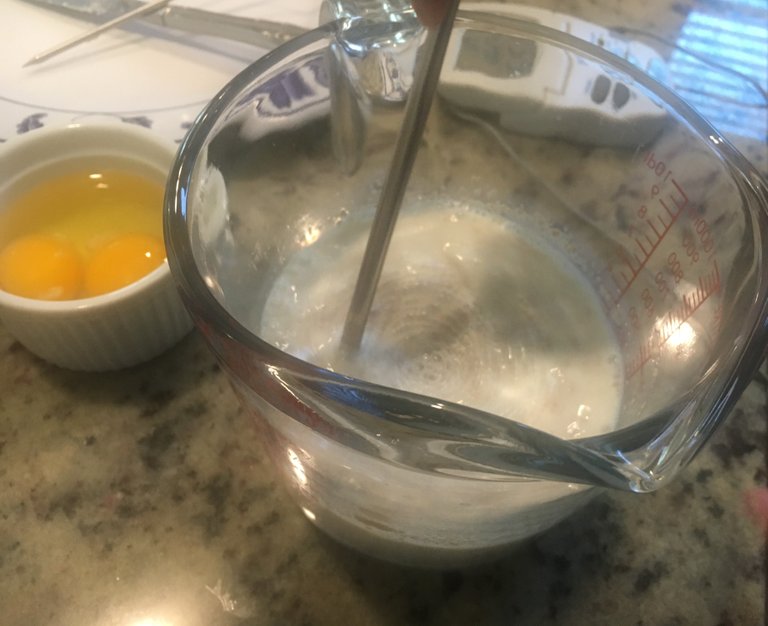 The milk-yeast-butter-egg mixture is added to the bowl that has the flour, salt, and sugar, then mixed.
The bowl is covered with plastic wrap or a towel, then placed in a warm place. I put mine it in a cool oven with the lights on until it has doubled in size.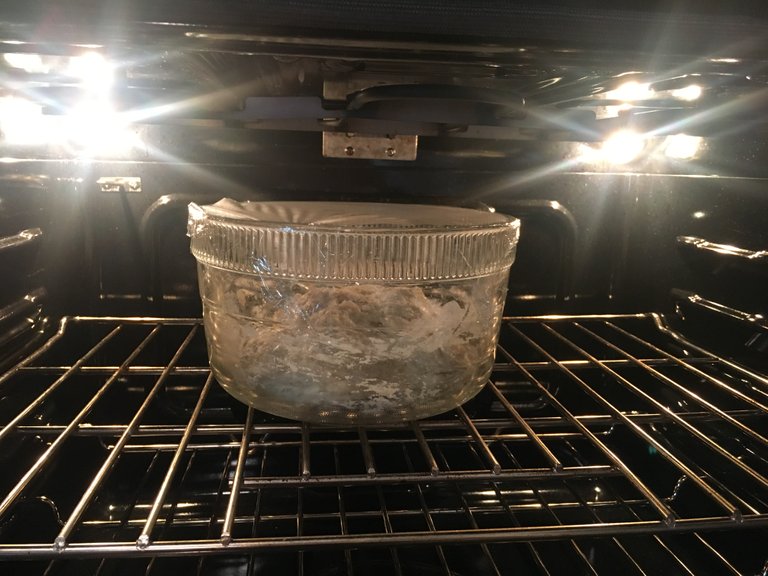 When the dough has risen and doubled its size, I punch the dough (my hands are oiled) to release the gases trapped in the dough.
Then turn the dough onto the board and knead. I use my fist!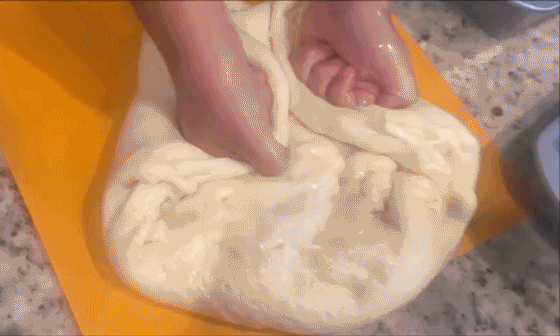 The dough in two portions, then roll each one (like a blanket), and put them into two greased loaf pans.
Then, the dough is made to rise a second time until they has doubled in size.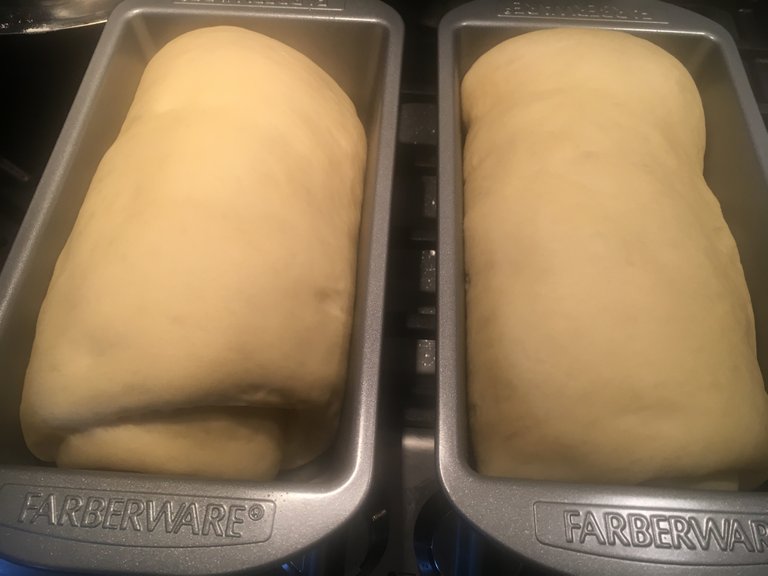 It is ready to be baked in a preheated oven. The bread is done when a toothpick inserted in the middle comes out clear. I use a thermometer to check for doneness.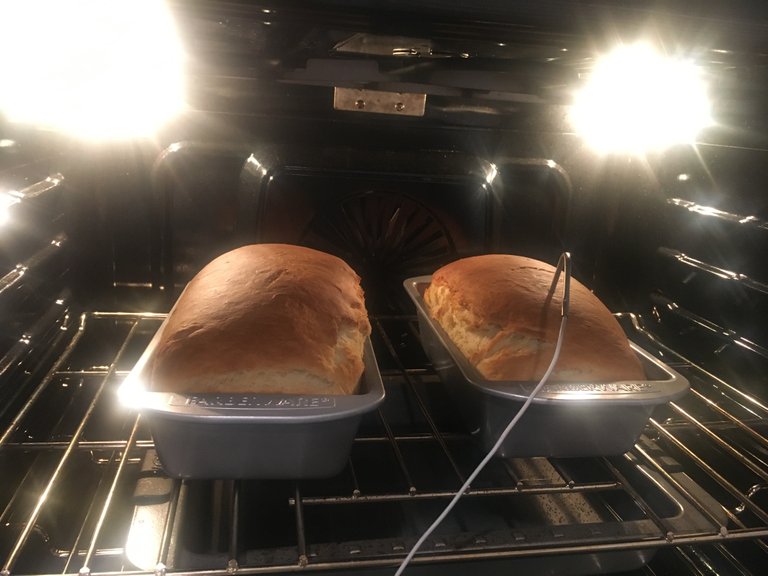 When done, the top of the bread is buttered to keep the crust soft, and then cooled on a rack.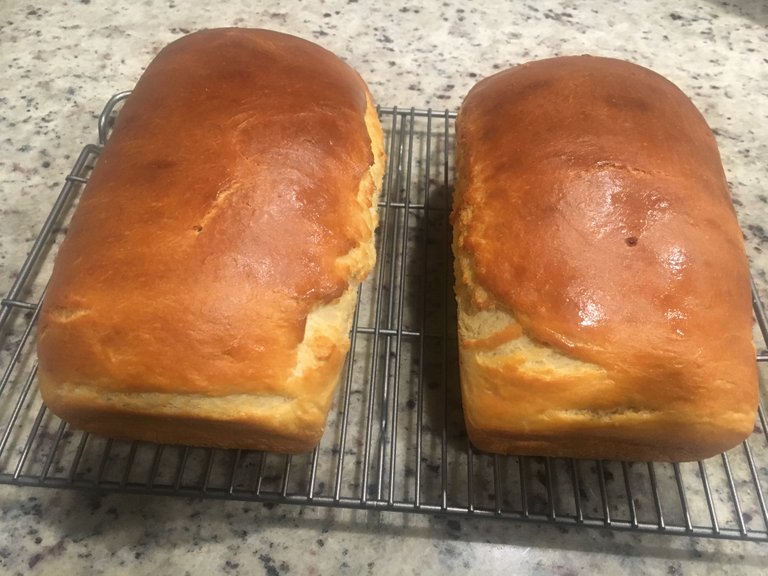 Bread is ready for slicing when it is totally cooled.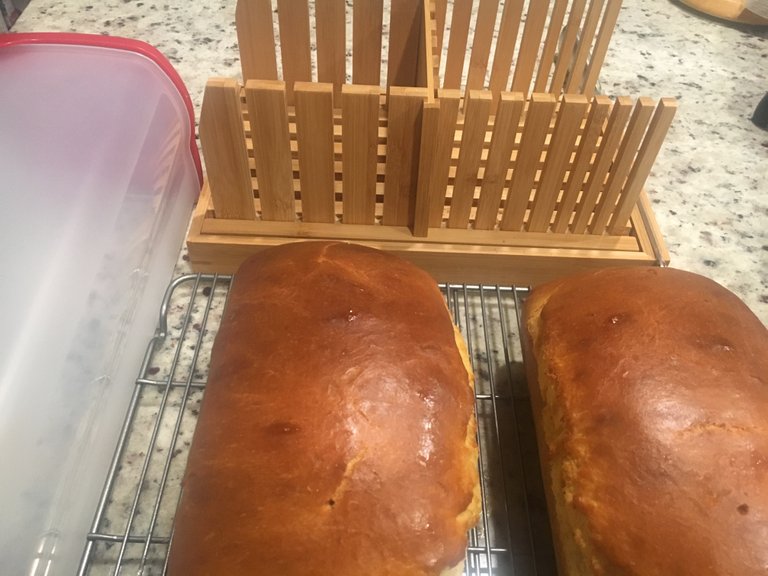 I use a bread slicing board made of bamboo.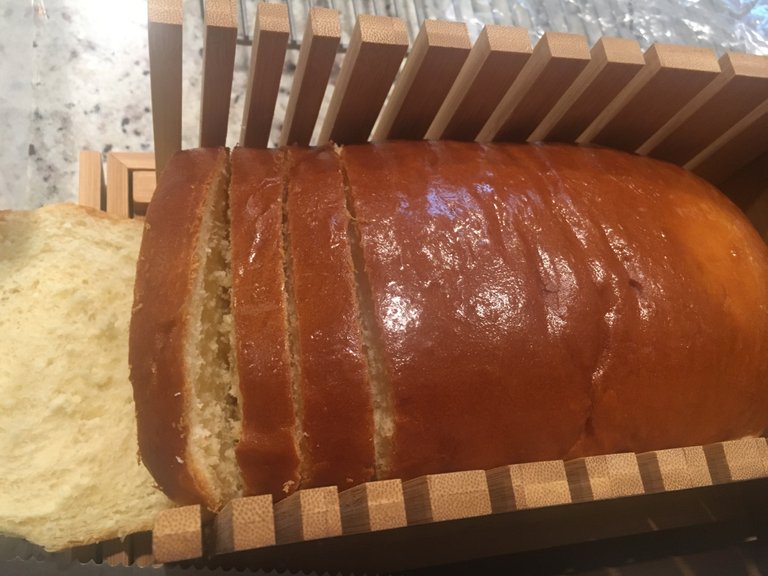 YUM!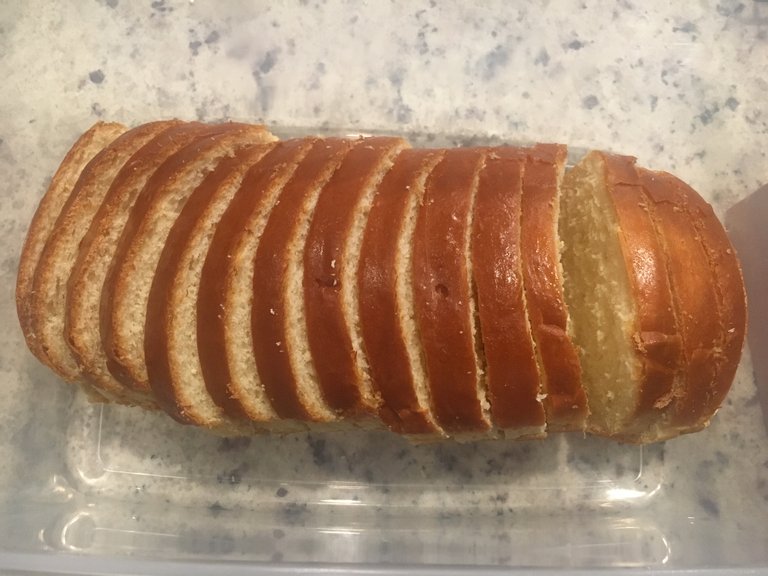 I store my Sliced Bread in plastic bread keepers.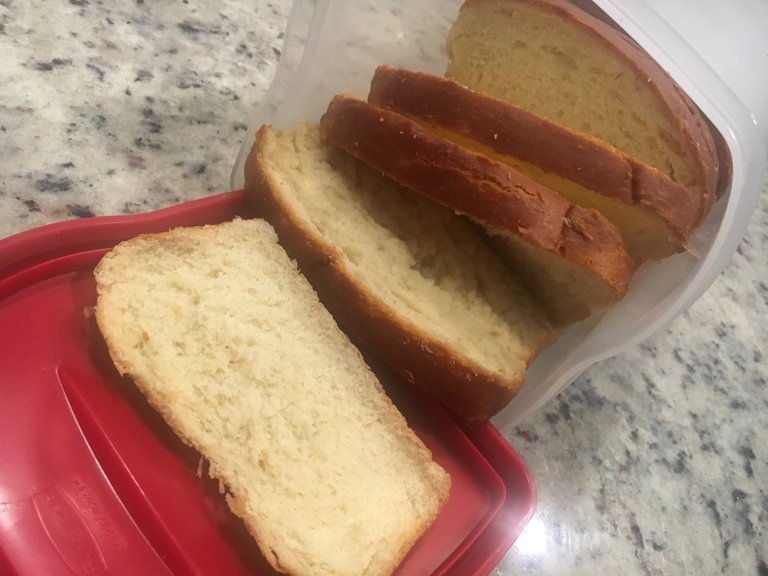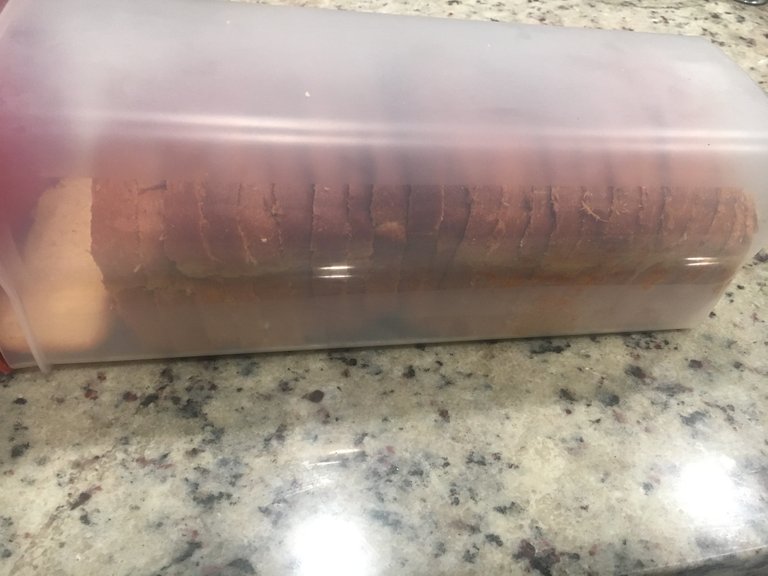 ---
Ingredients:
2 Tbsp Yeast, 1 Tbsp Sugar, 1 1/2 cups Milk 2 Eggs 3 Tbsp melted Butter 6 to 6 1/2 cups Bread Flour 1 cup Sugar 1 tsp Salt

This is my entry to this week's Qurator Hive Top Chef.

😍#ilikeitalot!😍
---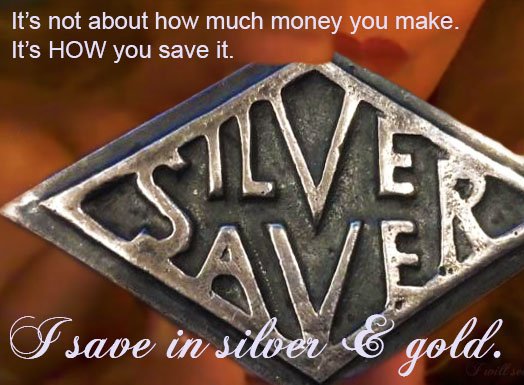 Best Regards,
---
All photos, gif, and video were taken by me with my iPhone6.
Thank you for stopping by to view this article.
I post an article daily, and I hope to see you again soon!
Hugs and Kisses 🥰🌺🤙!!!!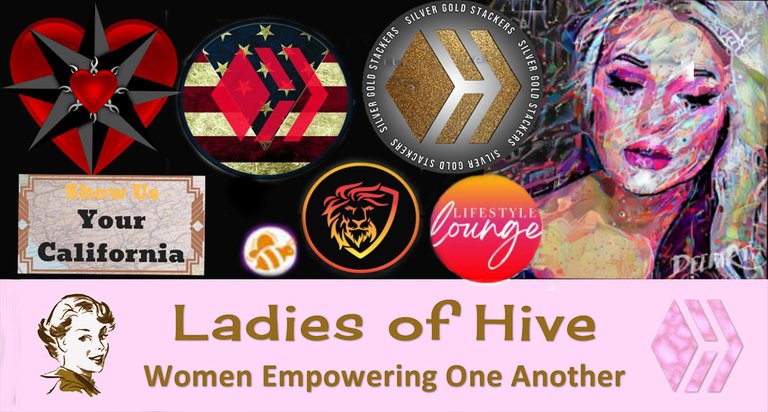 Would you like to support The Ladies of Hive Community?
Consider giving a delegation!
25 HP - 50 HP - 100 HP - 150 HP - 200 HP - 500 HP - 1000 HP - 5000 HP
---