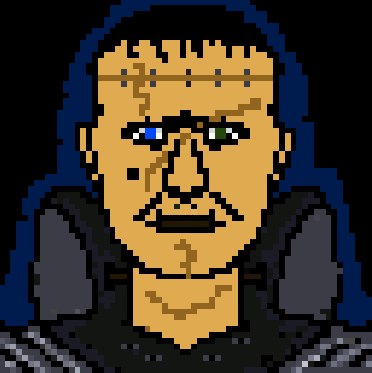 (Imagen ampliada / Enlarged image)

(64x64) px
---

Saludos comunidad de Pixelart,
Hoy observando las sugerencias
Esta mañana revisé los prompts propuestos para agosto por @kristyglas, hoy toca las nubes pero yo me decanté por dibujar un monstruo. Me dije, invento uno, o dibujo mi versión de un monstruo famoso. Lo pensé varios minutos, y entonces dibujé uno a cuerpo completo. Al terminarlo, dije, listo, voy a mostrárselo a mi esposa. Ella lo miró con extrañeza, desconocía que dibujé un monstruo, le pedí su opinión. Es un adolescente bailando, contestó sin titubear, y luego agregó, amor, qué representan los colores amarillo, ocre y vino tinto que están detrás del joven. Le dije, ¡no es un joven, es un monstruo que sale de las llamas! y le pregunté, ¿sabes quién es? Ella sonrió con incredulidad, y dijo, ¡un monstruo, es una broma! ja, ja,ja. Mi primer intento, fue un rotundo fracaso...
Greetings Pixelart community,
This morning I reviewed the prompts proposed for August by @kristyglas, today it touches the clouds but I decided to draw a monster. I said to myself, make one up, or draw my version of a famous monster. I thought about it for several minutes, and then I drew a full-body one. When I finished it, I said, done, I'm going to show it to my wife. She looked at him strangely, she did not know that I drew a monster, I asked her opinion. He is a teenager dancing, he answered without hesitation, and then added, love, what the yellow, ocher and red wine colors represent behind the young man. I told him, he is not a young man, he is a monster that comes out of the flames! and I asked him, do you know who he is? She smiled in disbelief, and said, a monster, just kidding! Hahaha. My first attempt was a resounding failure ...
---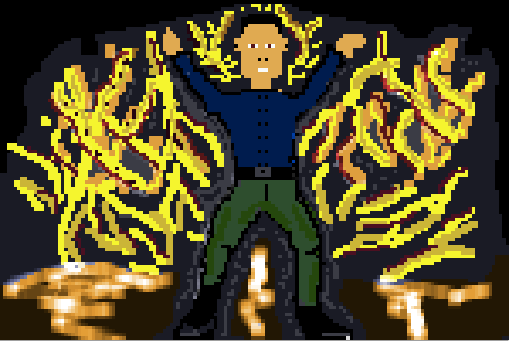 ¿Qué piensas del dibujo? ¡si! mi esposa tiene razón ja ja.
What do you think of the drawing? yes! my wife is right ha ha.
---
No me di por vencido, tomé de nuevo el ratón, configuré el lienzo en Piskel y dibujé un retrato del famoso monstruo de la escritora Mary Shelly en formato de (64x64) px con base en varias imágenes que encontré en la internet, en especial, la adaptación de Kenneth Branagh de 1994, en donde Robert de Niro interpreta al monstruo.
I didn't give up, I took the mouse again, set the canvas to Piskel and drew a portrait of the famous monster by the writer Mary Shelly in (64x64) px format. based on several images that I found on the internet, in particular, the 1994 adaptation of Kenneth Branagh, where Robert de Niro plays the monster.
Aquí les dejo la prueba de mi autoría de esta pequeña obra:
Here is the proof of my authorship of this small work.
---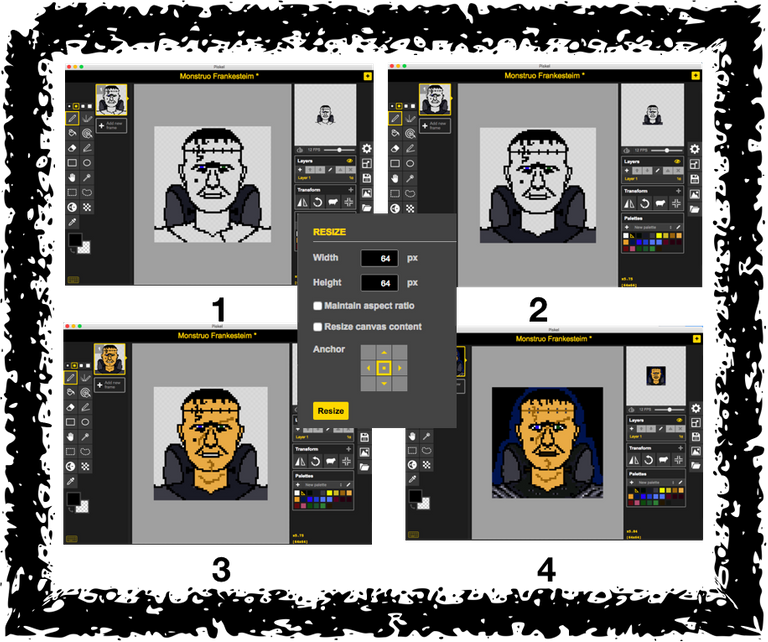 ---
Al terminar el segundo dibujo, llamé de nuevo a mi esposa, está vez, no hubo duda, reconoció a la criatura del Dr. Frankenstein, el moderno prometeo, quien uniendo despojos de distintos cuerpos humanos, le dio nueva vida.
At the end of the second drawing, I called my wife again, this time, there was no doubt, she recognized the creature of Dr. Frankenstein, the modern Prometheus, who, joining the remains of different human bodies, gave new life.
Espero te agrade.
I hope you like it.