NFT Gaming Review: Cryptomines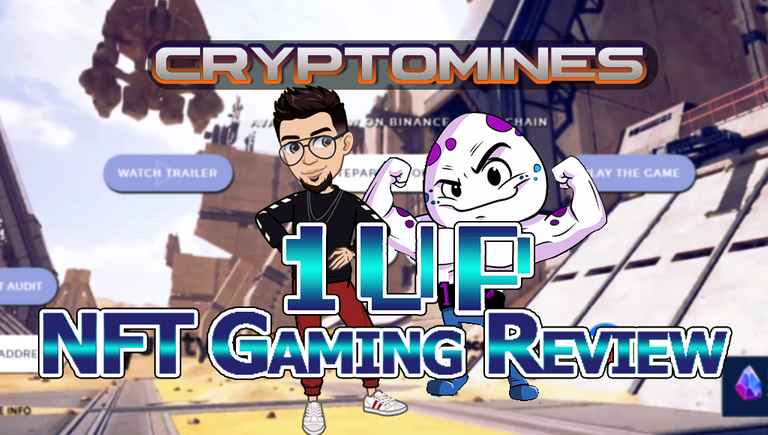 Hello everyone, today I am here to tell you about this NFT game as an entry to the 1Up contest that you can see by clicking here. I chose this game because it seems to me a very interesting project and certainly accessible considering that games like Axie require an initial investment that exceeds a thousand dollars, and although its theme is nothing more than a farm like any other, I really like its graphic quality and also its roadmap, which looks pretty good, let's talk about Cryptomines.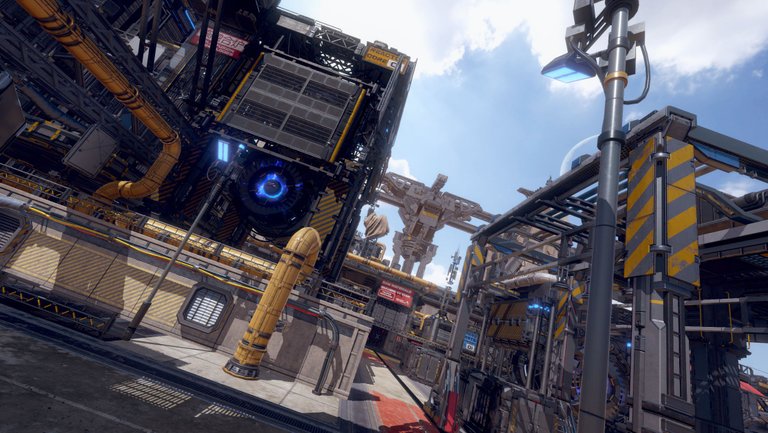 Source
https://www.youtube.com/watch?time_continue=1&v=e6GsGwBwlgs&feature=emb_title
Source
And here you can see the ETERNAL token in Coinmarketcap.
Like the withepaper says: is a SciFi play to earn game based on blockchain and NFT tecnology where you can buy ships and workers that you will send to explore different planets in search of ETERNAL, the game's cryptocurrency that you can later exchange for money.
The game is deployed on the Binance Smart Chain and is compatible with web3 wallets such as Metamask so getting started is extremely easy.
Assets are player-owned NFTs minted in the ERC-721 standard which may be traded on our marketplace or selling them via P2P to another player.
You can buy ETERNAL through PancakeSwap, Biswap and Bitmart, as well as join their official networks:
Telegram
Twitter
Discord
Instagram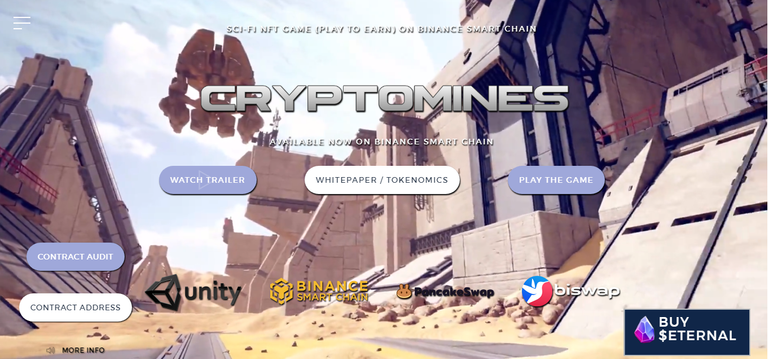 Source
What is the objective of the game?
The objective of the game is to mine planets to obtain ETERNAL, for this you must acquire a fleet and transport ships, that you can do through the game market, one of the things I like most about this project is the oracle that has its token to mine new NFT's, and is that the price of creating them will always be the same regardless of the price of the token, so the minimum entry price is always the same for anyone who wants to enter. And quoting from the whitepaper:
For example, if you have two workers of rarity 2, and a spaceship of rarity 2, you will be able to go to at least one level 2 planet with 200 mining power.
Your fleets will be able to obtain resources once every 24 hours, at 00:00 UTC each day, all fleets can go on a new expedition.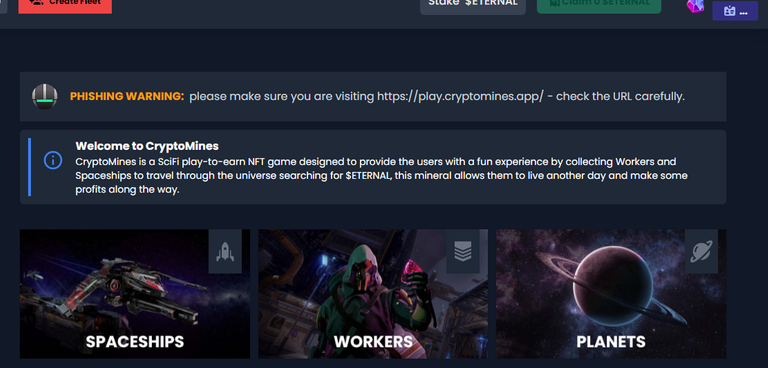 Source
What are the rewards?
The higher the rarity of your NFT (determined by stars, the more stars, the higher the rarity of the NFT) you will be able to go to more distant planets and with better rewards. At the time of creating this publication the reward of the first planet, which is obviously the lowest, is approximately 4$ per day. The reward system is also affected by the oracle, which does not allow the reward pool to be suddenly emptied. They also recently added weekly events called RAIDS, you can read more about it here.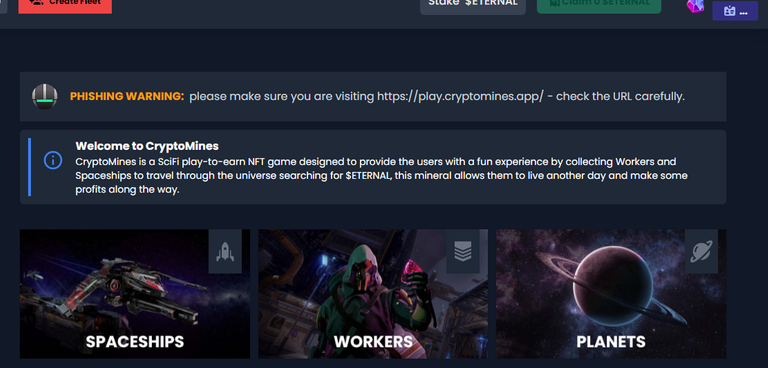 Source
How much do I need to enter?
to Mint a NFT you need 20$ in ETERNAL, as I said before this price will always be like this due to the oracle, and taking into account that you need a ship and also workers in that ship, you could say that with 40$ you can start playing, but according to my personal opinion, for an optimal income to the game you should enter with 100$ and not minting NFT but buying them directly to other players in the market according to the planet you want to aim, with this 100$ you can create a decent team that allows you to start from planet 2-3.
Something that you must take into account to calculate the expenses is that each worker requires a contract that has a value of $ 1 per day and if the worker has the contract expired will not fulfill its work to farm on the planets.

Roadmap.
Currently the Roadmap is in the middle of its phase 2, it is expected to be complete by December of this year, when PVP combat will be added.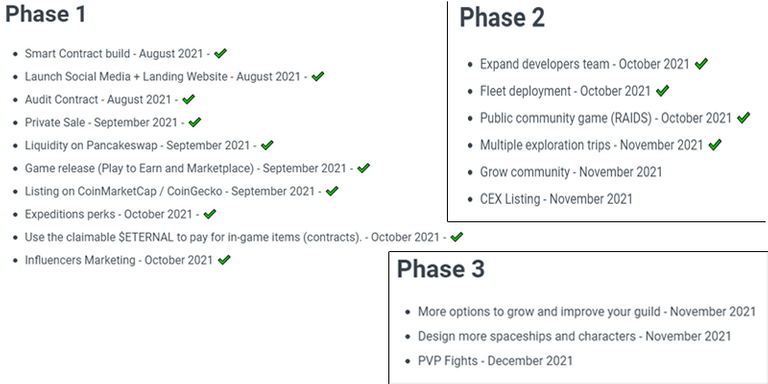 Team Members.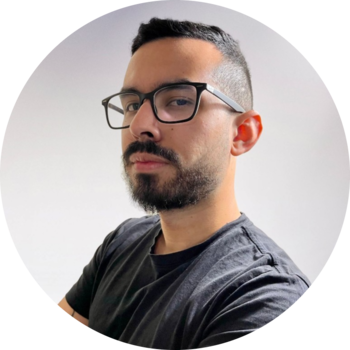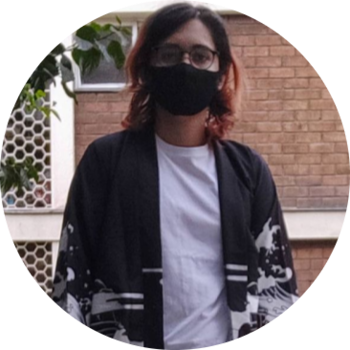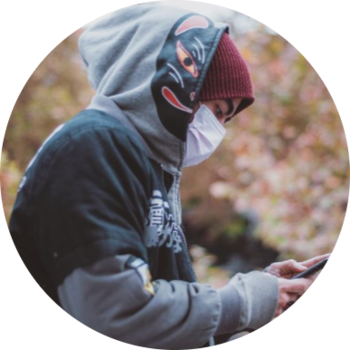 If you want a complete guide to how start in the game can get it from here.
Conclusion
With recent experiences in other games like PVU I lost faith in Farm style games, but I had a hunch the first time I read the whitepaper of this project and decided to participate and so far I have not been disappointed at all, taking into account the cost of entry and the daily profit for that cost, you could recover your investment in less than 1 month, (2 weeks if you start at level 2) which is quite fast plus, the game is still in development stage and more features will come with time. At the time I entered the Eternal was worth about 50$ and today it is already around 400, to me it seems a great opportunity that should be taken advantage of, however I want to finish giving you some advice, and that is that if you want to enter this or any project, first get well informed and do your own research so you can determine if it is right or not for you, since you are the owner of your money and you are the one who decides about it, I hope you liked this review and if you have any questions, leave it in the comments, greetings.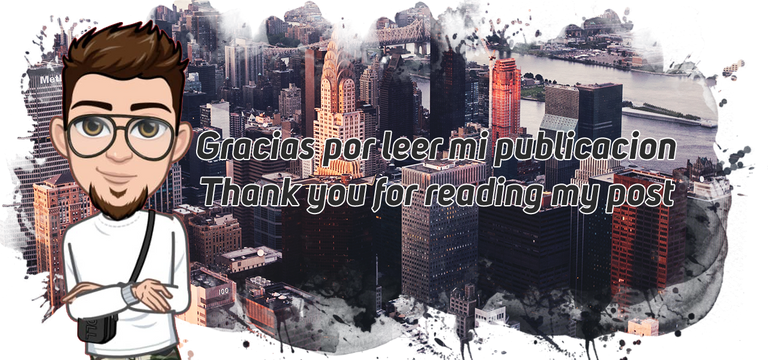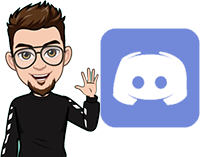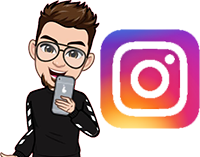 ---
---