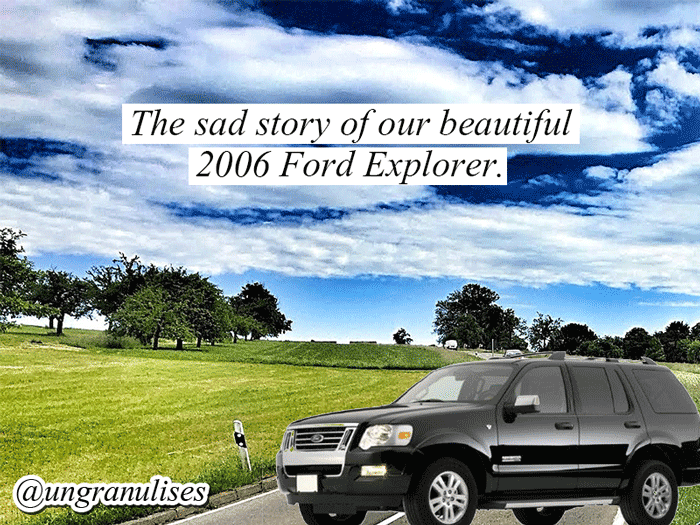 ---
Hello hive!
How are you?
I want to tell you that today, after doing my daily tour of our platform looking for news I came across one of the most recent calls for @OCD the contest to highlight the Hive Motors community.
Reading the contest rules reminded me of a scene from my favorite series: "Aquí no hay quien viva" In that chapter a purser broke down the elevator of a three-story building and when calling the mechanic, he took more than 3 hours to arrive, but solved the problem in fractions of a second, said his fee was 100 euros and asked for haste in payment, the janitor approached him and said: How are you able to charge 100 euros for hitting a button? To which the mechanic replied: I charge that, not for pressing a button, but for knowing which button to press!
It is a respectable view and applicable to any trade.
What do you think?
There are always two sides to a coin, and while some mechanics gain a favorable reputation based on their good service, others use their skills to take advantage of a desperate situation, and that's what happened with our family vehicle...
I am talking about a beautiful and elegant black Ford Explorer 2006, my family is not one to worship material goods, but this vehicle was really beautiful, and my uncle Jose was its first owner, being behind the wheel was a subtle act, also the fact of just feeling a harmonic gear machinery set in motion without any noise other than the sound of the security sensor when opening the doors, the smell so characteristic of new furniture, it was comfort and technology in synergy. Those were good times to travel around Venezuela and feel the security of an imported agency vehicle.

¡Hola colmena!
¿Cómo estás?
Quiero contarte que hoy, luego de hacer mi recorrido diario por nuestra plataforma buscando novedades me encontré con una de las más recientes convocatorias de @OCD el concurso para destacar la comunidad de Hive Motors.
Leer las bases del concurso me hizo recordar una escena de mi serie favorita: "Aquí no hay quien viva" En ese capítulo un sobrecargo averió el ascensor de un edificio de tres pisos y al llamar al mecánico, este tardó más de 3 horas en llegar, pero resolvió el problema en las fracciones de un segundo, dijo que sus honorarios eran 100 euros y pidió prisa en el pago, el conserje se acercó y le dijo: ¿Cómo es capaz de cobrar 100 euros por darle a un botón? A lo que el mecánico respondió: ¡Cobro eso, no por oprimir un botón, sino por saber que botón tengo que oprimir!
Es una visión respetable y aplicable a cualquier oficio.
¿Que piensas tú?
Siempre la moneda tiene dos caras, y mientras unos mecánicos ganan reputación favorable a base de su buen servicio, otros se valen de sus habilidades para sacar provecho de una situación desesperada, y así pasó con nuestro vehículo familiar...
Hablo de una hermosa y elegante Ford Explorer 2006 de color negro, mi familia no es de adorar bienes materiales, pero este vehículo era realmente hermoso, y mi tío José la estrenó, fue su primer propietario, estar al volante era un acto sutil, también el hecho de apenas sentir una armónica maquinaria de engranaje puesta en marcha sin ruido alguno más que el sonido del sensor de seguridad al abrir las puertas, el olor tan característico de los muebles nuevos, era confort y tecnología en sinergia. Buenos tiempos aquellos de viajar por Venezuela y sentir la seguridad de un vehículo de agencia importado.

Everything changed in 2014, the international sanctions imposed on Venezuela strongly affected the automotive sector, these cars when they fail require original spare parts (so say the experts), importing them was an almost impossible task due to the economic blockade. Our van presented problems with the timing chain and that was the first reason that stopped it for years in the garage, stronger situations came with time, the shortage of tires unleashed a wave of thefts, and the gangs of evildoers left the cars held by four blocks, this forced my uncle to remove them and store them in a warehouse.
The most recent problem I remember was the fuel situation, there was no gasoline in Venezuela for a long time, it was only distributed for emergencies, in 2018 my uncle met with a mechanic consultant and advised him to sell, a car of that magnitude was difficult to maintain, the fuel situation and difficulty in finding spare parts devalued our truck greatly, as it seemed unwise for a buyer to purchase a truck to have it stopped for lack of fuel without time estimation. My uncle began to somatize a very strong anxiety crisis, the car that had been his joy in the past had become a piece of junk and he could not bear to see it stopped and deteriorated. The mechanic began to visit our house constantly, he was a shadow, he applied psychological terror and my uncle ended up selling him his truck for $800 USD, yes, $800, an asset that cost at least $10,000 USD. Dismayed by the event my family and I discreetly followed up with the mechanic and a few days later we found out that he resold the truck for more than $2,500 USD. It was a bitter pill to swallow to process this abuse.
I have to clarify that my uncle made a decision, he accepted an offer, but I believe that the manipulation, the psychological work of the mechanic stimulated this impulse.

Todo cambió a partir del año 2014, las sanciones internacionales impuestas a Venezuela afectó fuertemente el sector automotriz, estos automóviles cuando fallan requieren repuestos originales (así dicen los expertos), importarlos era una tarea casi imposible debido al bloqueo económico. Nuestra camioneta presentaba problemas con la cadena de tiempo y ese fue el primer motivo que la detuvo por años en el garaje, vinieron con el tiempo situaciones más fuertes, la escasez de neumáticos desató un ola de robos, y las bandas de malhechores dejaban los autos sostenidos por cuatro bloques, esto obligó a mi tío a quitarlos y guardarlos en un depósito.
El problema más reciente que recuerdo fue la situación del combustible, no hubo gasolina en Venezuela por mucho tiempo, sólo se distribuía para casos de emergencia, en 2018 mi tío se reunió con un mecánico asesor y le aconsejó vender, un carro de esa magnitud era difícil de mantener, la situación del combustible y dificultad para encontrar los repuestos devaluaba en gran mediada nuestra camioneta, ya que parecía poco inteligente para un comprador adquirir una camioneta para tenerla detenida por falta de combustible sin estimación de tiempo. Mi tío empezó a somatizar una crisis de ansiedad muy fuerte, el carro que había sido su alegría en tiempos pasados se había convertido en un traste y no soportaba verlo detenido y deteriorado. El mecánico empezó a visitar constantemente nuestra casa, era una sombra, aplicaba terror psicológico y mi tío terminó por venderle su camioneta por $800 USD, sí, $800, un activo que costó por lo menos $10.000 USD. Consternados con el hecho mi familia y yo hicimos un seguimiento discreto al mecánico y a los pocos día nos enteramos que revendió la camioneta en más de $2.500 USD. Fue un trago amargo procesar este hecho de abuso.
Tengo que aclarar que mi tío tomó una decisión, aceptó una oferta, pero creo que la manipulación, el trabajo psicológico del mecánico estimuló ese impulso.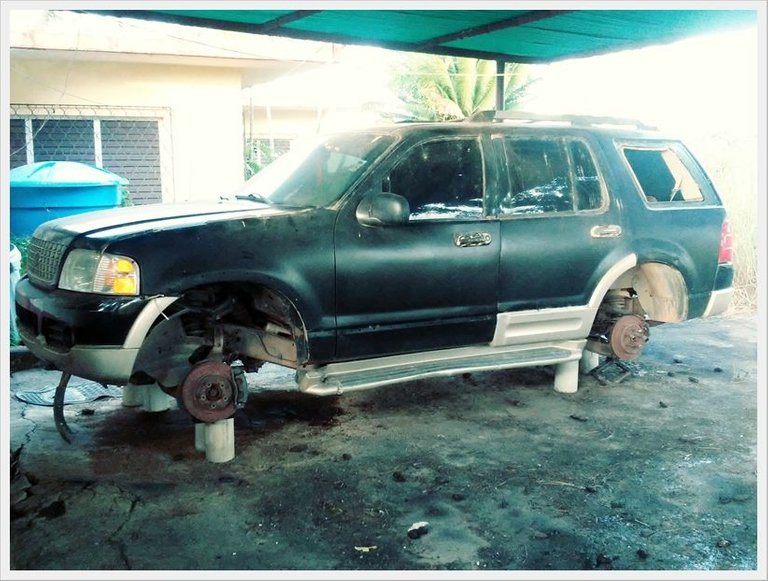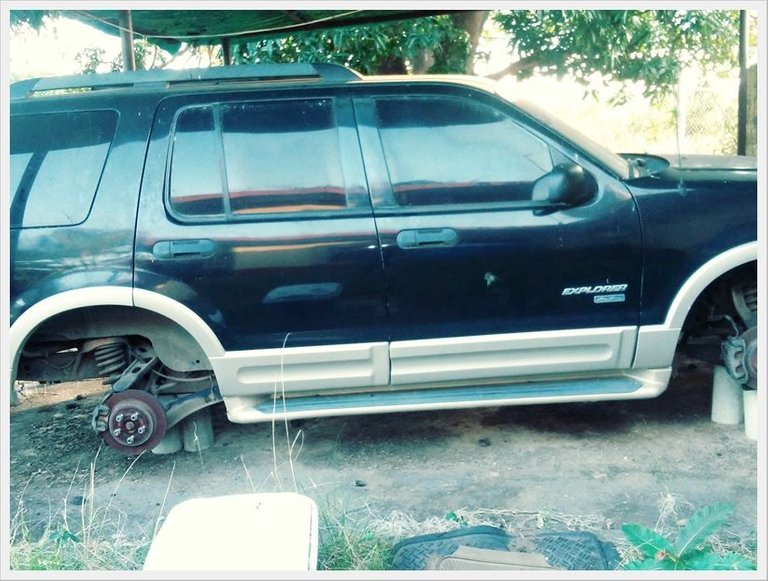 The last pictures of our truck on our property. | Las ultimas fotografías de nuestra camioneta en nuestra propiedad.
---

With this story I want to make a conjecture:
I think that the new car models come assembled with parts that have a much shorter useful life than what could be considered generally acceptable, don't you think? this modality gives more money mobility to the automotive industry, than the fact of making a more durable machinery in time, I know that many factors influence, but I think the idea is as logical as real.
What do you think?

Con esta historia quiero hacer una conjetura:
Creo que los nuevos modelos de automóviles vienen ensamblados con piezas que tiene una vida útil mucho más corta de lo que podría considerarse generalmente aceptable, no lo creen? esta modalidad da más movilidad de dinero a la industria automotriz, que el hecho de hacer una maquinaría más duradera en el tiempo, se que influyen muchos factores, pero creo que la idea es tan lógica como real.
¿Que opinan ustedes?
---
My participation in @OCD Community Boost Contest #9: Highlighting Hive Motors
---
Translated with DeepL.com
The cover is an edition with an image taken from pixabay

---