Wondering why I'm always talking about Liverpool FC? Worry no more because I'll tell you why. I'm a fan of Liverpool FC ever since the days of Kenny Dalglish and Rafeal Benitex. I loved their game play, Jerseys and all the players and this prompted me to be their fan. Also, another factor that made choose to fan Liverpool FC was because my siblings were already Chelsea and Manchester United fans so, I opted to be different and this has always caused us to banter. I hope with these few points of mine, I've been able to clear you certain things.
---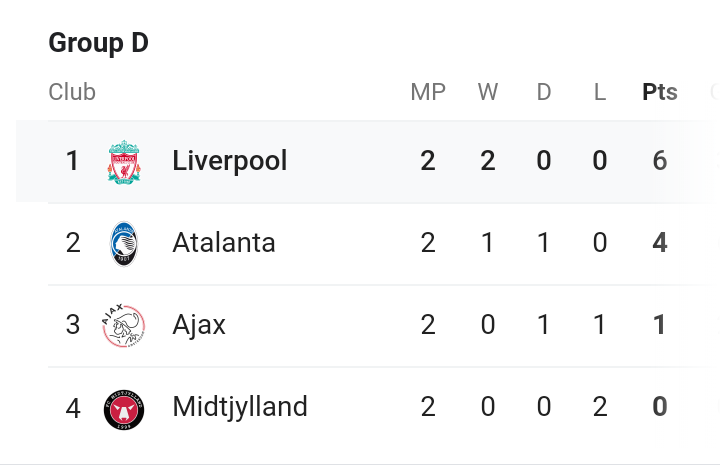 ---
Liverpool have not been close to their best so far in this 2020/21 season compared to their performance last football season. Liverpool appear to be out of form and struggling both in the Premier League and in the Champions League. Also, to add to the club's woes, some key and major players (van Dijk, Thiago Alcantara and Fabinho) have recently been hit with injuries.
---
The good thing is that amid all these things, Liverpool have won their first two games in the Champions League though they struggled in both games. In their first champions league game, they played against Ajax Amsterdam and they won with 0-1 scoreline courtesy of an own goal from Nicolas Tagliafico. Jurgen Klopp's boys were tested really hard by Ajax Amsterdam on Wednesday 21st October but Liverpool did enough to leave Amsterdam with a clean sheet.
---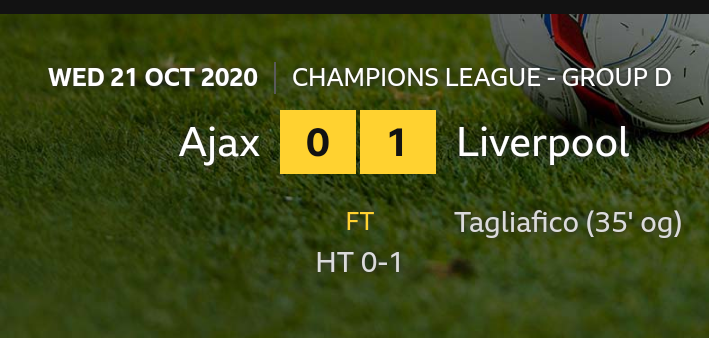 ---
Fabinho who was replacing Virgil van Dijk did a good job though the defence will a bit shaky. Also, Allison Becker missed the game because of injury which saw Adrian taking the responsibility. Adrian made some critical saves especially the strike from Promes. Good news is that Becker is back in action.
---
Fast forward to the second Champions League game, Liverpool hosted their opponents Midtylland at Anfield winning the match with a 2-0 scoreline. It was a poor performance from the Champions; quite below expectations. Liverpool were lacking in possession and poor in attack. The likes of Minamino and Shaqiri were disappointing though Shaqiri can be justified.
---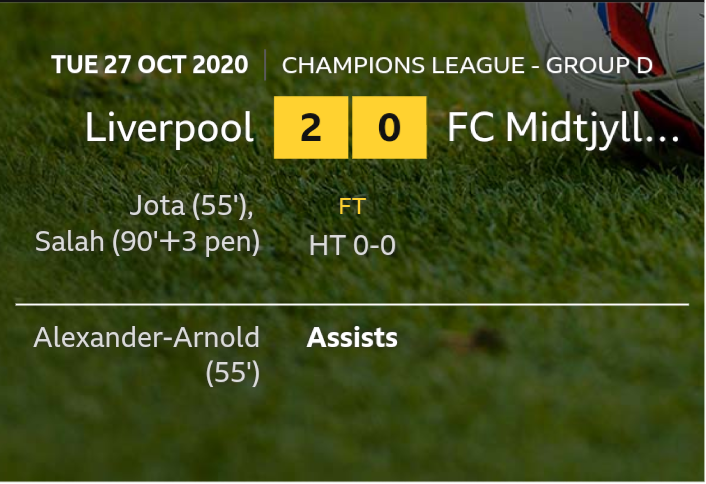 ---
Klopp decided to rest all three, Salah, Mane and Firmino in the first half but this didn't favour the Reds. Liverpool ended the first 45 minutes without a clear on-target. But just before half-time, Alexander Arnold who was my man-of-the-match did a solo and then delivered it to the legs of Diogo Jota who found the back of the net. Few minutes before the end of the game, Salah won a penalty which he scored to double the lead for Liverpool.
---
However, Liverpool FC look to be unprepared for this season as they are not carrying last year's form. They might likely lose the Champions League if they continue this way. I just hope all those with injuries get to recover soonest. Sadly, Fabinho obtained an injury too in the Midtylland game and this is the last thing Liverpool FC needs.
---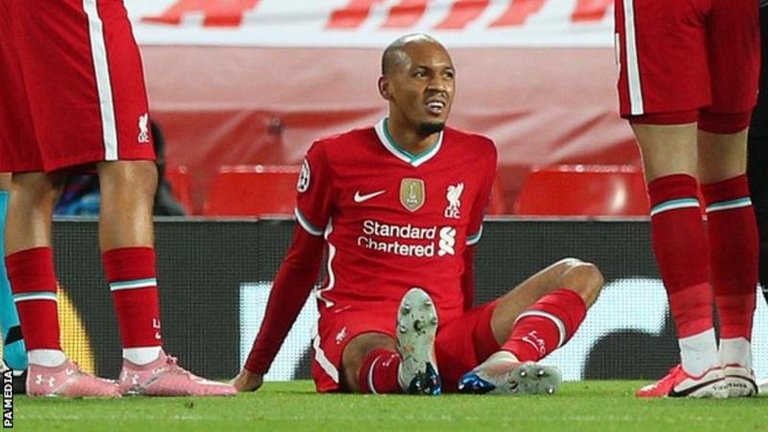 Source
---
As it stands, Liverpool FC are topping in the Group D of the Champions League with 6 points; two points away from Atlanta. I wish them the best and I hope they grab atleaat a trophy this season.