Victor Wembanyama is the New Kid in Town
Victor Wembanyama measures 7 3 ft or 2.21 mts, but unlike any other giant, his style is in itself a revolution. A new biotype with infinite arms and legs that promises to cause chaos. Welcome, then, to NBA 3.0.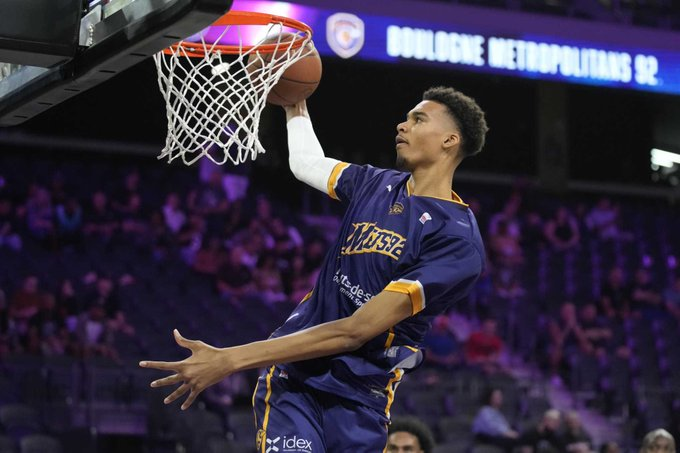 "Many have been a unicorn in recent years, but he's more like an alien. You've never seen someone as tall, as fluid and elegant as him. LeBron James would be No. 2 in the Draft if he was the same age and in the same class as Victor Wembanyama".
Who said these words was Richard Jefferson, LeBron's former teammate in the Cavaliers. The expectation that Wembanyama aroused is enormous and of course he has been working for a long time on the emotional management of a situation as unusual as it is extraordinary.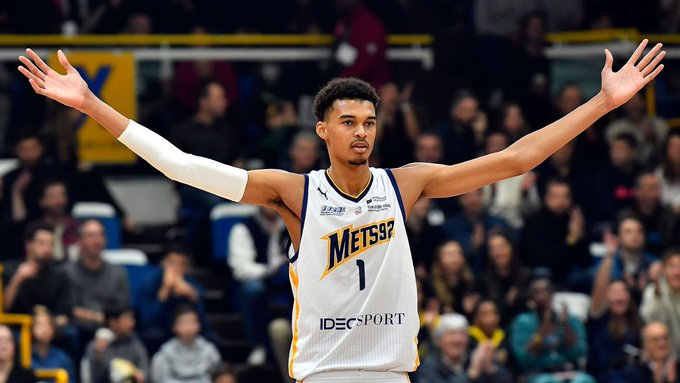 It is not the first biotype like this in the NBA. An example of this versatility combined with height is Chet Holmgren, pick 2 of the Thunder in 2022, who has not yet played in the NBA due to being injured before the start of the current season. Both met in the 2021 U19 World Cup.
But Wembanyama is a different story. Holmgren is good, yes, but the versatile French forward looks surreal. He is, what is said, an impossible player: too big for a small defender, too fast and dangerous with his shot for a big one.
Wemby matches at Mets 92 are attended by scouts, celebrities and potential sponsors. The expectation is so great that the NBA itself acquired the television rights of its team in France last year so that they can be seen through NBA League Pass.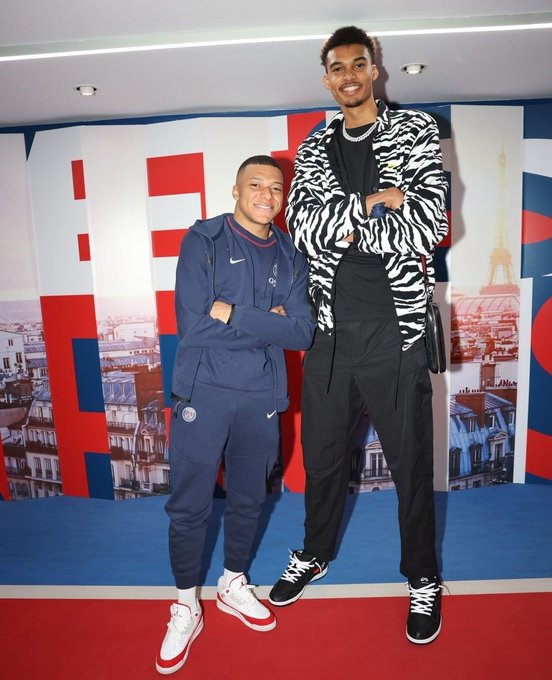 It has an exclusive physical trainer: Guillaume Alquier. One of his main goals is for the 18-year-old forward to get enough sleep. At least 10 hours. He does not trust technology: every morning he expects a report from the player via text with the time he rested.
Wemby is always one of the first players to arrive at the stadium. His routine is not that of Stephen Curry but it includes situations worth seeing: juggling with tennis balls, warming up with reaction exercises and extreme muscular coordination.
In addition to sleep, Alquier concentrates on Wemby's feet. Protecting them is vital for big men in the NBA, and there are perhaps few in the world with these kinds of giant, arched, narrow size 21 feet. Remember Yao Ming: His feet cost him his career.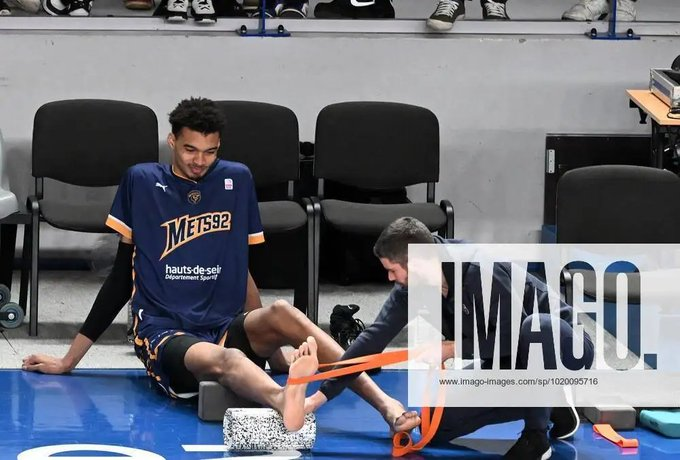 Since he was 15 years old, Wembanyama has worked to align his knees and learn to land to soften the load. Without shoes and socks, Alquier makes him crawl on the tips of his fingers and toes in an effort to strengthen his stability.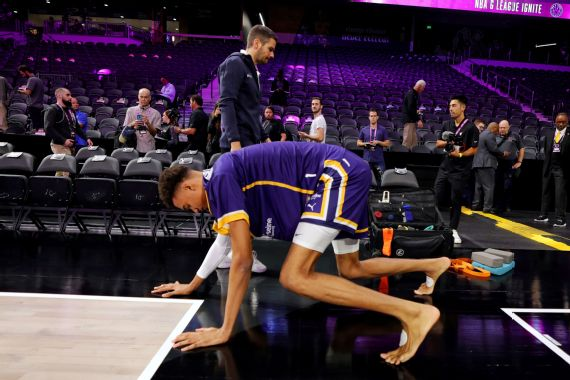 Then there are the big toes: Alquier spends a lot of time working on that area. Attach bands and stretch to create resistance. "We do it to improve stability," Alquier confesses in an article by Brian Windhorst and Jonathan Givony.
On days off, after practice. and after his nap, Wembanyama spends two hours with Alquier. He works out, but not to gain weight. Wembanyama's inner circle knows that they will ask him when he gets to the NBA but they are also clear that he should not delve there.
Wembanyama spent 10 days in Germany in 2022 training with Holger Geschwindner, known for his decades of work with Dirk Nowitzki. Geschwindner "begged" the Frenchman to ignore those who asked him to add too much weight because it could jeopardize his career.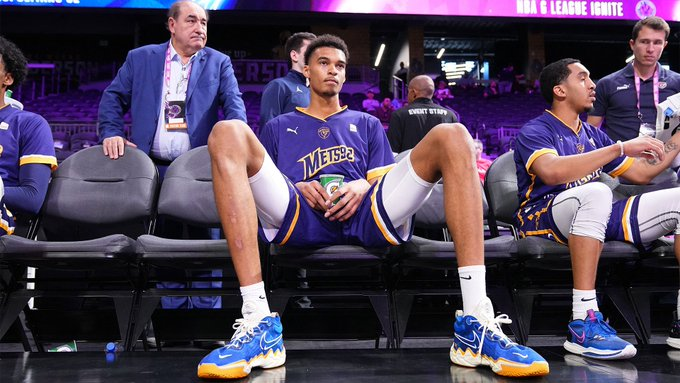 Wemby has been eating five times a day for the past five years to help his muscles keep up with his bones. The plan is for him to gain strength, but not necessarily a large amount of weight right away.
We are in the presence of a mixture of Kevin Durant and Giannis Antetokounmpo. Wembanyama can do it all. Beyond his height, he has an extension with slippers that reaches two and a half meters or 8 2 feet.
In Las Vegas exhibition in October, which also featured Scoot Henderson, Wemby made 37 points and 7 3-pointers in the first game. And in the second, when they adjusted his shot, he made 36 attacking the rim and using his size. Remarkable.
The son of Elodie, a youth basketball coach, and Felix, a former athlete of Congolese descent, Wemby went to live alone at the age of 14. He moved from Le Chesnay to Paris to start living the professional basketball dream.
Since the October games, Wembanyama's business boom has reached stratospheric figures. All the sneaker brands launched with multi-million dollar proposals to stay with his services, but so far no deal has been signed.
Wembanyama has been working for months to avoid injury, with the only focus on the June Draft. "The most important thing for him is to stay true to the game," LeBron James said of him to ESPN. "Work, train, prepare physically and mentally. And never forget to have fun."
Everyone has come to see this athlete who promises to be exceptional. Windhorst and Givony say that Travis Scott, Kylian Mbappe and even Michael Douglas went to watch games. Douglas even invited him to the set where he was shooting a movie about Benjamin Franklin.
Luka Doncic first dominated Europe before making it to the NBA. NBA executives wondered why Wembanyama had left ASVEL, the club owned by Tony Parker. The answer is that he did not have a good experience there: three injuries and lack of minutes.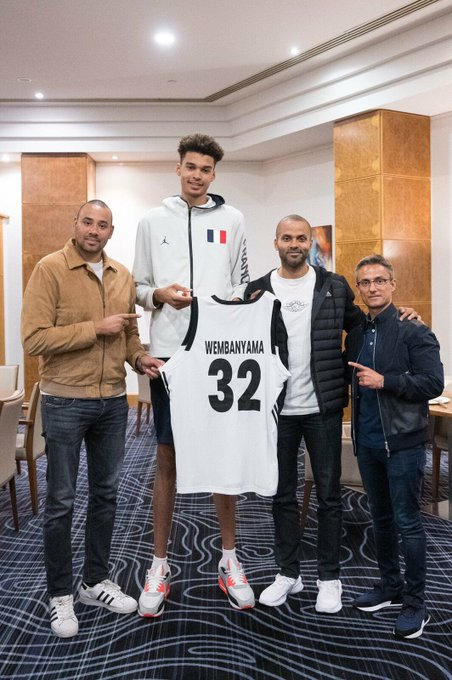 ASVEL's objective did not go hand in hand with his. The pressure to compete for the continental title and that of France did not allow him a typical teen development. Little margin and tolerance for errors. At the Mets, he was also going to be trained by Vincent Collet.
Who is Collette? Historical coach, five times coach of the year in France and coach of the Bleu Team in the last 14 years. He came close to quitting at the Mets, but when he found out that Wembanyama wanted to play for him, he called it quits and continued.
Collet allows things for Wemby that he hasn't allowed other rising stars. His job is to prepare him for the NBA and allows him to take risks. Jump shots, atypical movements. In other words, freedom. Comfort and discipline.
Pistons, Rockets, Spurs. They all pursue a dream: to retain the services of Victor Wembanyama, a unique, promising athlete who seems destined to make great history. The Draft lottery is already among us. And the future, of course, too. We are in the presence of someone special. Maybe too much.
Posted using SportsTalkSocial
---
---