Another crushing defeat at home. Not expected but nobody is surprised to be honest. The fans have almost given up on the team and some are even blaming Farke, the team manager. It is obvious that fans are frustrated and we certainly know the main reason behind the team's shameful performance this season - NOT SCORING GOALS WHEN IT MATTERED.
Yes, fans are sad and they need a ray of hope from somewhere to cheer the mood. I don't think they will have anything to smile about unless the team avoids relegation. Avoiding relegation is a big ask but I want to highlight some of the facts that demonstrate the team's dismal performance.
The biggest problem lies in not winning games for sure. However, there are other issues fans identified for the whole year which contributed to the team's performance.
Defence and Goals Conceded
Norwich's defence was always criticized as they have the worst goal difference in the entire league. They conceded 61 goals so far with 1.85 goals conceded per match, which is very bad. The team managed 5 clean sheets out of 33 matches they played which is one of the worst performances in the league.They made 6 errors in the defence that lead to goals. Do you remember that gift Tim Krull handed to Arsenal recently? Here you go.
Goal Scoring
Can you imagine that only two team members scored 68% of all goals scored by Norwich in the entire season. The team relied heavily on Teemu Pukki and Todd Cantwell as they scored 17 goals together out of 25 total goals they scored as a team. Pukki was the team's superstar in the Championship last season and he showed his prowess early into the top flight as well. But, the team's woes continued when he stopped scoring goals and there was no one to replace him. Typically, you would want attacking midfielders with goal scoring ability and that was clearly missing in Norwich City FC.
Away Matches
Stats don't lie. Norwich managed to win a meagre 6% of total 16 away matches and collected 6 points out of total possible 48 points. You cannot remain in the top flight with that lopsided performance. The only away match they won was against Everton back in November 2019. They scored 6 goals and conceded 30 with the goal difference of -24. If a team cannot win matches away from home you don't expect them to do better.
Restrengthening the Squad
Fans are also questioning the fact that the club did not strengthen the team last summer when they were promoted to the premier league. Yes, we should trust the existing set of players but one should also prepare for the bigger storm. Not having quality defenders cost the team many games when they started to fizzle after the initial sizzle in late 2019. They even could have bought some midfielders as it is evident now that they would have enjoyed a fresh pair of legs late in the season when they were struggling with Pukki not scoring goals and relying heavily on Buendia.
Lack of Concentration
I think they also lost this season due to the lack of concentration they displayed. Stats again.
The team conceded 19% of goals in between 21 to 30 minutes of the game. If they know this fact then the management should have addressed the problem and remain focused to design a play to not concede during that time period. Also, they never won a game making a comeback. When they are down they are out. It also demonstrates what the team mindset was during the whole season.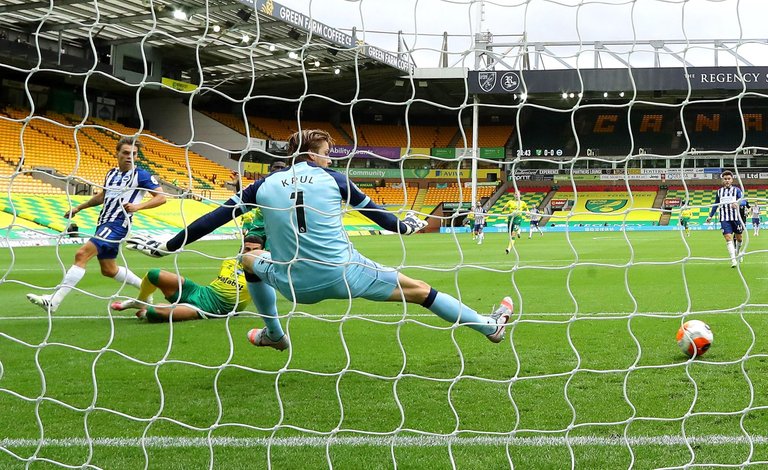 Brighton walked away with three points today and Farke is still addressing the fans' sentiments. Today's match was crucial for Norwich to stay alive in the league. They squandered their chance in a home match.
It is no time to blame but it is bit surprising to see both Pukki and Cantwell were benched in today's crucial game. They did not do miracles when they came in the second half but fans are surprised that Farke chose others ahead of the most prolific players.
"It was more or less our last chance to get back in the mix and we are disappointed. It was more like the performance we ask for,"
"The story of our game was the story of our season, we didn't find the cutting edge and we then make a big mistake. After a few losses, we don't have the right to make any fighting messages or to make any unrealistic claims."
Farke told the BBC.