Hi all, sport lovers.
I want to show you my first Decentralized Fantasy League, called Fantacalcio Olio di Balena because my favourite community is Olio di Balena, mainly composed by Italian people.
I'm Italian, in Italy we love food, cars, sports etc.; without doubt most loved sport is football.
We like playing the fantacalcio. I don't know how to translate this word so I decided to use Fantasy League.
What's Fantasy League??
I'm sure that everywhere you like this game.
Basically, you have tot fantasy millions to spend to create your team and compete to win the season.
This game requires at least 4/5 partecipants, actually we are 10 here on Hive.
Serie A, last season, stopped due to the covid-19 emergency.
During this period I studied the better way to create my fantasy league.
Serie A restarted on July and I decided to open my league.
Four guys trusted and supported me during the test:
@libertycrypto27
@blumela
@serialfiller
@stradaxlaliberta
and we played the remaining 12 games of the last sesion of Serie A.
We had a lot of fun and had the possibily to test my formula and improve it.
---
Rules
There aren't a lot of rules.
Participation cost is 1 HIVE per game (so 38 HIVE for all Serie A season)
In the real life, pricepool is stored by a trusted participant. Here is stored in my second account @pw10 that auto-votes all participants according this scheme:
100% upvote until 11 participants
90% upvote until 21 participants
80% upvote until 31 participants
I don't like when money doesn't work. Our pricepool works for us, so every member of the competition can earn something during the year.
I choose one vote per day to avoid the VP under 80%. I saw that not all members write a post per day so I changed in two votes per day.
13 weeks before the end of the season I have to start the powerdown to pay the winners so, in the last period, the vote will decrease.
250 fantasy millions to create your best team. During the year we set breaks to modify your team with the help of a 5 millions boost. Now, all leagues are stopped due to the Nations break so it's the best moment to join us, after only 3 games played and the possibility to build your team with 255 millions.

Ranking is based on total score, we don't play on scheduled games.

All members will vote to decide how many members will win. In the last edition, with 5 members, 3 get paid (50% first, 30% second, 20% third). Actually, if we stay 10, 4 will get paid (40% first, 30% second, 20% third and 10% fourth).
How to calculate your points
It's easy to know how many points you collected in the last day of the league.
Points are based on the player's vote in the game plus:
+3 for each goal
-3 for each goal (GK)
+1 for each assist
-0.5 for each yellow card
-1 for each red card
We all use an app to calculate our points but it's in Italian.
Our test was made on Discord, just all members wrote their formation every day and I calculated the points for every team.
---
If you want to join us, this is the best moment. Serie A will restart on the next weekend (not this) and you have all the time to ask for help in Discord.
You cand find me at PoliWalt10#7001. Olio di Balena's Channel is here.
You will enter with 66 points for each game you didn't play (11 players in your team with a vote of 6), so 198 points due to the 3 games already played.
In this edition we are 10 members:
@me
@libertycrypto27
@blumela and a friend not registered on Hive
@linthespace27
@arbace
@zottone444
@leone.bianco
@garlet
@serialfiller
9/10 paid all 38 HIVE so we have a nice wallet that is voting for us every day. The more we are, the more we get paid and the more will be the final pricepool.
Actual participation cost is under $4 but no one knows how will be big the final pricepool due to the value of Hive.
---
Votes of the account wallet: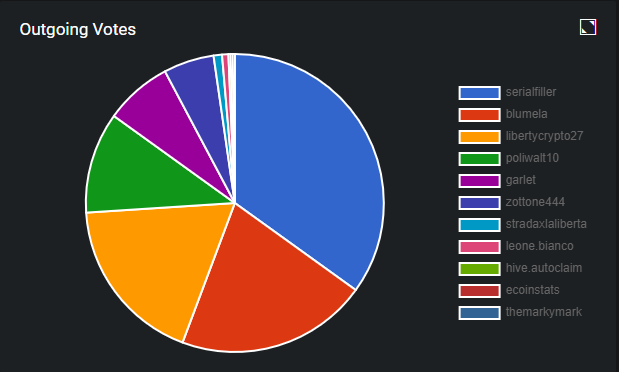 Image owned by the author
I apologize for my bad English but I wanted to show you my creation and this is the best moment to do it.
If you want to join us, language will not be a problem and we have a full week to organize your teams.
Have a nice weekend sport's fans!