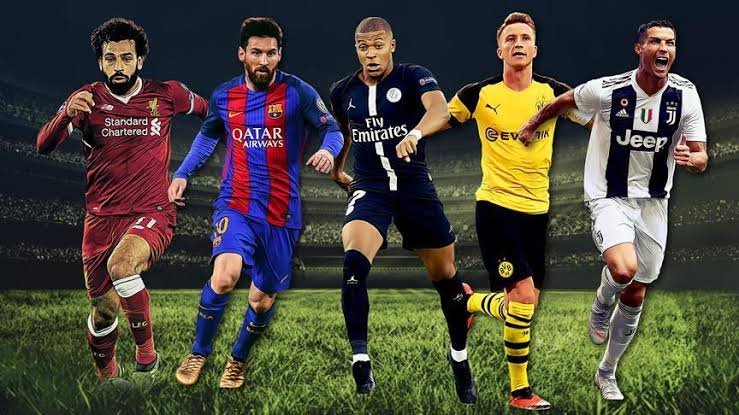 Source
All european football are gradually coming to an end, the matches are coming thick and thin, players wearing down but they must stay up, everyone wants a silver wear, nobody wants to go down and want to stay fit as much as possible, considering EURO 2020 just around the corner.
---
Are we going to see christiano Ronaldo in the europa league for next season?
The top four finish in the Italia seria A getting tensed with only inter milan sure of champions league football next season courtesy of Antonio conte magic after winning the league, the other 3 clubs to join are still not known.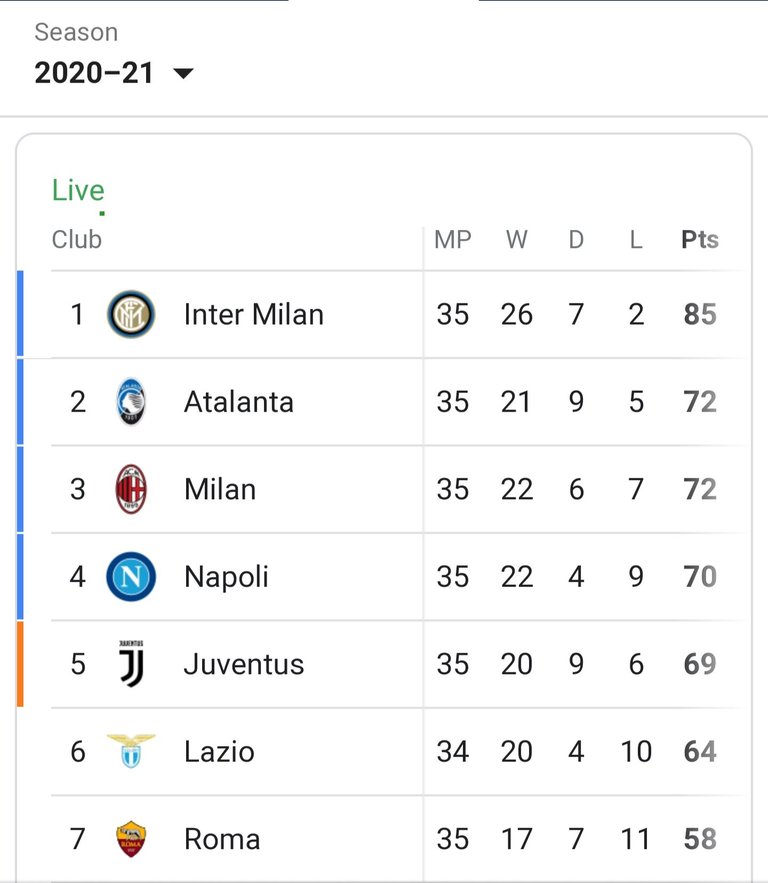 Source
With juventus losing against Ac milan on sunday, it means juve sit on the 5th with 69 points with just one point behind 4th placed Napoli.
Now juve will have to rely and hope that one of the teams above them will drop points while they win their own remaining matches so they can move up.
Not forgetting that juventus still have to play inter milan, already crowned inter can let that one slide, but one hell of a fixture, at the very last day of the season is Atalanta playing against Ac milan, juve will really be looking at this one, as an opportunity to make the top four finish. I still feel juve will play champions league football next season, but who will miss out between Atalanta,Ac milan and Napoli?
---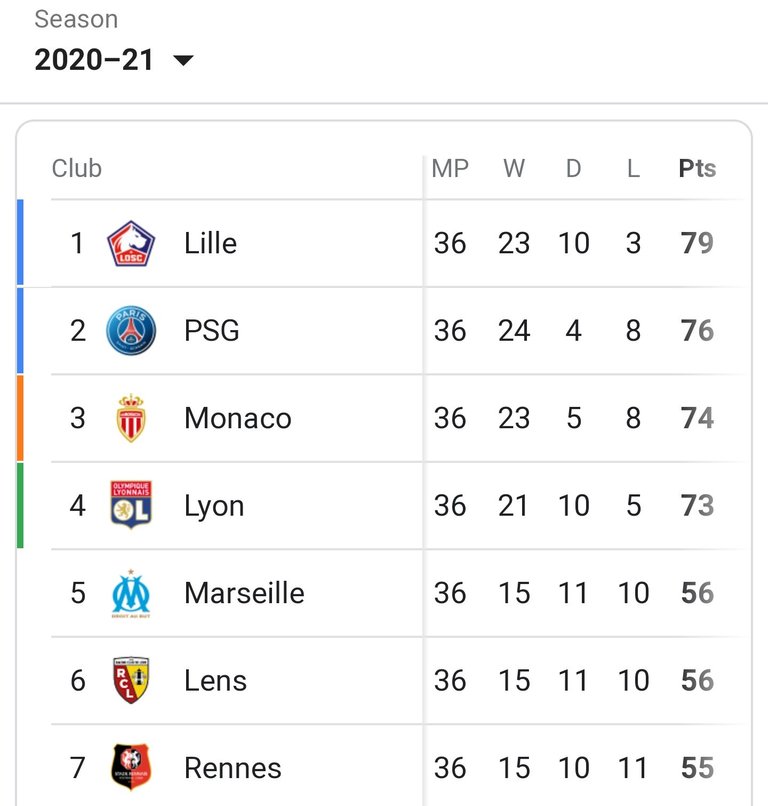 Source
What is wrong with pochetino's PSG team, draw against rennes on sunday, and lille just go 3 points above PSG, meaning lille just need 4 points from the remaining 2 matches to be crown champion, i will actually want lille to win this one to stop the PSG dominance, by the way PSG are also messing up, they need to do more, or maybe managerial change is still affecting them.
---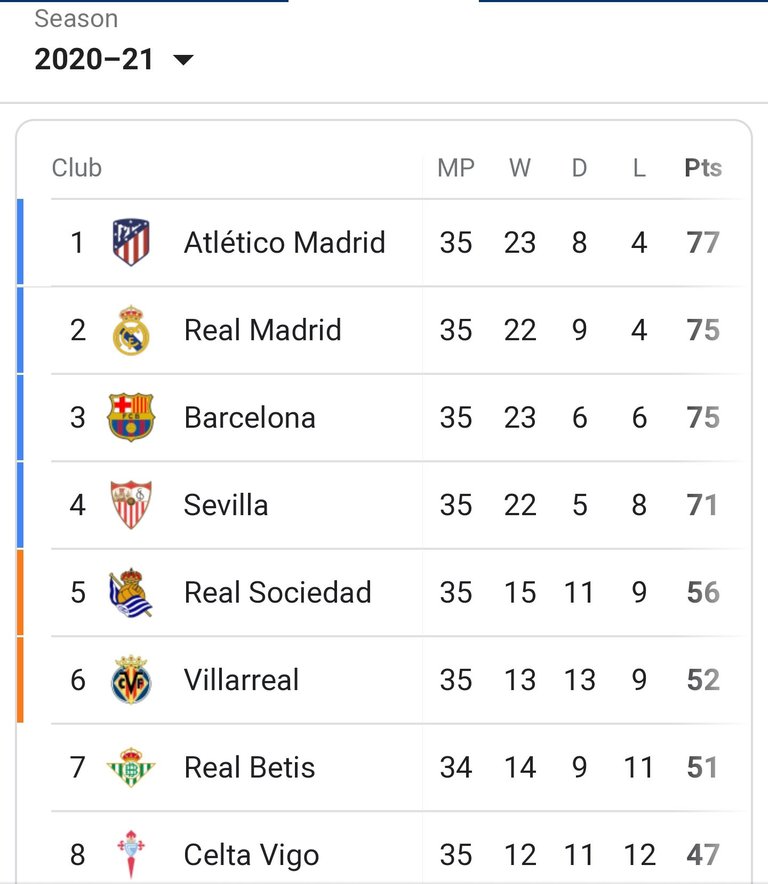 Source
The league in spain is quite interesting, seems we have to wait till the very last day to know our winner, athletico Madrid did well for themselves against barca atleast they did not lose that one, and real madrid who suposed to capitalize on that and win against sevilla also fumbled and drew the match, 2 points separating the first placed team and the 3rd, anything can still happen, 3 matches to go, the top 4 teams are not going to play against each other, meaning you just have to win all the remaining matches, i think athletico madrid will carry this one, the team can't just afford slip off, they have this trophy in their hands already.
---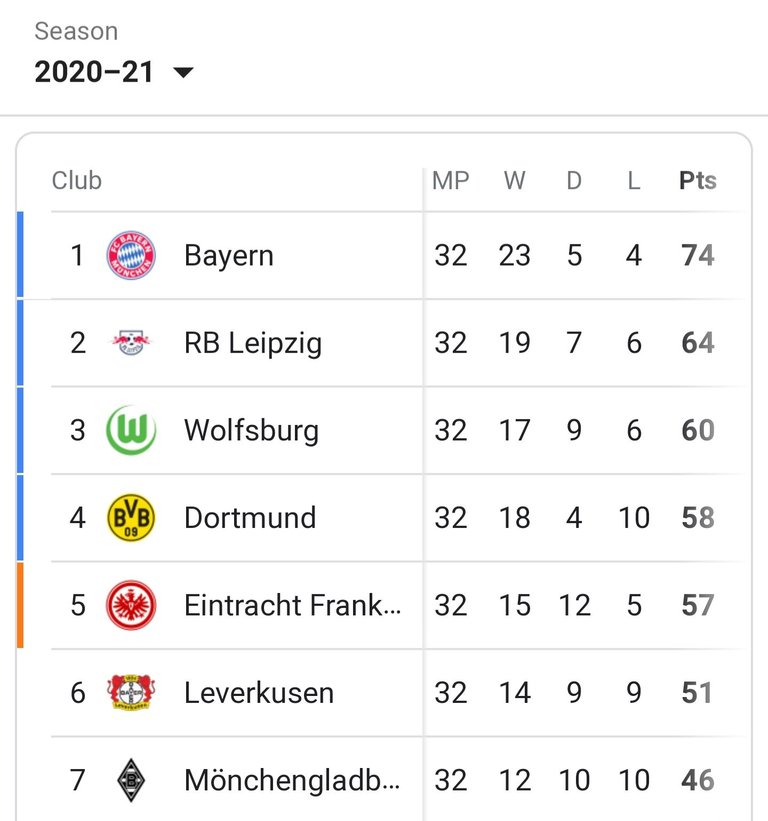 Source
They say the german Bundesliga should be named german bayernsliga, to me its quite unfair how bayern dominated the german league, they will even go as far as raiding these teams just to get their best players, funny enough RB Leipzig manager Nagelsmann will even be joining bayern next season, there is no doubt that bayern is far the superior team in germany wining the league for 9 straight times. There is also talk of erling haaland replacing robert Lewandowski when he leaves. For now i don't know which team in germany that can stabd toe to toe with bayern in terms of quality and financial aspect.
The league table in germany is as expected, thou i expect Frankfurt to find their way into the top 4, because they had a good season.
---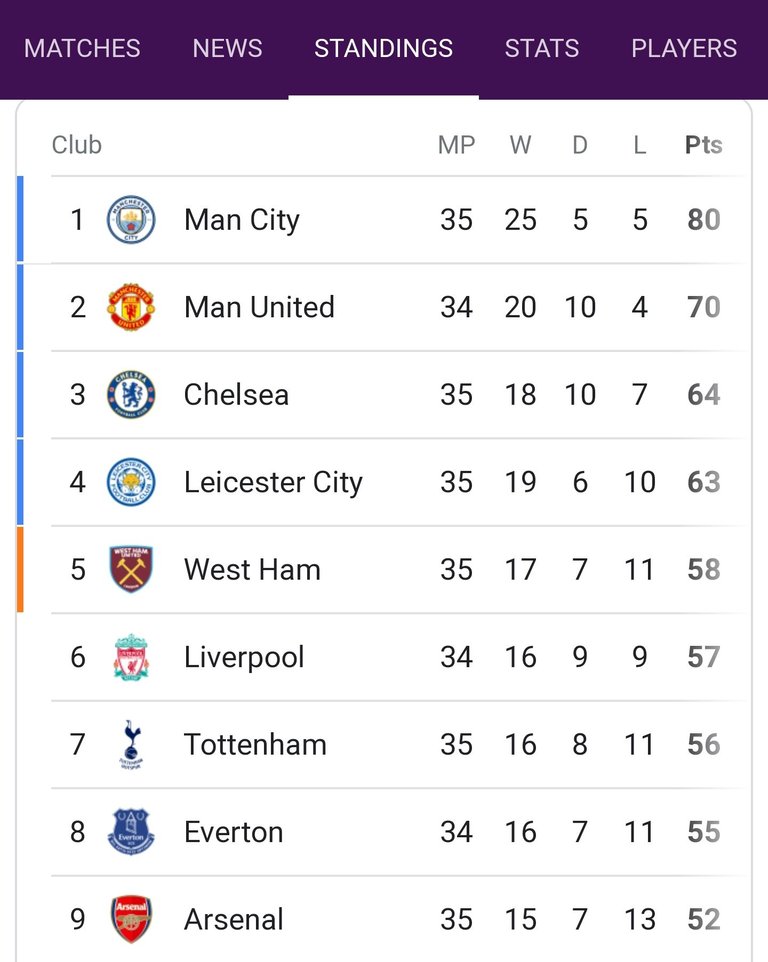 Source
For english football fans, the stakes are high, the permutations and combination is ongoing as to who will join Manchester city and Manchester United in the champions league next season. Chelsea's win over man city take them to 3rd while Leicester city lost against Newcastle. 6th placed liverpool can still make it to the top 4 if they win their outstanding game against man united, while westham united will be hoping the result goes in their favour. Leicester city still have pretty difficult matches, against man united,chelsea and Tottenham they need to win atleast 2 out of these fixtures to further guarantee them a place in next season champions league.
A quite win for Manchester united against Aston villa on sunday.
For me i'd love to see westham United in europe, be in champions league or europa league, they do deserve it but again i will love to see liverpool alongside chelsea to join Manchester city and Manchester united in next season champions league.