Diego Armando Maradona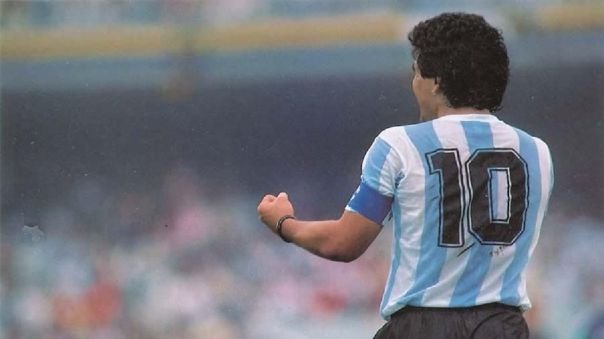 El día de hoy se anuncio el lamentable fallecimiento de Diego Maradona, el astro argentino que llevó a su selección a la gloria mundial en el 86, entre otras cosas, hoy decidí escribir esta biografía en honor a la magnifica carrera que hizo en el fútbol, espero que disfruten este tributo a lo que fue Maradona y a lo que significo para el mundo del deporte.
Today the unfortunate death of Diego Maradona was announced, the Argentine star who led his team to world glory in 1986, among other things, today I decided to write this biography in honor of the magnificent career he made in football, I hope you enjoy this tribute to what Maradona was and what he meant to the world of sports.
Sus Inicios / Maradona in his beginnings
Diego Armando Maradona Franco nació al oeste de Lanus, Buenos Aires, el 30 de Octubre de 1960 y como ya mencione antes, falleció el día de hoy, 25 de noviembre del 2020, casi un mes después de haber cumplido 60 años de edad. Fue el quinto hijo de un total de ocho, el primer varón de su camada, tenia ascendencia española y croata, aparte de su obvia descendencia argentina. Desde siempre practicó como un futbolista ofensivo en una cancha local llamada las siete canchitas, sin embargo sus primeros roces con el futbol se dieron en 1969, cuando probó para las inferiores de Argentinos Juniors, equipo al que denominaban ''los cebollitas'' ese equipo fue creado por Francisco Cornejo con el fin de competir en los juegos nacionales de Evita del año 73 y 74, torneo del que saldrían campeones ademas del campeonato de liga de la octava división.
Ese plantel permaneció con Cornejo hasta que cumplieron los catorce años, edad en la que podrían ser fichados por el equipo. Aquella escuadra marcó un hito en la historia al conseguir un invicto de 136 partidos de los que Maradona formó parte activamente, con apenas 10 años apareció en el diario el clarin con una nota que decía que había un pibe con porte y clase de 'crack' y empezó a hacerse conocido por los aficionados del equipo pues acostumbraba a hacer malabares con el balón en los entretiempos de los partidos, tal era su talento que fue invitado a participar en programas televisivos de renombre en la Argentina, ademas participó en torneos no solo en su país local si no también en países como Perú y Uruguay. 10 días antes de cumplir 16 años de edad, se dio su debut en primera división, con el equipo de Argentinos Juniors.
Diego Armando Maradona Franco was born west of Lanus, Buenos Aires, on October 30, 1960 and as I mentioned before, he died today, November 25, 2020, almost a month after turning 60 years old. He was the fifth child of a total of eight, the first male in his litter, of Spanish and Croatian descent, apart from his obvious Argentine descent. He has always practiced as an offensive footballer on a local field called the seven fields, however his first friction with football occurred in 1969, when he tried for the lower ranks of Argentinos Juniors, a team called "los cebollitas". that team was created by Francisco Cornejo in order to compete in the national games of Evita in the year 73 and 74, a tournament from which champions would also come out of the league championship of the eighth division. That squad remained with Cornejo until they were fourteen, the age at which they could be signed by the team. That squad marked a milestone in history by getting undefeated in 136 games in which Maradona was an active part, with just 10 years el clarin appeared in the newspaper with a note that said that there was a kid with poise and a kind of 'crack' and he began to become known by the fans of the team as he used to juggle the ball in the halves of the games, such was his talent that he was invited to participate in renowned television programs in Argentina, he also participated in tournaments not only in your local country if not also in countries like Peru and Uruguay. 10 days before turning 16 years of age, he made his debut in the first division, with the Argentinos Juniors team.
Argentinos Juniors
El 20 de Octubre del 1976 Maradona jugó su primer partido como profesional, ante Talleres, por el campeonato nacional Argentino, aquel día su equipo perdió por 1-0 , ingresando en el segundo tiempo en sustitución de Rubén Aníbal Giacobetti con la camiseta numero 16. En la primera jugada que tuvo, Diego empezó a mostrar su magia, haciéndole un túnel a un jugador del equipo rival, respecto a aquel partido, Maradona dijo tiempo después: 'ese día toqué el cielo con las manos' y el siguiente mes, el 14 de noviembre del aquel año, marcó su primer gol frente a San Lorenzo, ademas, aquella tarde marcaría otro gol mas. Aunque ya había jugado para la selección mayor, quedó fuera de la lista para la copa del mundo del 78 debido a su juventud, copa de la que Argentina saldría campeona. Jugando para Argentinos Juniors consiguió ser el máximo goleador en cinco oportunidades, siendo el único en hacerlo, ademas logró un subcampeonato en 1980, torneo que ganaría River Plate. en 1979 formó parte del plantel que disputó el mundial sub-20 del cual saldría campeón, marcando varios goles, incluido uno en la final contra la Unión Soviética, al final seria elegido como el mejor jugador de aquel mundial.
On October 20, 1976 Maradona played his first game as a professional, against Talleres, for the Argentine national championship, that day his team lost 1-0, entering the second half to replace Rubén Aníbal Giacobetti with shirt number 16. In the first play he had, Diego began to show his magic, tunneling a player from the rival team, regarding that match, Maradona later said

that day I touched the sky with my hands

and the following month, the November 14 of that year, he scored his first goal against San Lorenzo, in addition, that afternoon he would score another goal. Although he had already played for the senior team, he was left out of the list for the 1978 world cup due to his youth, a cup of which Argentina would be the champion. Playing for Argentinos Juniors, he managed to be the top scorer five times, being the only one to do so, he also achieved a runner-up in 1980, a tournament that River Plate would win. in 1979 he was part of the squad that played the U-20 World Cup, which would become champion, scoring several goals, including one in the final against the Soviet Union, in the end he would be chosen as the best player in that World Cup.
Boca Juniors
Muchos equipos peleaban por contratar al crack Argentino, entre ellos River Plate, el America colombiano o el Sheffield United ingles, pero no fue hasta el año 1981 que Maradona decidió abandonar la disciplina de Argentinos Juniors y su destino fue Boca, que en aquel momento no podían pagar su ficha por problemas económicos y eso provocó que el jugador saliera cedido por un año y medio, con una opción a compra. Firmó su contrato el 20 de febrero y debutó dos días después, de nuevo ante Talleres, a diferencia de su partido anterior, esta vez lograron una abultada victoria por 4-1, con un doblete del Diego, aquel partido Maradona lo jugó lesionado, aunque mintió al respecto para poder jugar y no fue hasta el 8 de marzo que se le detectó un desgarro que lo alejó de las canchas hasta el 29 de aquel mes. el 10 de Abril jugó su primer superclasico, frente a River, donde Boca saldría ganador por un marcador de 3-0, con un golazo de Maradona en la Bombonera. Aun así sus inicios en Boca no fueron del todo buenos, ya que no tenia buenas relaciones con el entrenador de aquel entonces y tampoco con la barra brava del equipo, en una ocasión llego a recibir junto a sus compañeros amenazas con armas de fuego de uno de los lideres de la barra brava que le exigía mejorar los resultados después de cuatro empates consecutivos, a pesar de la presión, el equipo haría una gran temporada y obtendrían el único titulo de Maradona en Argentina. Al final, Diego jugó 40 partidos para Boca Juniors y marcó 28 goles.
Many teams fought to hire the Argentine crack, including River Plate, Colombian America or English Sheffield United, but it was not until 1981 that Maradona decided to abandon the Argentinos Juniors discipline and his destination was Boca, which at that time did not they could pay their chip due to financial problems and that caused the player to go out on loan for a year and a half, with an option to buy. He signed his contract on February 20 and debuted two days later, again against Talleres, unlike his previous game, this time they achieved a bulky 4-1 victory, with a double from Diego, that game Maradona played it injured, although He lied about it in order to play and it was not until March 8 that a tear was detected that took him away from the courts until the 29th of that month. on April 10 he played his first superclassic, against River, where Boca would be the winner by a score of 3-0, with a goal from Maradona in the Bombonera. Even so, his beginnings in Boca were not entirely good, since he did not have good relations with the coach at that time and neither with the team's brave bar, on one occasion he received threats with firearms from one of his colleagues. of the leaders of the brave bar that required him to improve the results after four consecutive draws, despite the pressure, the team would have a great season and they would obtain the only title of Maradona in Argentina. In the end, Diego played 40 games for Boca Juniors and scored 28 goals.
FC Barcelona
Durante el mundial de España 82, la selección argentina se hospedó en Barcelona, y tras el mundial, se hizo oficial el fichaje del argentino por el club blaugrana, quienes pagaron 1200 millones de pesetas por su pase, debutó con el Barcelona el 3 de agosto de 1982 en un amistoso contra el SV Meppen aleman, en diciembre de ese año tuvo que alejarse de las canchas por 3 meses debido a una hepatitis, y su regreso al equipo fue acompañado por la contratación de Julio Cesar Menotti como nuevo técnico del club. El 12 de marzo de 1983 contra el Betis se dio el regreso de Maradona al terreno de juego, a pesar de que no pudieron ganar la liga, gracias al juego de Maradona lograron salir campeones de las copas domesticas, el 26 de junio salieron campeones de la ya extinta copa de la liga, frente al Real Madrid, donde Maradona marco los goles de la victoria y salio ovacionado del Santiago Bernabeu.
La temporada siguiente seria muy gris para la carrera del 10, apenas en la cuarta fecha de la liga, salió en camilla tras recibir un criminal golpe de Andoni Goikoetxea que le provocó una fractura en el tobillo izquierdo, fue operado en Barcelona y estuvo de baja por 3 meses, aunque los informes médicos proyectaban al menos 6, el Barcelona quedó tercero aquella temporada y Maradona jugó solo 16 partidos en los que marcó 11 goles, en copa seria algo distinto, ya que el argentino ayudaría al club a llegar a la final, en semis fue expulsado pero la Federación Española elimino la sanción para que pudiera jugar el partido decisivo frente al Athletic Club, que significaba el reencuentro de Maradona con Goikoetxea, los días anteriores al partido y el encuentro en si estuvieron cargados de mucha tensión y al final del mismo el conjunto vasco salió victorioso por 1-0 y eso desencadeno una tangana que inicio por un agravio de Maradona a Miguel Angel Sola, jugador del Athletic, fue un espectáculo vergonzoso y la federación impuso una fuerte sanción a Maradona de 3 meses sin poder jugar. Esta sanción junto de las repetidas criticas hacia su vida privada y sus salidas nocturnas relacionadas con drogas, ademas de las quejas del jugador al sentir que no estaba siendo respaldado por el club ante la federación, provocaron que se pactara un acuerdo de traspaso que terminaría colocando a Diego en su mejor momento como deportista, su etapa como jugador de Napoli.
During the World Cup in Spain 82, the Argentine team stayed in Barcelona, and after the World Cup, the signing of the Argentine by the Blaugrana club became official, who paid 1200 million pesetas for his pass, he debuted with Barcelona on August 3 In 1982 in a friendly against German SV Meppen, in December of that year he had to leave the fields for 3 months due to hepatitis, and his return to the team was accompanied by the hiring of Julio Cesar Menotti as the club's new coach. On March 12, 1983, against Betis, Maradona returned to the field of play, although they could not win the league, thanks to Maradona's game they managed to become champions of the domestic cups, on June 26 champions of the now defunct league cup, against Real Madrid, where Maradona scored the winning goals and was cheered by the Santiago Bernabeu. The following season would be very gray for the race of 10, just on the fourth round of the league, he left on a stretcher after receiving a criminal blow from Andoni Goikoetxea that caused a fracture in his left ankle, he underwent surgery in Barcelona and was out For 3 months, although the medical reports projected at least 6, Barcelona was third that season and Maradona played only 16 games in which he scored 11 goals, in the cup it would be something different, since the Argentine would help the club to reach the final , in semis he was expelled but the Spanish Federation eliminated the sanction so that he could play the decisive match against Athletic Club, which meant Maradona's reunion with Goikoetxea, the days before the match and the match itself were loaded with a lot of tension and At the end of it, the Basque team was victorious 1-0 and that unleashed a tangana that began due to an injury from Maradona to Miguel Angel Sola, an Athletic player, it was a spectacle shameful and the federation imposed a strong sanction on Maradona for 3 months without being able to play. This sanction, together with the repeated criticisms of his private life and his drug-related nights out, in addition to the player's complaints when he felt that he was not being supported by the club before the federation, led to the agreement of a transfer agreement that would end up placing Diego at his best as an athlete, his time as a Napoli player.
Napoli
el 5 de julio de 1984 se dio la presentación de Maradona ante la afición del Napoli en el estadio San Paolo, que estaba repleto de aficionados, el fichaje del argentino había despertado una ilusión sin precedentes en el modesto club italiano que la temporada anterior apenas se había salvado del descenso. Debutó el 16 de septiembre de aquel año en una derrota por 3-1 contra el Verona, equipo que terminaría ganando la liga esa temporada, y el año siguiente, tras el buen desempeño del equipo los dirigentes decidieron invertir en el club, viendo que tenían chance de pelearse el titulo, fue entonces cuando contrataron a buenos jugadores que estaban teniendo un gran presente, como Claudio Garella y Bruno Giordano, esa temporada el club quedó tercero en liga, luego de eso el argentino se fue con su selección a México, para jugar el mundial, regresó envuelto en gloria tras haber salido campeón, y en la temporada siguiente al mundial se dio la consagración de Diego en Italia.
Hasta aquel momento, solo el Torino, la Juventus y el Inter habían conseguido ganar el doblete de copa y liga que terminaría ganando el Napoli, logro en el que Maradona seria el principal artífice, el AC Milan intentó ficharlo pero Maradona mantuvo su compromiso con el Napoli y renovó su contrato hasta 1993, con un sueldo de 5 millones de dolares al año, pasó a convertirse en uno de los mejores jugadores del mundo, ademas en esa temporada nacerían sus dos primeros hijos. Para la temporada siguiente el brasileño Careca se uniría al plantel de Napoli, y tuvieron un inicio brutal, 87% de los puntos disputados en sus primeros 19 partidos, sin embargo al final perdieron potencia y al final terminaron segundos en liga, se acuso al equipo de haber vendido aquel campeonato y se escucharon rumores que relacionaban a Maradona con la Camorra, una organización criminal con intereses en el fútbol italiano, aunque esto nunca fue comprobado.
En la temporada 89/90, el Napoli nuevamente quedaría segundo en liga, pero aquel año hicieron historia al salir campeones de la copa de la UEFA y Maradona de nuevo, seria la estrella del equipo, a estas alturas ya era considerado una deidad en Napoli y el logro internacional no hizo mas que elevar su status en la ciudad, ademas ese año nacería su hija Giannina, la siguiente temporada también seria muy exitosa para Maradona y el Napoli, donde volvieron a ganar el Scudetto y también la Supercopa de Italia, Maradona quedó tercero en la tabla de goleadores detrás de Van Bastem y Roberto Baggio, luego del mundial de 1990, Maradona decidió que quería alejarse del fútbol italiano, y así pondría rumbo nuevamente a España, para jugar en el Sevilla.
On July 5, 1984, Maradona's presentation was given to the Napoli fans at the San Paolo stadium, which was full of fans, the signing of the Argentine had awakened an unprecedented illusion in the modest Italian club that the previous season barely had saved the descent. He made his debut on September 16 of that year in a 3-1 defeat against Verona, a team that would end up winning the league that season, and the following year, after the good performance of the team, the leaders decided to invest in the club, seeing that they had chance to fight for the title, it was then that they hired good players who were having a great present, such as Claudio Garella and Bruno Giordano, that season the club was third in the league, after that the Argentine went with his team to Mexico, to To play the World Cup, he returned wrapped in glory after being champion, and in the season following the World Cup, Diego was consecrated in Italy. Until then, only Torino, Juventus and Inter had managed to win the cup and league double that Napoli would end up winning, an achievement in which Maradona would be the main architect, AC Milan tried to sign him but Maradona maintained his commitment to him Napoli and renewed his contract until 1993, with a salary of 5 million dollars a year, went on to become one of the best players in the world, also in that season his first two children would be born. For the following season the Brazilian Careca would join the Napoli squad, and they had a brutal start, 87% of the points played in their first 19 games, however in the end they lost power and in the end they finished second in the league, the team was accused having sold that championship and rumors were heard that related Maradona to the Camorra, a criminal organization with interests in Italian football, although this was never proven. In the 89/90 season, Napoli would again be second in the league, but that year they made history by winning the UEFA Cup and Maradona again, would be the star of the team, at this point he was already considered a deity in Napoli And the international achievement did nothing more than raise his status in the city, also that year his daughter Giannina would be born, the following season would also be very successful for Maradona and Napoli, where they again won the Scudetto and also the Italian Super Cup, Maradona He was third in the scorers' table behind Van Bastem and Roberto Baggio, after the 1990 World Cup, Maradona decided that he wanted to get away from Italian football, and thus he would head back to Spain, to play for Sevilla.
Sevilla FC
Después de vencerse la sanción que le impuso la FIFA, de la cual hablare mas abajo en este post, el argentino queria jugar para un club que tuviera menos exigencias deportivas, los primeros destinos posibles fueron el Sevilla y el Marsella, siendo los primeros quienes se quedarían con la ficha del argentino luego de un largo y difícil periodo de negociaciones debido a la negativa del Napoli en venderlo, la FIFA tuvo que intervenir y el 22 de septiembre de 1992 se dio un cierre al trato, recalando Maradona en el Sevilla de España. Hizo su debut oficial el 4 de octubre del 92 ante el Athletic, el mismo club ante el que habia jugado su ultimo partido en España cuando todavía jugaba en Barcelona, su etapa en Sevilla fue bastante opaca debido en su mayoría a problemas con los dirigentes y el entrenador, en total jugó solo 29 partidos, marcó seis goles y dio nueve asistencias, al año siguiente, en 1993, regresó a jugar en Argentina.
After the sanction imposed by FIFA expired, which I will talk about later in this post, the Argentine wanted to play for a club that had fewer sports demands, the first possible destinations were Sevilla and Marseille, the first being those who were They would be left with the Argentine's file after a long and difficult period of negotiations due to Napoli's refusal to sell him, FIFA had to intervene and on September 22, 1992 the deal was closed, with Maradona arriving at Seville in Spain . He made his official debut on October 4, 92 against Athletic, the same club against which he had played his last game in Spain when he was still playing in Barcelona, his stage in Seville was quite opaque due mostly to problems with the leaders and The coach, in total, played only 29 games, scored six goals and gave nine assists, the following year, in 1993, he returned to play in Argentina.
Newell's Old Boys / Boca Juniors
Aunque en un principio todo apuntaba a que el argentino iba a regresar a Argentinos Juniors, al final terminó recalando en Newell's, el 13 de septiembre del 93 realizó su primer entrenamiento, en el que 40 mil personas se habían reunido para verlo, pero nuevamente debido a problemas mas allá de lo futbolistico, tuvo un paso extremadamente fugaz en la entidad, en diciembre tuvo un desgarro que lo mantuvo alejado de las canchas durante un tiempo y la siguiente imcorporacion del técnico Jorge Castelli, que le habia cerrado las puertas antes en San Lorenzo, provocaron la marcha del astro de la albiceleste, en total solo jugó cinco partidos oficiales con Newell's y no marcó ningún gol. Terminaria recalando nuevamente en Boca Juniors, donde no tuvo ninguna actuación destacada, mientras se preparaba para su regreso a las canchas después de los problemas del mundial de 1994, realizó actividades atadas al fútbol, el 28 de septiembre fundó en París el Sindicato Mundial de Futbolistas, que no tendría mucha relevancia luego pero en su fundación contó con el apoyo de jugadores de renombre, como Eric Cantona, George Weah, Laurent Blanc o Michel Preud'homme. Estuvo teniendo sesiones breves y equitativas de fútbol y de descanso en su periodo final en Boca, donde también participo en campañas en contra de las drogas en un afán por limpiar su imagen, el jugador anunció su retiro del fútbol profesional el día que cumplió 37 años, el 30 de octubre de 1997.
Although at first everything indicated that the Argentine was going to return to Argentinos Juniors, in the end he ended up landing at Newell's, on September 13, 93 he made his first training, in which 40 thousand people had gathered to see him, but again due to to problems beyond football, he had an extremely fleeting step in the entity, in December he had a tear that kept him away from the fields for a while and the next incorporation of coach Jorge Castelli, who had closed the doors before him in San Lorenzo, provoked the departure of the star of the albiceleste, in total he only played five official games with Newell's and did not score any goals. He would end up landing again at Boca Juniors, where he did not have any outstanding performance, while he was preparing for his return to the fields after the problems of the 1994 World Cup, he carried out activities related to football, on September 28 he founded the World Footballers Union in Paris , which would not have much relevance later but in its foundation it had the support of renowned players, such as Eric Cantona, George Weah, Laurent Blanc or Michel Preud'homme. He was having brief and equitable soccer sessions and rest in his final period in Boca, where he also participated in campaigns against drugs in an effort to clean his image, the player announced his retirement from professional football on the day he turned 37 , on October 30, 1997.
Carrera como entrenador / As a coach
Después de sufrir y superar diversos problemas de salud derivado del abuso de drogas, la comida y el alcohol, Maradona trabajó como vicepresidente del consejo de Boca Juniors durante un año, entre 2005 y 2006, donde pidió la contratación de Alfio Basile como entrenador, lo que supuso un gran acierto pues la etapa del técnico en el club fue bastante buena, en el año 2008 y tras la renuncia de Basile, Maradona fue presentado como el nuevo técnico de la selección argentina, liderada en aquel entonces por un espectacular Lionel Messi, el 19 de noviembre del 2008 se produjo su curioso debut, ya que fue en el mismo estadio y ante la misma seleccion a a la que le marcó su primer gol con la albiceleste, terminaria ganando aquel partido por 1-0. Su paso por la selección finalizo con la eliminación de Argentina frente a Alemania en los cuartos de final de Sudafrica 2010, cuando Maradona y la selección no llegaron a un acuerdo sobre la dirección del equipo, entonces ficho por el Al Wasl.
donde dirigiría un total de 23 partidos y logrando triunfar en 11 de ellos, trajo al equipo algunos jugadores sudamericanos como refuerzo y la camiseta numero diez fue retirada en su honor, ademas se le firmo un contrato por mas de 30 millones de euros anuales, a pesar de mantener buena relación con la dirigencia y una linea de resultados decente, tuvo ciertos roces que le generaron problemas a largo plazo, como una riña que sostuvo con el entrenador del Al Ain, Cosmin Olaroiu, por lo que fue suspendido por 3 partidos y por razones como esta, el club decidió despedirlo en el año 2013, a pesar de que Maradona había anunciado que quería seguir en la entidad e incluso, expandir sus funciones dentro del equipo, luego de su despido estuvo realizando labores como embajador deportivo y como comentarista hasta el año 2017, cuando firmó un contrato con el Al Fujairah de Emiratos Arabes Unidos, club donde estaría menos de una temporada, para luego recalar en el Dinamo Brest de Bielorusia, donde tampoco obtendría ningún titulo.
Su nueva aventura lo llevaría al club Dorados de Sinaloa, de la segunda división de México, allí dirigió un total de 38 partidos, resultando ganador en 20 de ellos y perdiendo solo nueve. Se puede considerar a esta como su mejor etapa como entrenador, llegó dos veces a la final de ascenso pero no pudo obtener el campeonato, el 13 de junio de 2019 se anuncio que no seguiría en el equipo ya que iba a dedicarse a atender sus lesiones de rodilla y hombro que se habían complicado por la artrosis, problema que incluso llegó a impedirle caminar. Fue despedido con mucho cariño por la afición del equipo.
El 5 de septiembre de 2019, anunció su fichaje por Gimnasia y Esgrima La Plata, de Argentina, como parte del intento del club para salvarse del descenso, el hecho de haber fichado por el equipo provoco que la lista de socios aumentara en 3000, aumentando en casi un 10%. Dirigió un total de 21 encuentros en los que obtuvo ocho victorias, cuatro empates y nueve derrotas, en su carrera como entrenador, dirigió un total de 140 partidos de los cuales gano 67, empató 31 y gano 42. Durante mucho tiempo el jugador estuvo sumido en el mundo de las drogas y esto le trajo muchos problemas de salud que irian agravandose con el paso de los años, esto le llevo a sufrir un a causa de un paro cardio-respiratorio el dia de hoy, 25 de noviembre del año 2020, a la edad de 60 años.
After suffering and overcoming various health problems derived from the abuse of drugs, food and alcohol, Maradona worked as vice president of the Boca Juniors board for a year, between 2005 and 2006, where he requested the hiring of Alfio Basile as a coach, which That was a great success because the coach's stage at the club was quite good, in 2008 and after Basile's resignation, Maradona was presented as the new coach of the Argentine team, led at that time by a spectacular Lionel Messi, On November 19, 2008, his curious debut took place, since it was in the same stadium and against the same team that scored his first goal with the Albiceleste, he would end up winning that match 1-0. His time for the national team ended with the elimination of Argentina against Germany in the quarterfinals of South Africa 2010, when Maradona and the national team did not reach an agreement on the direction of the team, then he signed for Al Wasl. where he would direct a total of 23 games and managing to triumph in 11 of them, he brought some South American players to the team as reinforcement and the number ten shirt was withdrawn in his honor, he also signed a contract for more than 30 million euros per year, to Despite maintaining a good relationship with the leadership and a decent line of results, he had certain frictions that generated long-term problems, such as a fight he had with Al Ain coach, Cosmin Olaroiu, for which he was suspended for 3 games and For reasons like this, the club decided to fire him in 2013, despite the fact that Maradona had announced that he wanted to continue in the entity and even expand his functions within the team, after his dismissal he was carrying out work as a sports ambassador and as a commentator until 2017, when he signed a contract with Al Fujairah of the United Arab Emirates, a club where he would spend less than a season, and then he joined Dinamo Brest of Belarus, where neither would it get any title. His new adventure would take him to the Dorados de Sinaloa club, of the second division of Mexico, there he directed a total of 38 games, winning 20 of them and losing only nine. This can be considered his best stage as a coach, he reached the promotion final twice but could not obtain the championship, on June 13, 2019 it was announced that he would not continue in the team since he was going to dedicate himself to treating his injuries knee and shoulder that had been complicated by osteoarthritis, a problem that even prevented him from walking. He was fired with great affection by the fans of the team. On September 5, 2019, he announced his signing for Gimnasia y Esgrima La Plata, from Argentina, as part of the club's attempt to save itself from relegation, the fact of having signed for the team caused the list of partners to increase by 3000, increasing by almost 10%. He directed a total of 21 games in which he won eight victories, four draws and nine defeats. In his coaching career, he directed a total of 140 games, of which he won 67, drew 31 and won 42. For a long time the player was immersed in the world of drugs and this brought him many health problems that would worsen over the years, this led him to suffer from a cardio-respiratory arrest today, November 25, 2020, at the age of 60.
Con la seleccion / National Team
Diego Maradona jugó un total de 91 partidos para la selección absoluta de Argentina, marcó 34 goles y dio 33 asistencias, su primer gol lo marcó el 2 de agosto de 1979 frente a Escocia, salio campeon con la selección sub-20 del mundial del 79, siendo elegido como el mejor jugador, participó del mundial de España 1982 donde fue expulsado tras agredir a un rival en un partido contra Brasil y luego en el mundial de México 86 se convirtió en una leyenda tras guiar a su selección a la gloria a través de unas espectaculares actuaciones, como aquella que dio ante Inglaterra en cuartos de final, donde marco el gol llamado 'la mano de dios' y mas tarde, el reconocido como el gol del siglo.
---
En la semifinal, Maradona marcaría dos goles para darle el triunfo a Argentina por 2-0, que les hacia acceder a la final en la que el Argentino también seria determinante, dando una impresionante asistencia a Burruchaga para que pusiera el 3-2 definitivo que hacia campeones a los argentinos en el único partido que estos le han ganado a Alemania en un mundial. Maradona fue el mejor jugador de aquel mundial, donde anotó cinco goles y dio cinco asistencias, en el 90 resulto subcampeon tras perder la final nuevamente contra Alemania, alli empezaron a salir a la luz los problemas de Maradona con las drogas, durante el mundial de 1994 se inició un enorme escándalo tras ser positivo en un examen anti dopaje por consumo de al menos cinco sustancias prohibidas: efedrina, norefedrina, seudoefedrina, norseudoefedrina y metaefedrina, esto le dejo fuera de aquel mundial y fue suspendido por la FIFA durante 15 meses, el partido contra Nigeria en aquel mundial fue el ultimo de Diego con la selección Argentina, en la que a pesar de los problemas mas allá del fútbol, es considerado por muchos como el mejor de la historia y por otros, como el mejor junto a Lionel Messi, sea como sea, Diego Armando Maradona fue una maravilla del deporte y un jugador como nunca otro, en mi opinión personal y hablando expresamente de su fútbol lo considero el mejor jugador de la historia por encima de cualquier otro, pero esta es mi opinión y si tienes una distinta, me gustaría que me la hicieras saber en los comentarios, esto ha sido todo por hoy y espero que esta publicación haya sido de su agrado, hasta un próximo post, me despido.
Diego Maradona played a total of 91 games for Argentina's senior team, scored 34 goals and gave 33 assists, his first goal was scored on August 2, 1979 against Scotland, he was champion with the U-20 team of the 79 World Cup , being chosen as the best player, he participated in the 1982 World Cup in Spain where he was expelled after attacking a rival in a match against Brazil and then in the World Cup in Mexico 86 he became a legend after guiding his team to glory through of some spectacular performances, such as the one he gave against England in the quarterfinals, where he scored the goal called 'the hand of God' and later, the one recognized as the goal of the century. In the semifinal, Maradona would score two goals to give Argentina the victory 2-0, which made them access the final in which the Argentine would also be decisive, giving an impressive assist to Burruchaga to make the final 3-2 that they made the Argentines champions in the only game they have beaten Germany in a World Cup. Maradona was the best player of that World Cup, where he scored five goals and gave five assists, in 90 he was runner-up after losing the final again against Germany, there Maradona's problems with drugs began to come to light, during the World Cup In 1994, a huge scandal began after being positive in an anti-doping test for the consumption of at least five prohibited substances: ephedrine, norephedrine, pseudoephedrine, norseudoephedrine and metaephedrine, this left him out of that World Cup and he was suspended by FIFA for 15 months, The game against Nigeria in that World Cup was Diego's last with the Argentine team, in which despite problems beyond football, he is considered by many as the best in history and by others, as the best along with Lionel Messi, be that as it may, Diego Armando Maradona was a marvel of sport and a player like never another, in my personal opinion and speaking expressly of his football I consider him the best player in the world. a story above any other, but this is my opinion and if you have a different one, I would like you to let me know in the comments, this has been all for today and I hope this publication has been to your liking, until next time post, I say goodbye.