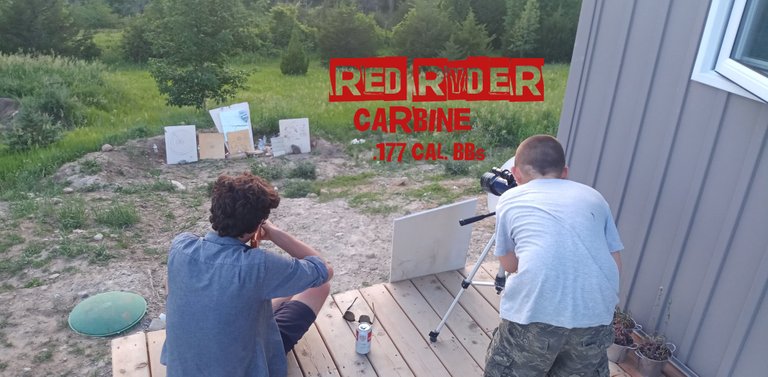 My Sons and I have been having target practice fun the past few days, with the classic Red Ryder Carbine BB gun - and the telescope set up for spotting.
Red Ryder carbine
The Red Ryder carbine is a classic target shooting BB gun made by the Daisy company, it's themed after the one from the "Christmas Story" movie, but with a few subtle differences - from the movie, "Red Ryder carbine-action, two hundred shot Range Model air rifle with a compass in the stock and this thing which tells time" (Source). Unfortunately there is no compass or clock on this model, but it does hold more shots @ 650 BBs.

The Red Ryder shoots the .177 Cal. BBs. at 350 feet per second (107 meters per second) - not quite enough to break the skin or humanely hunt an animal, but it could definitely "shoot your eye out" (another line from the movie).

Single pump cocking leaver that sets the air spring and loads the BB - a joy to gallery shoot with, compared to multi-pump single-load pellet guns.

Signature "Red Ryder branded stained solid wood stock", and it has a "Crossbolt trigger block safety" (quotes from the box).
It has an adjustable sight that can be moved up and down for proper sighting - depending on how far away the target is, gravity will eventually start to pull the BB down. The box says it has a 195 yard max shooting distance, that BB would have one heck of an arc - we set up the target 30-40 feet away from us without the BB's trajectory sinking much.
Easy access for loading the BBs... My younger son finds it easier to aim when it's fully loaded with BBs, maybe the extra weight helps steady his hand.
Single Lever-cocking Action...
I added some cans to the shooting gallery for that extra puh-ting, in addition to the drum sounding large water bottles, and the drywall and cardboard targets. Good fun for the family, Classic.

Have a great day!