I'm in transfer hell! Winners everywhere last Saturday despite Jamie Vardy letting over half of you down. The boy couldn't hit a barn door from 8 yards! For one player, it was a bumper day! Full details at the end of the post as usual.
Leicester again managed to prove they are no fluke under the guidance of Brenden Rodgers who himself has a point to prove and begrudgingly, it's nice to see a team outside the classic top 5 making waves near the summit of the table.
Anyway, it's Tuesday already. I'm currently supervising online classes for three different kids at three different schools during our current soft lockdown so it's busy and all the laptops, TVs and webcams I have set up is sucking the national grid dry but I hope to be more organised and habitual with our daily challenge. I love to read the predictions and comments from you lot.
So here we go again, and no, I'm not picking the Leicester game today. Instead, we turn to West Ham as I think we might get a more varied and interesting bunch of predictions and the token pot might get a more restful day!

18 points and 10 places separate the two teams but I actually fancy the draw this evening. West Brom will be buoyed by their win last time out against in the derby game against Wolves and big Sam will be hoping for a repeat of that gutsy performance to add to their poor total of just two wins all season.
West Brom have undoubtedly struggled at this higher level but seem to be finally developing some 'steel' under big Sam as they have not lost in their last three away games. Robert Snodgrass' move from West Ham will hopefully add some pace to the wings and provide a few more opportunities for the West Brom strikers.
West Ham 2 West Brom 2 First Scorer: Snodgrass (against his old club)
Simply write the name of the FIRST GOALSCORER and the CORRECT SCORE as a comment. Competition closes 5 minutes before kick-off which is 18.00 GMT.
The Small Print
In the first goalscorer competition, own goals do not count. In the correct score competition, it's the score after 90mins. Extra time and penalties do not count and the pot for each competition will roll-over if there is no winner. If more than one person chooses the same first goalscorer or correct score, the prize is shared and everyone gets a little upvote! It seems I also need to add, one entry per person. Don't forget the new rule that only people with a rep of 45 or above are eligible to enter unless they have been approved. The bonus will be added to any winnings ONLY if Leeds United win and/or Man U lose and all payouts will never exceed 50% of post payout. Other bonuses paid out at my discretion.
And the winners were...
Here we go.....firstly, a big congratulations to @slobberchops who made his first start for the senior's team (giving the oranges out at half-time) and along with the in-form @corporateay and @anderssinho shared the correct score pot of 5500 with their 2-0 prediction which when added to their appearance fee and rounded up a smidge gave them a take-home of 1900+500 = 2400 tokens each..but WAIT!!! @corprateay did the unthinkable, he bet against Vardy on James Middleton who scored the first goal, that gives him an additional 7000 tokens so he actually takes a grand total of 9400, which I've turned into 10K cos I like round numbers, well-done fella!!
As for the rest of you mainly James Vardy fan-boys, @jfang003, @mvl2304, @lebey1, @hykss.sports, @monsterbuster, @friendlymoose, @cabinet24, @ralph75, @bitandi and @chrisparis appearance fees are on their way.
BONUS of 500 tokens to @ervin-lemark who came to the game but was too busy to pull his shooting boots on but who very kindly left a @tipu tip. Thank you and much appreciated.
Proof of transfer hell and half the day gone...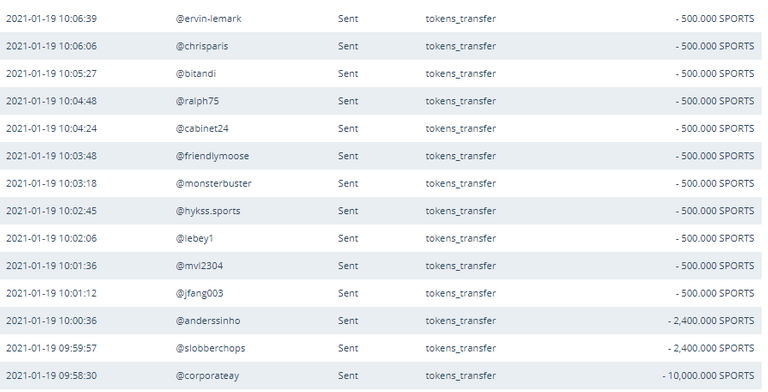 Well done to everyone and thanks as always for playing along. If my old brain has missed anyone or cocked up, please let me know in comments!
Stay safe and sane out there.
Marching on Together