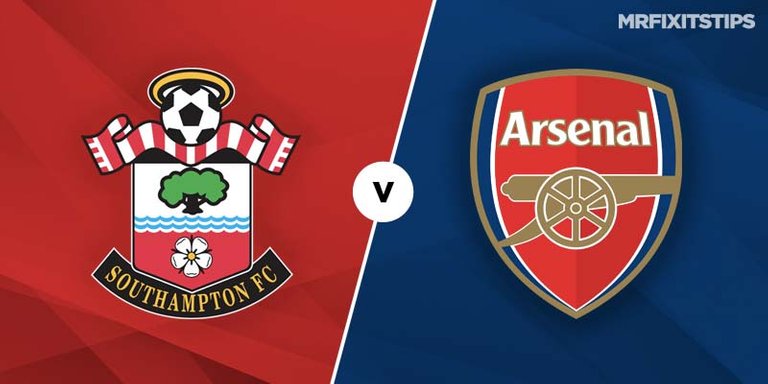 Source
We are back to the English FA Cup with 6 EPL teams having games today: Southampton vs Arsenal, Brighton and Hove Albion vs Blackpool, Sheffield United vs Plymouth Angyle, West Ham United vs Doncaster Rovers, and Cheltenham Town vs Manchester City. However, I will be focusing my attention on the game between Southampton and Arsenal.
The game between Ralph Hasenhutti's Saints and Mikel Arteta's Arsenal is definitely one of the 2 big clashes in this round's FA Cup with the game between Manchester United and Liverpool being the 2nd. And with the Saints having the advantage of playing at home, they could pose a huge threat to Arsenal, nevertheless, I think Mikel Arteta's Arsenal should get the win even if the game goes into Kicks from the Penalty spot.
Definitely, I work with stats, and I will be oroviding you with some.
Recent Performance Of Both Teams:
It is no gain saying that bar the 2 Manchester clubs, Arsenal have been the best team so far as England top flight teams are concerned, amassing a whooping 5 wins and 1 draw in their last 6 games, a really commendable effort by an Arsenal team that was very close to relegation prior to these last 6 games. Furthermore, they have only conceded just a single goal from these 6 outings and scoring a massive 13. Southampton, in contrast, have been kind of inconsistent, managing 2 wins, 2 draws, and 2 loses in equal number of games as Arsenal. You really don't want to face an amazing Arsenal team with this kind of form, do you?
Head To Head:
In their previous 8 meetings, Arsenal have been the better side on 4 occasions, Southampton on 1 occasion, with the remaining 3 ending in draws. This stat shows a draw could have also been a likable outcome if the FACup was not a knockout situation, however, it furthermore tilts Arsenal to get a win which will definitely give a huge psychological boost to the boys from London.
Aside these 2 stats which are the majors for me, there is 1 more stat that could be of huge positive psychological impact for Arteta's Arsenal carrying the day, and it is none other than their immense dominance of the English FA Cup. The Gunners have won a massive 14, making them the team with the highest number of FA Cup trophies in English Football history. This will definitely give some sort of psychological boost I think, not to forget that they are the defending champions.
We should definitely get an entertaining game considering both team's attacking style of play. And I will not be suprise if the game goes the other way round
Feel free to drop your opinions and comments, they will be greatly appreciated.
Much Love from your Football Analyst and Writer, IbkDaGreat.