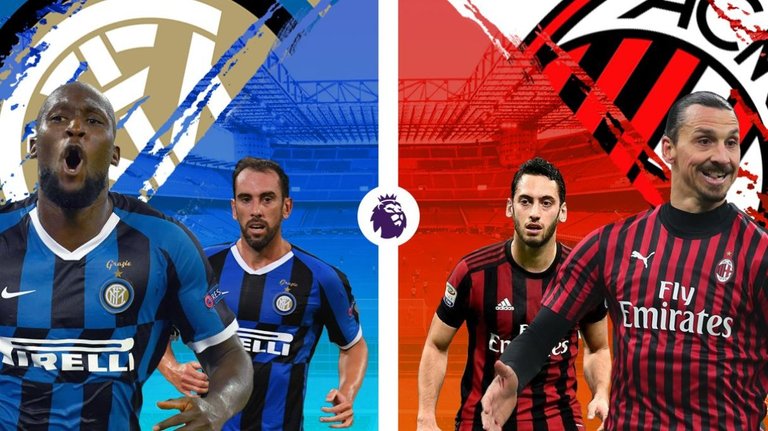 Source
The rate at which we get some epic derby games recently is quite alarming putting into consideration the 3 derbies we have had in the last 2 weeks such as the "derby della Capitale" between Lazio vs Roma, "Borussen derby" between Borussia Mochengladbach and Borussia Dortmund, and the "Northwest" derby between Manchester United and Liverpool. Italy will once again be providing us with another derby in today's Coppa Italia, and it is none other than the "derby della Madonnina", yes, you heard it right, it is the "Milan derby" which can be traced back to December 1899.
It is definitely going to be a difficult tie between these 2 sides considering how well they have been performing, and these makes picking a side even more difficult for me. However, just like the English FA Cup, a "draw" as an outcome is not an option in this game, that means, there can only be one victor, therefore, I will be dropping some stats favoring each team to win, and it is left for you to pick the team you think will carry the day.
INTER:
One stat is the "Superior recent performance" of the Nerrazurris over the Rossoneris with the former losing just one of their last 5 games, drawing 2, and winning 2 which includes an emphatic 2 nil over Juventus, whilst the latter in as many games have won 2, drawn 1, and lost 2, one of which was their recent dismal 3 nil loss to Atlanta, and the other against the old ladies of Turin. Although both sides look to be very close with just a defeat and a draw looking to be the difference, I bet Inter will still have some better morale going into this game than Milan.
Another stat is the "Head to Head" between these 2 teams. The blue and black side of Milan have been dominant over the red and black in the last 8 encounters between them, winning 5, drawing 1, and losing 2. This will definitely give a huge psychological boost to the Nerrazurri.
AC Milan:
Although the Rosonerris have not really had much victories over their city rival in the past, their recent 2-1 victory over the latter will definitely provide a some boost for them. Unfortunately, this is the only stat that backs the Rosonerris getting a victory in this tie.
I believe you now know which of these 2 teams I am likely to favour getting a win, however, since it is a derby, we might just be in for loads of suprises.
For me, I expect the game between these 2 sides to be an entertaining one, I really can't wait to see Zlatan Ibrahimovic and Romelu Lukaku put on some outstanding performances.
Feel free to drop your opinions and comments, they will be greatly appreciated.
Much Love from your Football Analyst and Writer, IbkDaGreat.