The most prestigious tennis tournament of the year is over, last night we got to see the final match, so it's time to look into it to see what's happened.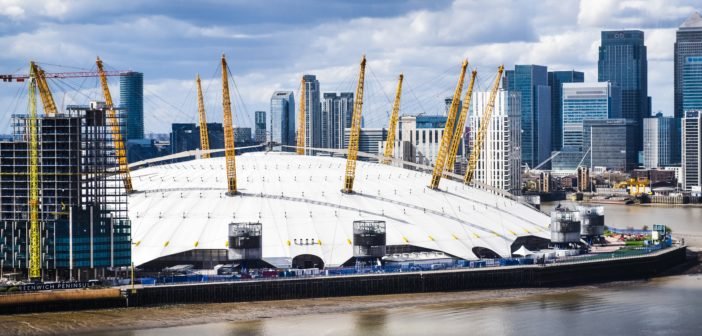 source
This is a tournament in which you earn your place the hard way.
This year there were eight players at the start, two of which were new at ATP Finals, the Argentinian Diego Schwartzman and the Russian Andrey Rublev. Diego Swartzman could be on the list only because no.5, Roger Federer was absent this year, he only played one tournament and announced that he's not participating in the finals either.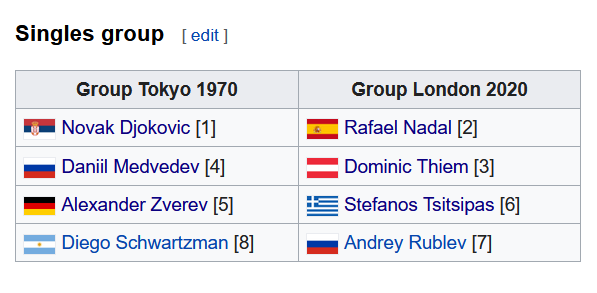 screenshot source
Just a simple glance on the player's list was enough before the start for someone familiar with tennis to suspect what's going to happen, who has the biggest chance to win, but as we know, in sport nothing is guaranteed.
Let's start with the two new entries first.
Andrey Rublev
He had a good year as he won the Qatar Open, which was not a big thing as the most valuable players were not present. He had a good evolution at the other tournaments but it was luck as well as quite a few times he met players who quit due to injuries and that's how he had the chance to go on. He's a good player, a bit full of himself, which will harm his evolution in case he won't change his attitude.
At the ATP finals he had the bad luck to meet No. 2 ATP in the first game and no matter how young and good he was, Rafael Nadal had no problem defeating him in just two sets.
Next he met Stefanos Tzitzipas, no. 6 ATP and was defeated again. He had a better performance this time as the match lasted 3 sets and he won the second, which looks good for him.
The third match he had with Dominic Thiem, no. 3 ATP and was defeated again, in just two sets.
Although he had no luck winning here, he's still a valuable young player with a bright future ahead of him and very soon (next year if things go well) he's going to change the actual ATP ranking by ranking higher, I'm pretty sure of that.
Diego Schwartzman
This little guy is an example that if you put your mind to it and work hard, you can do it. He's a small player in a giant's world. Most of the players are over 1.80m high but some are close to 2m. This means they have longer arms, legs and can cover the court much better, while Diego Schwartzman had to work hard to keep up as he's only 1.70m (5 ft 7 in) tall.
Regardless of his disadvantage, he fought hard, showing the world he's serious about tennis, but opponents like Novak Djokovic, Alexander Zverev and Daniil Medvedev are hard to defeat.
If I were to make a prediction for him, I'd say he's at his peak in tennis, he may have a good year or two but I don't see him at the top of the ATP ranking list.
Alexander Zverev
He's best performance this year was at the Paris Masters, where he managed to beat Rafael Nadal, but then lost against Daniil Medvedev in the final. He was one of the players I thought he could go either way. He could have played very well, or poorly, there was a chance for both to happen.
Unfortunately he wasn't at the top of his game, I'd say he performed poorly here, he could have done better, but for some unknown reason he didn't. He got defeated by Medvedev again, then he beat Diego Schwartzman but that is not a victory you want to be remembered for at tournament like this. Then he was defeated by Djokovic, match in which he had a good set 2 but wasn't enough.
Stefanos Tsitsipas
At the beginning of the year I had two favorites in tennis, but towards the end of the year, although that number hasn't changed the players did. Tzitzipas was ne of them, the other was Djokovic, now Djokovic is kind of out and in come Thiem. I still have a great respect for Djocovic, but he's not my no. 1 favorite anymore.
At this tournament, to my surprise my two favorites got to play against each other the very first day. Obviously I was glued to the screen and could not decide how to feel. One had to lose and that proved to be Stefanos Tsitsipas. He won the tournament last year and probably was hoping to repeat that this year but that did not happen. Thiem was better this time.
Rublev wasn't a problem for him and the match with Nadal was again a stress. I was truly hoping he can beat the Spanish, against the existing history. The second set gave me hope but then the third set was a total headache and the end meant he's our of the competition. Putting my emotions aside, there's plenty of time for Tzitzipas as he's only 22 years old.
Novak Djokovic
Djocovik, my old favorite started the competition as the player with the most chance to win. The match with Diego Shwartzman was like a training session for him, then he lost to Daniil Medvedev to 6-3 6-3. This came as a surprise to many. Then the bomb dropped again, he lost against Dominic Thiem too. This is where things started to get interesting. When no. 1 is out of the game, everything is possible.
Thiem, even though he's no. 3 ATP, he's as good as the first two in front of him, so he deserved to win this match and I was glad it happened.
Rafael Nadal
For the Spanish this tournament had a huge stake as the title of ATP Finals is missing from his collection. You can imagine what this meant to him. It was obvious he's going to fight tooth and nail to get it.
Rublev was an easy prey, there were no surprises there. The defeat the he suffered from Dominic Thiem was not what Nadal would have expected. Thiswas maybe the most intense match of the tournament, two sets both ending with tie break. What surprised me was that I saw Nadal having difficulties getting to a ball, I guess I could say he was literally struggling. I don't know if he was tired or not, but he could not give more, literally. Beating Tzitzipas was like a consolation prize, not that it mattered at the end as Medvedev finished him off, literally. 6–4, 4–6, 6–2 is not something Nadal is proud of.
Daniil Medvedev and Dominic Thiem
I don't think there is one person who could guess these two would play the finals in London, at the O2 arena. I could certainly not.
Daniil Medvedev won all the matches he played in this tournament, while Dominic Thiem lost only one, that was the situation before the finals. Based on ATP ranking Thiem had more chance than Medvedev, but the Russian had a very good year, he won the Paris Masters recently and looked unbeatable.
The final started pretty nice as far as I'm concerned as Thiem won the first set to 4–6. The second set was pretty tight, 7–6(7–2) but the third one was 6–4 full of disappointment. Thiem did everything he possibly could, he made a few mistakes that costed him dearly. He lost at the end, just like he lost last year, which must have heart a lot.
After the match he said at the press conference that if he was to play the match again he would play the same, so this means he did everything he could.
What's Next
This was the last tournament of the year, now comes the well deserved holiday for them, which I bet will be hard training for most of them as you can't relax if you want to stay in shape.
Roger Federer is coming back next year, at least that's what he said and that will change the board quite a bit. I'm happy as it means a stronger competition. I'll be curious to see how he's going to cope with the younger generation and if he can keep up with them.
Nadal seems to have reached his career peak, but this is only my opinion based on what I saw this year.
Djokovic is going to have a hard time keeping his position as world n. 1 as more and more young players are getting better at this game and he's going to need to work twice as hard for the same result.
Australian Open starts in January 18 next year, but that remains to be seen as the pandemic is still around and doesn't seem to go away anytime soon. Tournament organizers have a routine already, so let's hope no tournament will be cancelled.
This was the last ATP Finals in London's O2 Arena by the way as of next year the circus is moving to Italy.