STANLEY CUP: ya tiene dos finalistas. TAMPA BAY LIGHTNING. vs MONTREAL CANADIENS... STANLEY CUP: already has two finalists. TAMPA BAY LIGHTNING. vs MONTREAL CANADIENS.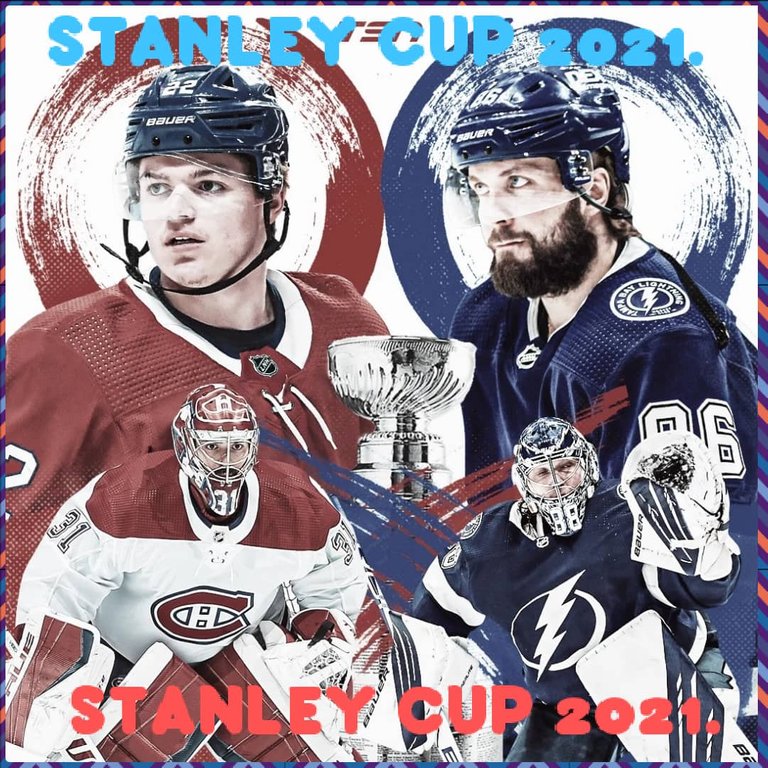 Hola mis panitas de #hive en especial @sportstalksocial para ustedes mis saludos y respeto a los que nos encanta el deporte.
El mundo del hockey se paraliza, es que comienza las finales por la deseada STANLEY CUP. ya tenemos dos franquicias que lucharan a muerte por el deseado STANLEY CUP. TAMPA BAY LIGHTNING vs MONTREAL CANADIENS serán los protagonistas de esta gran final.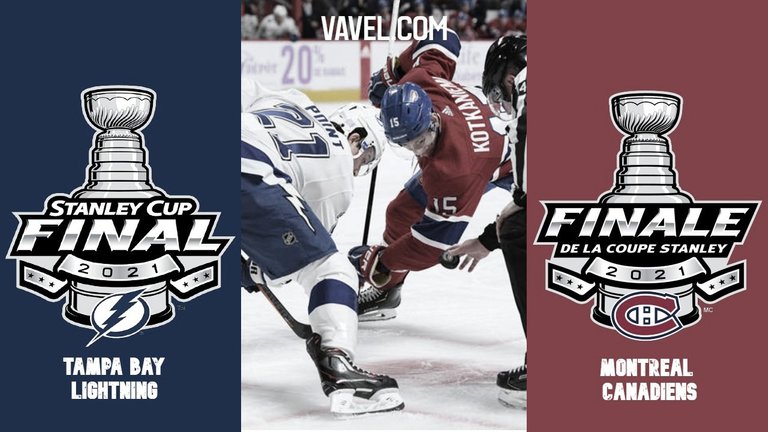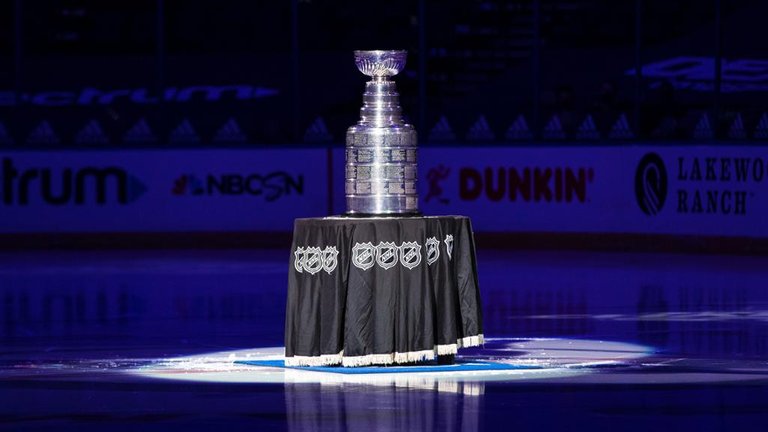 Seré breve referentes a los finalistas de la NHL muchos pensábamos o queríamos otra final con equipos de renombres, pero no hay que olvidar una cosa los relámpagos son los actuales campeones temporada 2.020. quieren su 3er titulo y el segundo al hilo los lightning han ganado 3 conferencias y 4 divisiones y dos stanley cup.
CAMPEON ACTUAL.
La guerra empieza en Tampa, que si tubo una buena temporada regular en su división los Relámpago de la Bahía de Tampa, como la ronda regular ganaron 36 y 17 derrotas y 3 empates, los locales se han caracterizado por su buena defensa, por eso están en la gran final en casa ganaron 21 y 7 fallidos, anotaron 181 goles el 8vo mejor en anotaciones, en 8vos vencieron a los florida Panthers la serie 4x2, luego en cuartos de final casi le pasaron la escoba a los carolina hurricanes la serie 4x1, en semifinales lucharon duro contra los aguerridos New York Islanders la serie 4x3 a favor delos relámpagos para avanzar a la gran final.
Un punto importante de Tampa tienen al máximo asistente de esta temporada al ruso Kucherov esta siendo el factor decisivo en la parcela ofensiva de los de la bahía.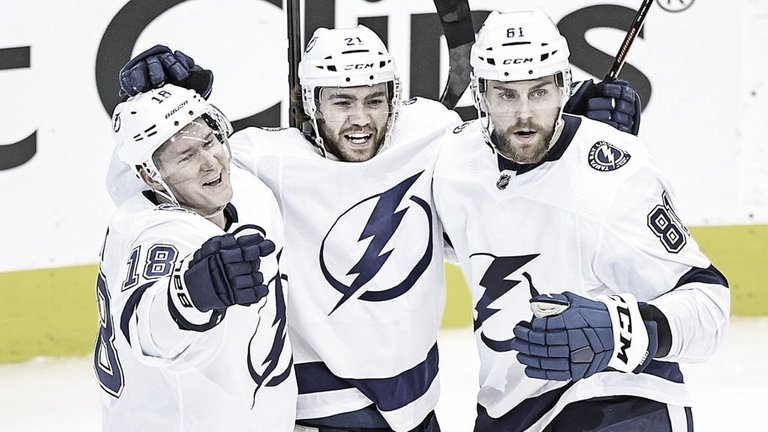 UNA TEMPORADA HISTORICA DE LOS RELAMPAGOS.
En la temporada 2003-04 termino como el mejor resultado en la historia de esta franquicia, el equipo terminó como campeón de su división y como el segundo mejor clasificado en su Conferencia, con 106 puntos y tras vencer en la fase final a New York Islanders, Montreal Canadiens y Philadelphia Flyers, Tampa Bay se proclamó campeón de la Conferencia Este y consiguió llegar por primera vez a la final de la Stanley Cup, en la que se enfrentaron ante Calgary Flames.
Su primer titulo fue contra calgary flames en la temporada 2.004 una apretada final con 4 triunfos y 3 derrotas para los rayos a manos del entrenador John Francis Tortorella.
Su ultimo titulo fue en la temporada 2.020 frente a Dallas stars la seria quedo 4x2 favor de Tampa comandado por canadiense-estadounidense Jon Cooper actual entrenador.
LOS SORPRENDDENTES E HISTORICOS MONTREAL CANADIENS.
Esta franquicia tiene mucha historia que tenemos que recordar y respetar, es unos de los fundadores del hockey en Canadá se fundo en 1,909, es el equipo màs antiguo del planeta, los Canadiens ganaron su primer campeonato de la Copa Stanley en la temporada 1915-16, triunfando en una emocionante serie de cinco juegos contra Portland (Ore.) Rosebuds of the Pacific Coast Hockey Association hace días dije que este equipo era unos de los mas duros en los años 50,60 y 70, es el único equipo de todos los tiempos que ganaron 5 títulos seguidos 1955-56, 1956-57, 1957-58, 1958-59, 1959-60 con el entrenador Toe Blake, en los años 60 se alzaron 4 títulos, 1964-65, 1965-66, 1967-68, 1968-69 en las temporadas 1975-76, 1976-77, 1977-78, 1978-79 ganaron 4 campeonatos seguidos con su entrenador de ese entonces Scotty Bowman.
Es la franquicia con más títulos con 24, les sigue Toronto maple leafs con 13, los Detroit Red Wings con 11 títulos, Boston bruins con 6 e igual Los Chicago Blackhawks con 6 campeonatos.
Montreal fue el segundo peor equipo que se clasifico a los playoffs en esta temporada, con apenas 24 ganados y 21 derrotas en la temporada, pero se metieron a los playoffs, derrotaron en 8vo de final a sus paisanos y rivales de toda la vida a los Toronto Maple Leafs la serie a favor de los canadienses 4x3, en cuartos de final barrieron la serie a winnipeg jet 4x0, en semifinales sorprendieron a los duros Vegas Golden Knights la serie a favor de los canadienses.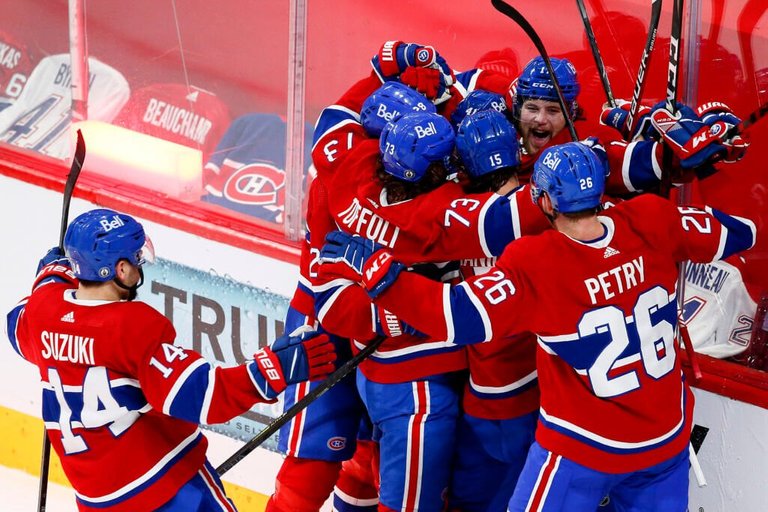 SON 28 AÑOS SIN GANAR UN TITULO.
Por eso los llamo los sorprendentes e históricos MONTREAL CANADIENS.
Las batallas entre estos dos equipos serán a morir, no dejaran de batallar ni un segundo por buscar el deseado Stanley cup.
QUE GANE EL MEJOR.
CONSEJO PARA LOS JOVENES.
Dile NO a las DROGAS,
las drogas destruyen VIDAS,
mientras el deporte construyen o forman
FUTURAS ESTRELLAS.
Gracias por leerme y su valioso apoyo, será hasta otra oportunidad.
Hello my panitas of #hive especially @sportstalksocial for you my greetings and respect to those of us who love the sport.
The field hockey world is paralyzed, is that begins the finals for the desired STANLEY CUP. we already have two franchises that will fight to the death for the desired STANLEY CUP. TAMPA BAY LIGHTNING vs MONTREAL CANADIENS will be the protagonists of this great final.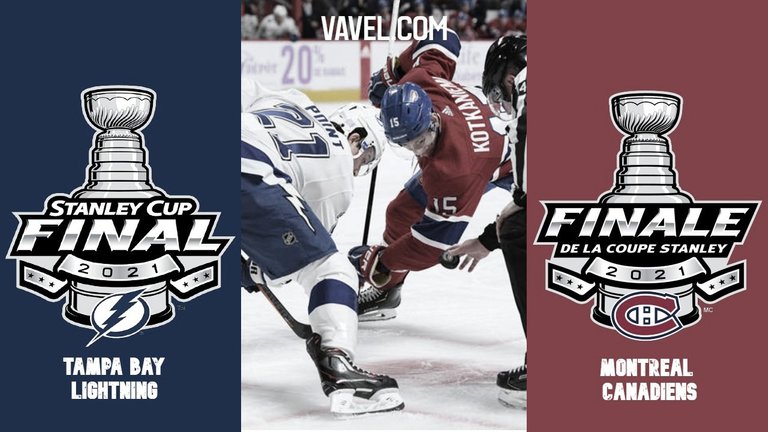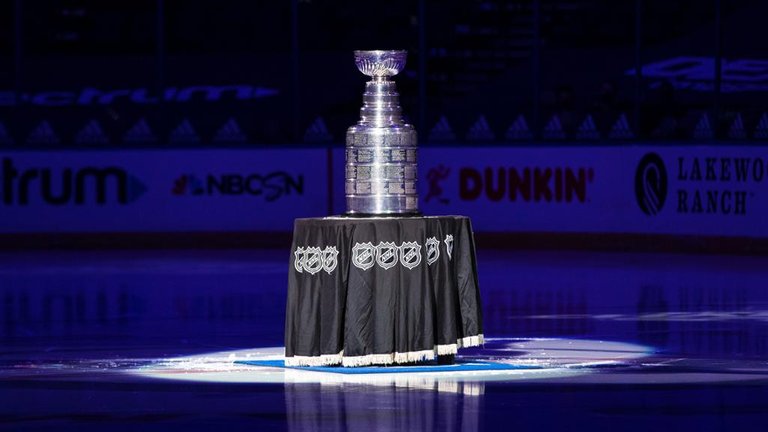 I will be brief concerning the NHL finalists many of us thought or wanted another final with big name teams, but let's not forget one thing the lightning are the reigning champions season 2.020. they want their 3rd title and second in a row the lightning have won 3 conferences and 4 divisions and two stanley cup.
REIGNING CHAMPION.
The war begins in Tampa, which if tube a good regular season in its division the Tampa Bay Lightning, as the regular round won 36 and 17 defeats and 3 ties, the locals have been characterized by their good defense, so they are in the grand final at home won 21 and 7 failures, They scored 181 goals, the 8th best in scoring, in the eighth round they beat the Florida Panthers in the 4x2 series, then in the quarterfinals they almost beat the Carolina Hurricanes in the 4x1 series, in the semifinals they fought hard against the tough New York Islanders in the 4x3 series in favor of the Lightning to advance to the grand finals.
An important point of Tampa have the top assistant this season the Russian Kucherov is being the decisive factor in the offensive plot of the Bay.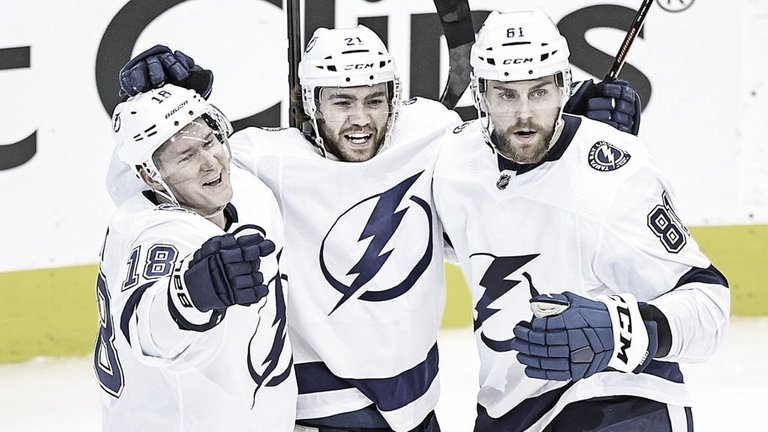 A HISTORIC SEASON FOR THE LIGHTNING.
In the 2003-04 season ended as the best result in the history of this franchise, the team finished as division champion and as the second best ranked in its Conference, with 106 points and after beating New York Islanders, Montreal Canadiens and Philadelphia Flyers in the finals, Tampa Bay was proclaimed champion of the Eastern Conference and managed to reach the Stanley Cup Final for the first time, in which they faced Calgary Flames.
Their first title was against the Calgary Flames in the 2004 season, a tight final with 4 wins and 3 losses for the Rays under coach John Francis Tortorella.
Their last title was in the 2020 season against Dallas stars the series was 4x2 in favor of Tampa led by Canadian-American Jon Cooper, current coach.
THE SURPRISING AND HISTORIC MONTREAL CANADIENS.
This franchise has a lot of history that we have to remember and respect, is one of the founders of field hockey in Canada was founded in 1909, is the oldest team on the planet, the Canadiens won their first Stanley Cup championship in the 1915-16 season, triumphing in a thrilling five-game series against Portland (Ore. ) Rosebuds of the Pacific Coast Hockey Association days ago I said this team was one of the toughest in the 50's, 60's and 70's, they are the only team of all time to win 5 titles in a row 1955-56, 1956-57, 1957-58, 1958-59, 1959-60 with coach Toe Blake, in the 60's they won 4 titles, 1964-65, 1965-66, 1967-68, 1968-69 in the seasons 1975-76, 1976-77, 1977-78, 1978-79 they won 4 championships in a row with their coach at that time Scotty Bowman.
It is the franchise with the most titles with 24, followed by the Toronto Maple Leafs with 13, the Detroit Red Wings with 11 titles, Boston Bruins with 6 and the Chicago Blackhawks with 6 championships.
Montreal was the second worst team to qualify for the playoffs this season, with just 24 wins and 21 losses in the season, but they got into the playoffs, defeated in the 8th finals their countrymen and lifelong rivals the Toronto Maple Leafs the series in favor of the Canadians 4x3, in the quarterfinals they swept the series to winnipeg jet 4x0, in the semifinals they surprised the tough Vegas Golden Knights the series in favor of the Canadians.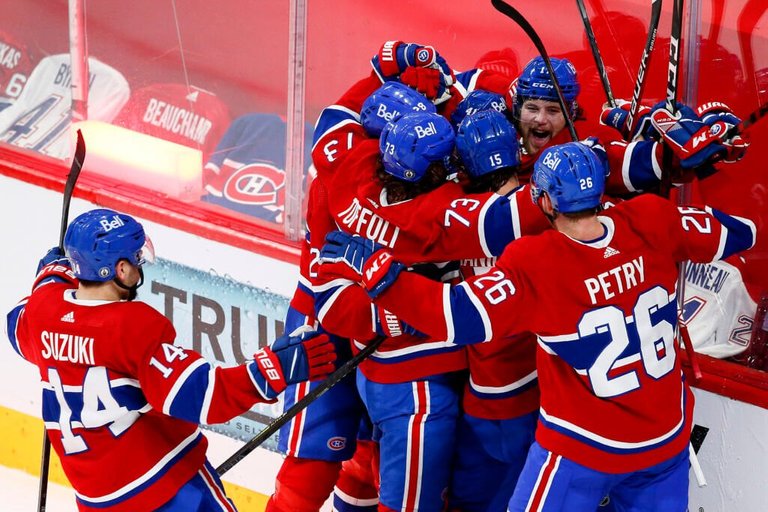 THAT'S 28 YEARS WITHOUT WINNING A TITLE.
That's why I call them the surprising and historic MONTREAL CANADIENS.
The battles between these two teams will be to the death, they will not stop battling for the desired Stanley Cup.
MAY THE BEST TEAM WIN.
ADVICE FOR THE YOUNGSTERS.
Say NO to DRUGS,
drugs destroy LIVES,
while sports build or form future stars.
FUTURE STARS.
Thank you for reading me and your valuable support, I'll see you another time.
---
---