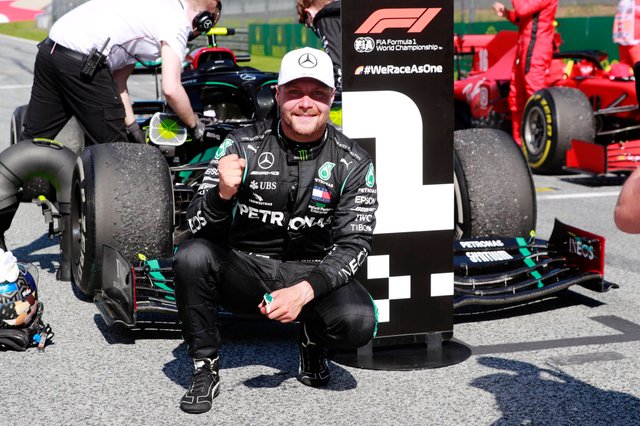 source
Same race next week as it is the same venue. If we can believe the weather forecast we can throw in a little bit of rain to add to the drama.
The Austrian Grand Prix was a roller coaster ride for the teams from start to finish.Reliability was the biggest issue with the teams today as many just disappeared and had to retire. Out of the 20 cars that started only 11 completed the 71 laps. As a first race of the season there was some driver error which possibly can be forgiven but teams now know where they stand and how good or bad their cars are.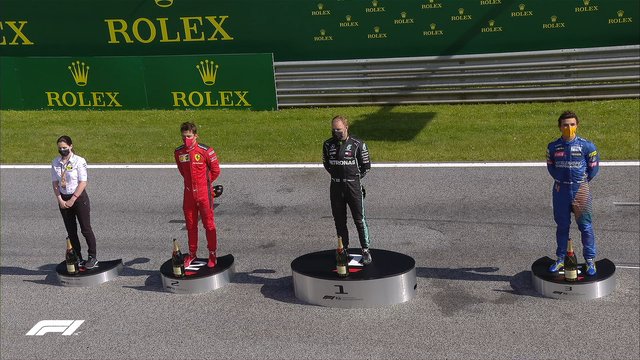 source
Racing Point who looked quick over practice and qualifying were a disappointment along with Renault and McLaren. McLaren ended the race in third spot but their car needs to improve if they want to compete for future podiums. At the end of the day we actually didn't learn that much as too many cars retired. The last time I saw so many cars retire was on the rainy streets of Monaco and not in bright sunshine on a race track.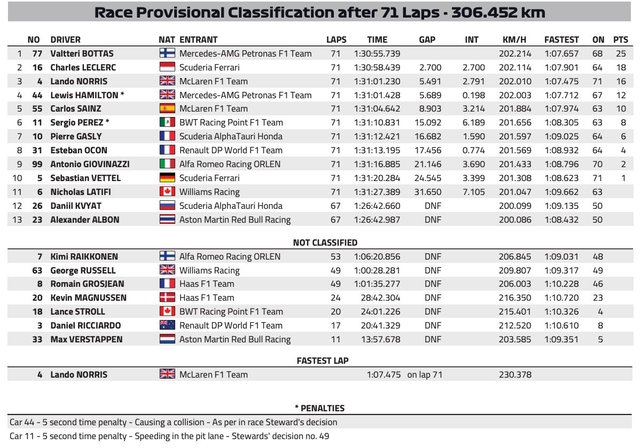 source
Safety car kept Ferrari in the race as they were roughly half a second slower per lap than Mercedes.
Verstappen went early to an electronic failure,Riccardo fell away with an overheating issue when he was looking competitive. Team Haas had brake issues seeing Magnussen and Grosjean finding escape routes and avoided crashing into the barriers. Stroll from Racing Point along with Russell from Williams had gear box issues. Raikonnen lost a wheel as well as Kyvat who had a blow out after rupturing the tyre on a kerb. Finally the remaining Red Bull car with Alex Albon had electronic failure.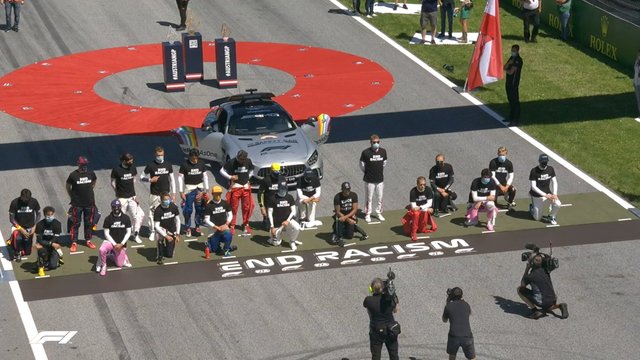 source
Happy to see drivers using their own personal choice to take the knee or not.
That wasn't all though as Hamilton who had been earlier in the day been demoted from 2nd on the grid to 5th for speeding under a yellow flag in qualifying 3 yesterday. Hamilton then picked up a 5 second penalty for causing an accident which at the end of the day moved him from second to 4th overall. This was not his day as on top of that Toto Wolff and his driver contract have also hit speed bumps.
Hamilton wants close to $50 Million per season and Wolff is in the $20 Million bracket. many things have changed since the Covid lock down including budget slashes. Hamilton expecting $40 million or more when the entire team is on $245 Million with close to 1000 personnel he needs to adjust his hefty demands.
Bottas led from start to finish with Hamilton finishing 2nd on track but 4th overall after the time penalty. The Mercedes car was so far ahead before the safety car was deployed 3 times and at one stage had a 12 second buffer over the other teams. The car had sensor issues though as like other teams the kerbs are not friendly to the cars.
Ferrari did better than expected finishing in the points firstly and Leclerc coming second overall. The hard tyres with a low fuel load seemed to suit the car better and they were more competitive. next week on the same track though and other teams expecting to fix reliability they may not be so lucky.
From now until next week the teams have loads to work on especially with whatever failures the cars experienced. Mercedes need to work on their sensors as they were lucky to finish as it was touch and go at one point with both drivers being asked to nurse the cars. They even managed to turn down the engines to save them for later in the season if needed.
The Red Bull ring may need to look at their kerbs as having so many cars retiring there has to be something that is not in balance. Teams warned their drivers during practice on Friday to stay off them as the damage caused wasn't just external components, but electronics as well.