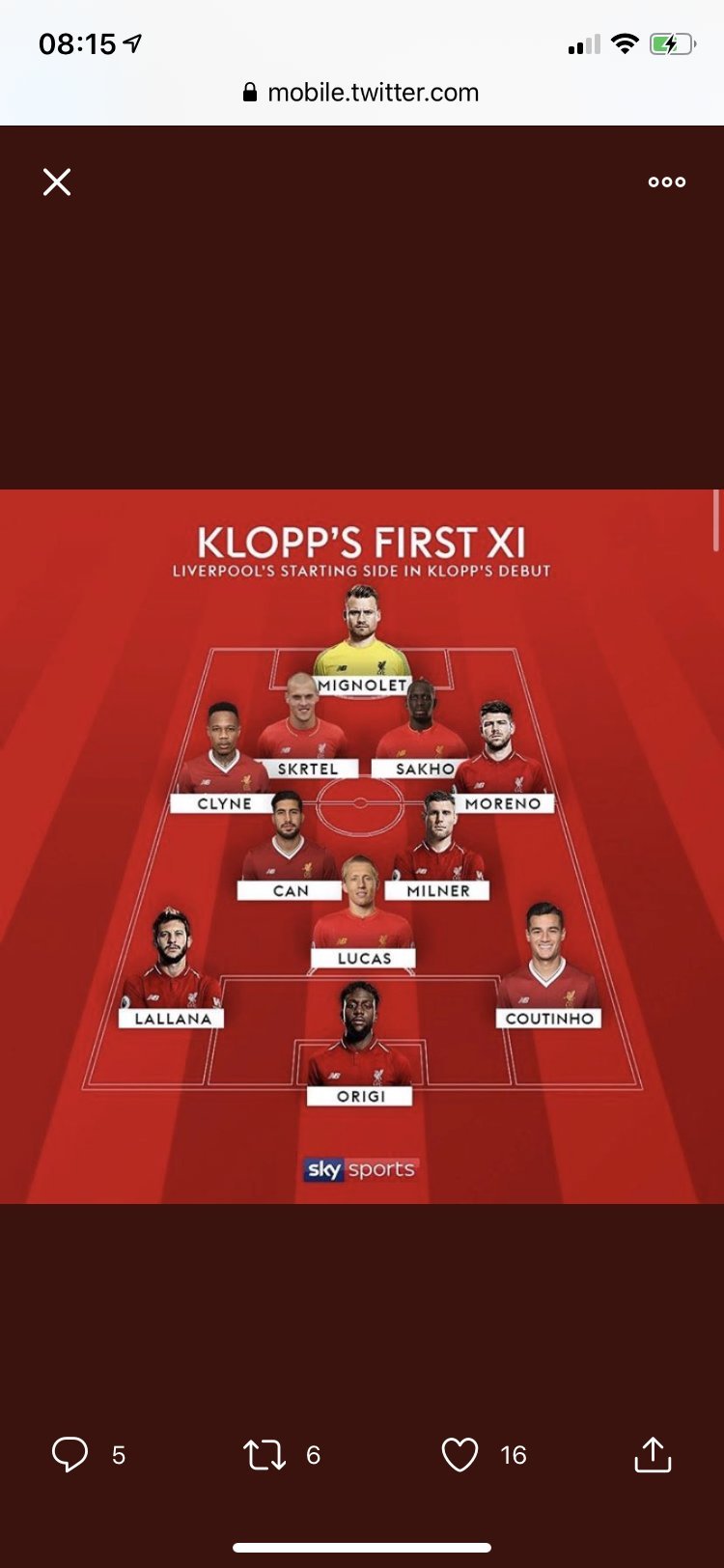 source
Hard to believe that Jurgen Klopp has been with Liverpool for 5 years and this was his starting 11 in his first game. A couple of players are still around today, but the majority have long left the building. What he has done is a few subtle additions each season and off loading a player here and there. The team is unrecognisable from when he first arrived yet he never shook things up.
I think this is the sign of a good manager as he knows exactly what he wants and what he needs. he has taken the time to understand the club culture and to understand his players. He knows what each one is capable of and their strengths and weaknesses. He is the right manager at the right club and this is what happens when both parties work in unison.
We often see managers moving form one club to another and arriving with massive headlines. The next step is to blow the budget making the fans all happy and hopeful. What normally happens next is a downward spiral until the next manager and nothing has been achieved. The result is a hodge podge squad with no direction and no substance.
Klopp never did that and only now looking back can you see exactly how he operates. He knew the players he required and he never went for the head line players either. Virgil Van Dijk was a key player and he did dig deeper for him costing £75 Million.The others though he paid market value for them and they have rewarded the club over and over with their investment.
Klopp has a net spend of only £74,500,000 since his arrival in October 2015 until now. He has sold and bought players regularly with 34 bought and 32 sold over his nearly 5 year stay. The squad is only two larger than when he first arrived and in fairness at a cost of £15 Million per season he has done extremely well. Most clubs spend upwards of £30 million on a player these days and do not have a squad half as good as Liverpool does.
I think this is what makes him stand out against the likes of Mourinho and Guardiola as they buy their squads breaking the clubs budgets at the same time. Klopp never had that luxury and why his approach is so refreshing to see. The other managers seem to move from cub to club like a revolving door and have no real clue on how to achieve success unless they are spending on players.
Liverpool are not the finished product yet and I imagine they need a couple more key players to tighten up the midfield. The other clubs will do their normal spend at the end of the season hoping rather than planning for better results. I wish more clubs would copy Klopp's approach and maybe their finances and league position will improve over time..