¡Hola, buenas noches comunidad de Hive! - Hello, good evening Hive community!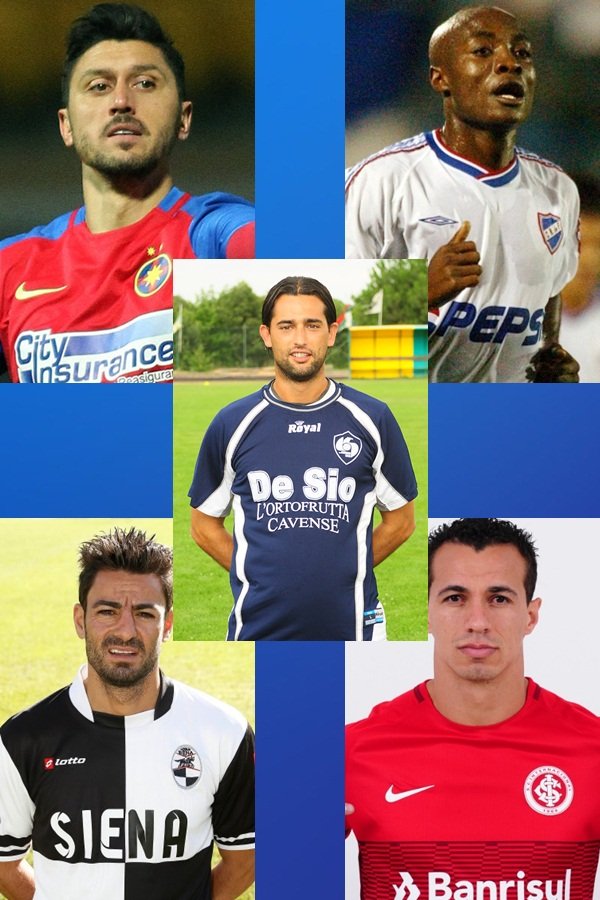 Collage realizado desde PhotoScape.
Fuente de las imágenes: Ciprian Maricá, Pierre Webó, Simone Vergassola, Leandro Damião y Gianluca Porro.


El día de hoy, les traigo una publicación completa de algunos nombres llamativos de jugadores que dejaron una huella imborrable en cada club y, que sé, que mediante este artículo más de uno quedará sorprendido por los nombres.
Today, I bring you a complete publication of some striking names of players who left an indelible mark in each club and, that I know, through this article more than one will be surprised by the names.

Ciprian Maricá
Ciprian Maricá, es un exfutbolista Rumano de 35 años de edad que por años recorrió varios equipos en las diferentes ligas, en donde paso por el Dinamo de Bucarest, Football Club Shakhtar Donetsk, Verein für Bewegungsspiele Stuttgart (VfB Stuttgar), El Fußball-Club Gelsenkirchen-Schalke 04, Getafe Club de Fútbl, Konyaspor y se retiro en 2016 con el club de Steaua de Bucarest, de Rumania. El jugador, Maricá, fui Internacional con la selección de Rumanía y disputo más de 40 partidos como capitán, siendo uno de los delanteros centros más brillantes y completos para la selección de su país. Aparte, sus inicios con el Dinamo de Bucarest, lo jugó como enganche, aportando desequilibrio y picardía. Luego, siguió su rumbo y encontró un lugar como delantero del Schalke 04, de Alemania, donde utilizo la dorsal número 8, en la cual se vio su potencial y su gallardía al hacer goles imposibles de tijera. En la temporada 2013-14, arribo al Getafe CF, con el fin de ocupar un espacio importante en la plantilla del director técnico Español, Luis García Plaza, quien le gusto la manera de jugar del futbolista Ciprian Andrei Maricá, delantero del cual había que cuidarlo dentro del área chica, ya que era muy inteligente y sabia leer el partido en cuestión de segundo. A más de un central, lo dejo viendo para los lados. Asimismo, es importante destacar su trayectoria y más que todo el extraño nombre que tenia consigo, como es, Maricá, un nombre que sabemos la capacidad y la mentalidad que tiene en otras personas a situarlo como una palabra de doble sentido.
Ciprian Maricá, is a 35 years old Romanian ex-football player who for years played for several teams in different leagues, where he played for Dinamo Bucharest, Football Club Shakhtar Donetsk, Verein für Bewegungsspiele Stuttgart (VfB Stuttgar), Fußball-Club Gelsenkirchen-Schalke 04, Getafe Club de Fútbl, Konyaspor and retired in 2016 with the Steaua club from Bucharest, Romania. The player, Maricá, was International with the Romanian national team and played more than 40 games as captain, being one of the most brilliant and complete center strikers for the national team of his country. Besides, his beginnings with Dinamo Bucharest, he played it as a hitch, bringing imbalance and mischief. Then, he followed his course and found a place as a striker of Schalke 04, from Germany, where he used the number 8 jersey, in which his potential and gallantry in scoring impossible scissors goals was seen. In the 2013-14 season, he arrived to Getafe CF, in order to occupy an important space in the team of the Spanish technical director, Luis García Plaza, who liked the way of playing of the footballer Ciprian Andrei Maricá, a forward who had to be taken care of inside the small area, since he was very intelligent and knew how to read the game in a matter of seconds. He was very intelligent and could read the game in a matter of seconds. Also, it is important to emphasize its trajectory and more than all the strange name that had with him, as it is, Maricá, a name that we know the capacity and the mentality that has in other people to locate it like a word of double sense.
Pierre Webó
Pierre Webó, es un jugador de 38 años, que ocupo por varias campañas la posición de delantero en los 9 equipos donde estuvo el Camerunés, estableciendo una marca con el Real Club Deportivo Mallorca al marcar más de 12 goles con el club Español, logrando de esta manera, ganarse el corazón de los fanáticos en un abrir y cerrar de ojos, gracias a su frialdad al definir de cara al arco rival, en la cual, dejó buenas anotaciones e increíbles definiciones en partidos sumamente complicados y cerrados. De igual modo, su carrera empezó muy temprano a los 17 años de edad, donde vistió la camiseta del club Uruguayo de, Tacuarembó Fútbol Club, siendo así, su transitar exitoso en el balompié sudamericano, lo que lo llevó a estar en un equipo de mayor importancia, como Nacional de Montevideo, obteniendo el bicampeón con buenas sensaciones en todos los compromisos donde jugó. Uno de los tantos estrategas que dirigió a Pierre Webó, fue el experimentado Mexicano Javier "El vasco" Aguirre, quien tuvo la grandiosa oportunidad de incluirlo en su nomina de futbolistas en el Club Atlético Osasuna, debido a que su rendimiento y su manera de entender los partidos era beneficioso para el equipo, lo que llevó a que los centrales rivales se ocuparan más del jugador de Nacionalidad Camerunés. Al Camerunés, se le recuerda mucho por la compaña 2005-06 con el Osasuna, donde logró alcanzar la clasificación a la fase previa de la Champions League.
Pierre Webó, is a 38 years old player, that occupied for several campaigns the position of forward in the 9 teams where he was the Cameroonian, establishing a mark with the Real Club Deportivo Mallorca when scoring more than 12 goals with the Spanish club, achieving this way, to win the heart of the fans in a blink of an eye, thanks to his coldness when defining facing the rival arch, in which, he left good annotations and incredible definitions in extremely complicated and closed games. In the same way, his career began very early at the age of 17, where he dressed the shirt of the Uruguayan club of, Tacuarembó Fútbol Club, being thus, his successful transit in the South American football, which took it to be in a team of greater importance, as National of Montevideo, obtaining the bicampeón with good sensations in all the commitments where it played. One of the many strategists that directed Pierre Webó, was the experienced Mexican Javier "The Basque" Aguirre, who had the great opportunity to include him in his list of players in the Osasuna Athletic Club, because his performance and his way of understanding the games was beneficial for the team, which led to the rival central players taking more care of the player of Nacionalidad Camerunés. The Cameroonian player is very much remembered for the 2005-06 campaign with Osasuna, where he managed to qualify for the previous phase of the Champions League.
Simone Vergassola
Simone Vergassola, fue un exfutbolista Italiano, que jugó en la posición de mediocampista mixto con llegada al área chica y con presencia de gol. A sus 44 años de edad, Vergassola, puede decir que tuvo sus mejores frutos y rendimientos futbolísticos con el equipo de Robur Siena, durante 11 temporadas, marcando una cifra de goles imborrables para él, lo cual, ayudaría para que el Siena obtuviera el ascenso a la primera categoría del Fútbol Italiano. Muchos no lo conocen, porque es un jugador que no pudo tener éxito en su carrera como futbolista profesional, pero, sin duda alguna, se convirtió en un ejemplo de amor por los colores de Robur Siena, que por si fuera poco, la camisa de este club tiene un parecido a la de la Juventus de Turín.
Simone Vergassola, was a former Italian soccer player, who played in the position of mixed midfielder with arrival to the small area and with presence of goal. At 44 years of age, Vergassola can say that he had his best fruits and soccer performances with Robur Siena's team, during 11 seasons, scoring a number of indelible goals for him, which would help Siena to obtain the promotion to the first category of Italian Football. Many people do not know him, because he is a player who could not succeed in his career as a professional footballer, but, without a doubt, he became an example of love for the colors of Robur Siena, and as if that were not enough, the shirt of this club has a resemblance to that of Juventus in Turin.
Leandro Damião
¿Todos conocen a Leandro Damião?. Él es un futbolista activo y, que se encuentra jugando en la primera división de Japón con Kawasaki Frontale a sus 31 años de edad, lo que me hace pensar que sigue siendo un delantero temible para los centrales que lo marcan en cada partido de la Liga. Damião paso por Sport Club Internacional, Santos Futebol Clube, Cruzeiro Esporte Clube, Real Betis Balompié y Clube de Regatas do Flamengo, equipos en los cuales pudo brillar y darse a conocer al pasar de las temporadas, viéndose su evolución como delantero centro y con efectividad al concretar las jugadas de gol, que para él, era algo sencillo y simple, ya que con su corpulencia hacia desestabilizar al oponente que lo marcaba, es decir, zaguero central. En los Juegos Olímpicos de Londres 2012, con la selección Sub-23 de Brasil, el atacante Leandro Damião alcanzo el campeonato. 1 Año después, se conoce la noticia de que Damião se pierda la Copa Confederaciones por una lesión. Desde mi análisis, puedo decir que tuvo las oportunidades deseadas como para llegar a un equipo grande, lamentablemente, ningún equipo de tanta envergadura lo tomó en cuenta, solamente el Real Betis.
Everybody knows Leandro Damião? He is an active footballer and is playing in the Japanese first division with Kawasaki Frontale at the age of 31, which makes me think that he is still a fearsome striker for the central defenders who mark him in every game of the league. Damião played for Sport Club Internacional, Santos Futebol Clube, Cruzeiro Esporte Clube, Real Betis Balompié and Clube de Regatas do Flamengo, teams in which he was able to shine and make himself known as the seasons went by, seeing his evolution as a center forward and with effectiveness when making goal plays, which for him, was something simple and straightforward, since with his corpulence he was able to destabilize the opponent that marked him, that is, the center back. In the 2012 London Olympic Games, with the Brazilian U-23 team, the attacker Leandro Damião reached the championship. 1 year later, the news is known that Damião will miss the Confederations Cup due to an injury. From my analysis, I can say that he had the desired opportunities to make it to a big team. Unfortunately, no team of such importance took him into account, only Real Betis.
Gianluca Porro
Gianluca Porro, fue un futbolista Italiano de 1,87 de estatura, que resalto enormemente como delantero en el Sangiovannese 1927, durante la temporada 2006, siendo sus mejores momentos futbolísticos con el equipo Italiano, marcando innumerable de goles. Porro, estuvo en 15 clubes en la Liga de su país, compartiendo con equipos de segunda división, tercera y cuarta. Destaco por ser un jugador que transmite actitud al equipo, por ser un referente, goleador de raza pura en el área rival, en muchas ocasiones pivoteo balones para que sus compañeros remataran al arco e infinidades de virtudes que lo llevaron a dejar una huella en Italia. Hoy por hoy, tiene 41 años de edad y cumple el cargo de director técnico, donde ya tuvo su primera experiencia dirigiendo al Pont Donnaz Hone Arnad en 2017 de la cuarta división de Italia.
Gianluca Porro, was an Italian footballer of 1.87 height, who stood out enormously as a striker in the Sangiovannese 1927, during the 2006 season, being his best soccer moments with the Italian team, scoring countless goals. Porro, was in 15 clubs in the League of his country, sharing with teams of second, third and fourth division. I stand out for being a player that transmits attitude to the team, for being a reference, scorer of pure race in the rival area, in many occasions I pivot balls so that their companions finished off to the goal and infinities of virtues that took it to leave a track in Italy. Today, he is 41 years old and he is the technical director, where he already had his first experience directing Pont Donnaz Hone Arnad in 2017 in the fourth division of Italy.

Existen otros nombres que son totalmente curiosos para el amante del fútbol, como el jugador Brasileño Alexandre Rodrigues da Silva, conocido futbolísticamente como Alexandre Pato, Elano Blumer, Karamoko Cissé, Jonathan Cabrón y Francelino Da Silva Matuzalém. Y cuéntame, ¿conoces otro nombre llamativo? me gustaría que dejaras tu comentario para saber de ese futbolista y nombre curioso.
There are other names that are totally curious to the soccer lover, such as the Brazilian player Alexandre Rodrigues da Silva, known in soccer circles as Alexandre Pato, Elano Blumer, Karamoko Cissé, Jonathan Cabrón and Francelino Da Silva Matuzalém. And tell me, do you know another striking name? I would like you to leave your comment to know about this footballer and curious name.