Introducing another roommate with lots of legs: Anadenobolus monilicornis [EN / DE]
EN
Hello insect friends and curious readers :)!
As you can see from the title, I would like to introduce you to another of my many-legged roommates today.
DE
Hallo Insektenfreunde und neugierige Leser :)!
Wie dem Titel zu entnehmen, möchte ich euch heute einen weiteren meiner vielbeinigen Mitbewohner vorstellen.
---
Anadenobolus monilicornis
---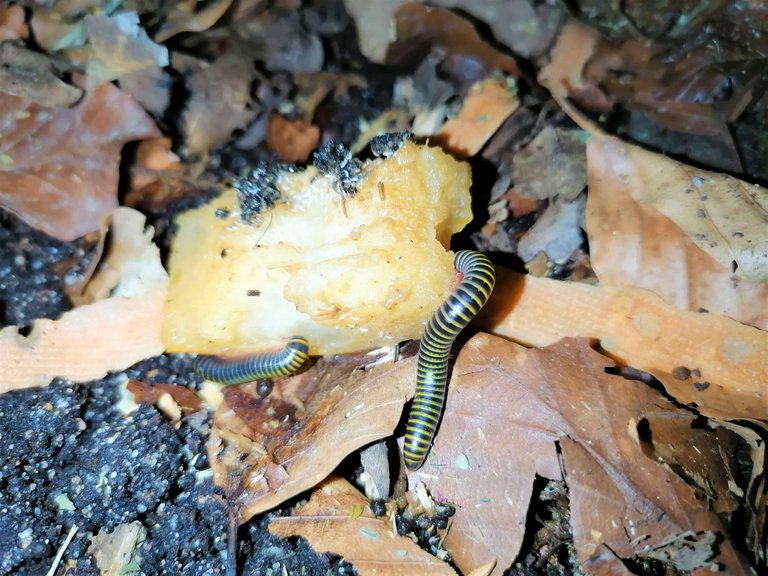 The animals live as a group of 5 together with various isopods in a 120 liter tank and feed like their direct co-inhabitants also purely vegetarian.
They originate from Central America and are completely uncomplicated in their keeping. As food they eat rotting wood, various foliage such as vegetables and fruit of all kinds, whereby especially cucumber and zucchini is eaten. A little variety in the tank and some humidification every now and then, then the approx. 5 to 6 cm large animals are satisfied - at least they give me this impression :D.
Die Tiere leben als 5er Gruppe zusammen mit diversen Asseln in einem 120 Liter Becken und ernähren sich wie ihre direkten Mitbewohner auch rein vegetarisch.
Sie stammen aus Mittelamerika und sind in ihrer Haltung gänzlich unkompliziert. Als Nahrung dient ihnen weißfaules Holz, diverses Laub wie Gemüse und Obst aller Art, wobei besonders gerne Gurke und Zucchini gefuttert wird. Ein wenig Abwechslung in Becken und immer mal wieder etwas befeuchten, dann sind die ca. 5 bis 6 cm großen Tiere zufrieden - zumindest machen sie mir diesen Eindruck :D.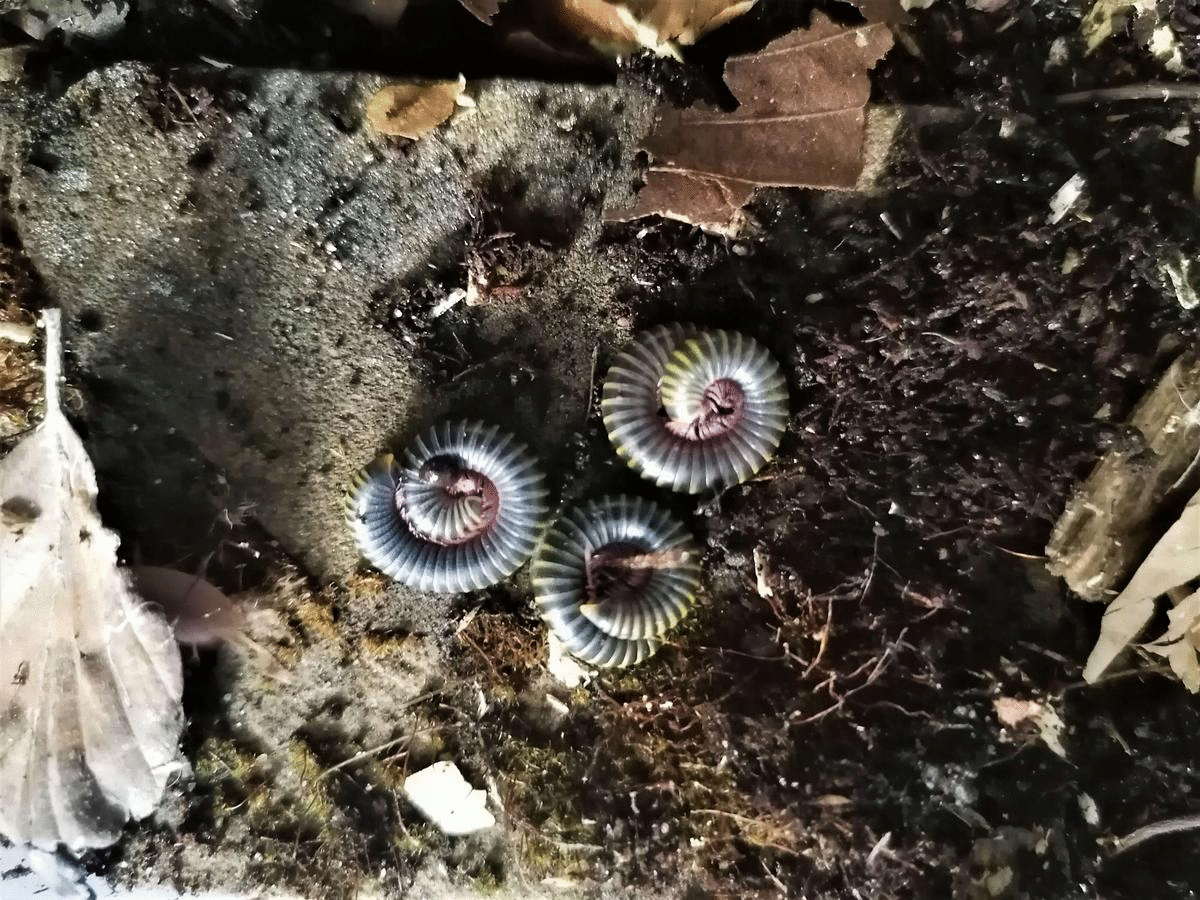 They become sexually mature at about 1.5 years of age, although the achievable age is usually given as 2 to 2.5 years.
At temperatures between 20 and 26 degrees the animals feel most comfortable, furthermore a loose, slightly sandy substrate is recommended, because they also like to dig themselves a little in the ground :D.
Anadenobolus monilicornis is absolutely peace-loving and for a millipede very curious, at least my animals don't let themselves be disturbed so fast. This species is in my opinion wonderfully suitable for beginners and is for all kinds of community tanks, in addition, its colorful appearance also really makes a great impression.
Sie werden mit ca. 1,5 Jahren geschlechtsreif, wobei das erreichbare Alter meist mit 2 bis 2,5 Jahren angegeben wird.
Bei Temperaturen zwischen 20 und 26 grad fühlen sich die Tiere am wohlsten, zudem empfiehlt sich ein lockerer, leicht sandiger Bodengrund, da sie sich auch gerne mal ein wenig vergraben :D.
Anadenobolus monilicornis ist absolut friedliebend und für einen Tausendfüßer doch sehr neugierig, meine Tiere lassen sich zumindest nicht so schnell aus der Ruhe bringen. Diese Art eignet sich meiner Meinung nach wunderbar für Einsteiger und ist für allerlei Gesellschaftsbecken, zudem macht die farbenfrohe Aufmachung auch echt was her.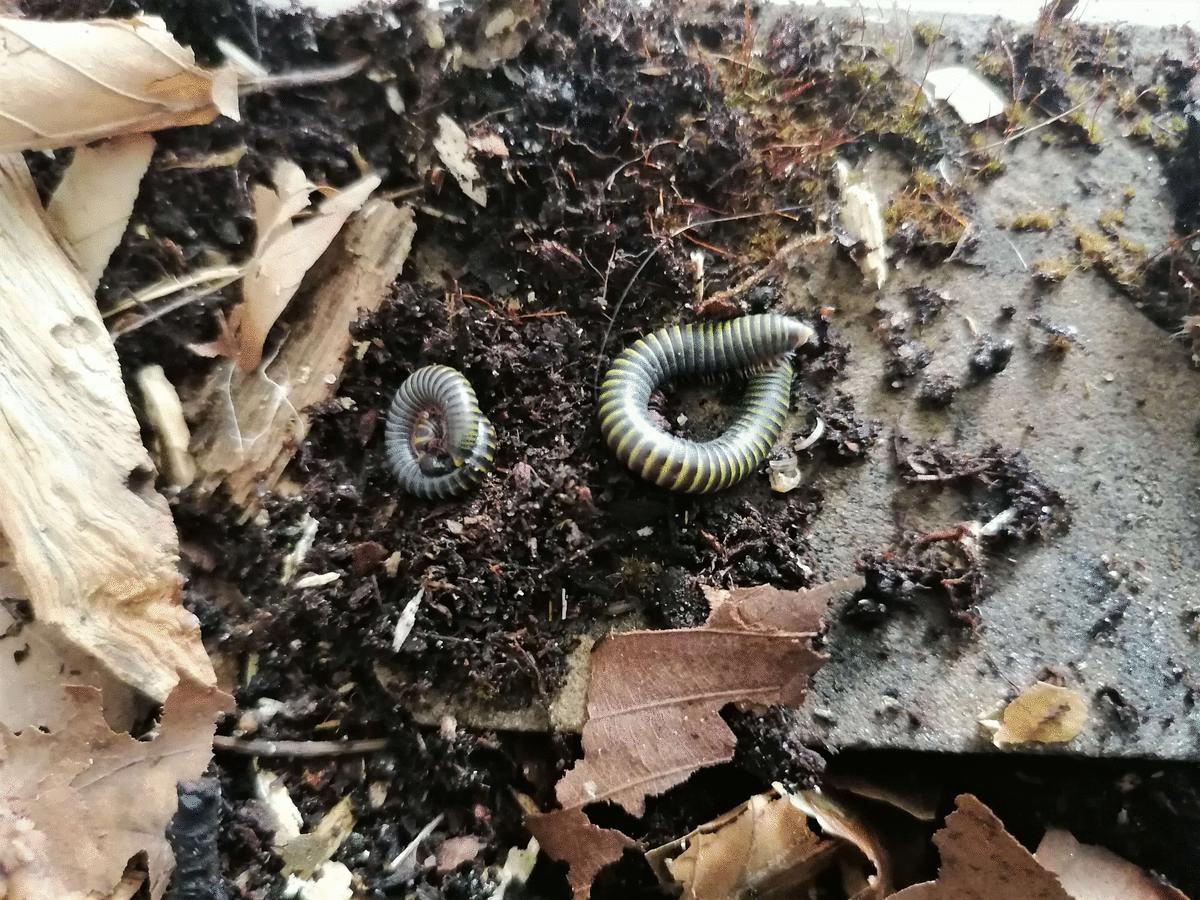 The animals are now almost fully grown, I am curious if I will sooner or later discover any offspring :).
Die Tiere sind mittlerweile fast ausgewachsen, ich bin gespannt, ob ich früher oder später Nachwuchs entdecken werde :).
---
Have a great time :)!
@schlees
---


Druckado.de - your provider for everything related to 3D-printing - HIVE payments accepted!
---
---