Suggested topics for posts
When you consider writing a post on Hive, does it sometimes feel like you're standing in a barren landscape, with nothing about which to write? Is your mind blank, and it seems like there is nothing interesting around you? Does it seem like you are standing in the middle of a desert with nothing but sand dunes all around you, no trees, no animals, no oasis?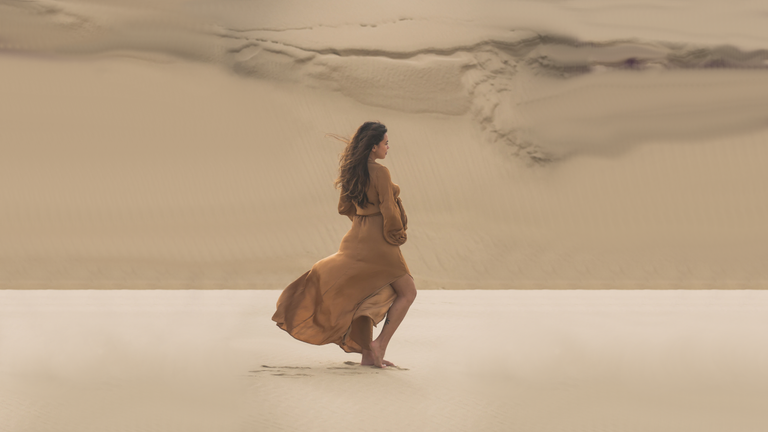 photo by Elijah Hiett on Unsplash.com, editing by me
Sometimes, a mere change-of-scenery will help. If one has been indoors for a while, taking a walk outside can alter one's mindset with scenes from nature or activity on the sidewalk of a busy town. Taking a few photos with one's cellphone or camera will necessitate that we pause and focus attention on a particular scene, flower, trinket, or person. All those things might trigger emotions, thoughts, or memories about which we can write.
I've seen many people come onto the blockchain and start writing about nothing but crypto, investing, and intricacies of the blockchain world. That's fine, if it's where your passions truly lie, but would become very boring if all of us amateur crypto enthusiasts did that. It's more helpful, I think, to hear what experts have to say, not other amateurs who are merely guessing about where all of this is headed. If you're doing what you think is expected rather than what your passions dictate, then it is forced, artificial, and will become evident in your work's quality.
As for my own personal blog, I write about flowers I have seen, about silver I have collected, about the barns I photograph for my Old Barn Project, about food, cats, spiders, poetry, women's issues, everyday life, and the many crystals, stones, and fossils in my collection. I will never live long enough to blog about all the things that are rattling around in my head because I blog my passions and things that I feel are important to me and perhaps others, too.
So, look around you. Find what peaks your interest, what catches your attention, or what you already know without having to research it. Write about that, and you'll never run out of topics! If nothing else, tell us what you did today, some story of an event that happened and why it was significant or interesting.
A couple years ago when someone in Discord complained that they could think of nothing to write in their blog, I wrote a list of suggestions for them. It was so well-received that I saved the list and have given it to many others since then. It might be good to bookmark this list so you have it handy if Writer's Block should strike you someday!

CONSIDER WRITING ABOUT:
● your hobbies. Tell us what you do, & why.
● your job, or the favorite job you once had, or what job you want.
● a guided-tour of your town, or the countryside near where you live. Show us some photos and tell us where you would take visitors.
● a challenge you overcame and how you persevered.
● favorite restaurant, food, book/author, movie, TV-show? And why?
● favorite childhood memories.
● favorite holiday. Why is it your favorite?
● favorite kind of music. What musicians do you like?
● something crazy that once happened which turned-out okay.
● do you live in the area where you were born?
–If yes, why did you stay?
–If no, what prompted you to move away?
● Show us your house or apartment. How long have you lived there?
● what vehicle would you purchase, if money were no obstacle? And why that one?
● what sports you like. Are you a participant or a spectator? Why do you like it?
● who or what brought you to the blockchain.

Members of TheTerminal Discord server (link below) can quickly see this list anytime with the →.. topics← command. It is also pinned in our #general chat room.
٠ H a p p y ٠ B l o g g i n g! ٠

 😊











08-Jul-2021
---
---