The HPUD, The Magic Spell, The First Power Up

HPUD : How Hivian Welcoming New Month


The PUD logo was created by @hivebuzz, gained from here : https://ecency.com/hpud/@jeffjagoe/powering-up-1-000-hive-to-celebrate-the-last-hpud-hive-power-up-day-of-2020 and thed was edited by me with Photoshop.
Okay, I am a new arrival on Hive (I read in one of her posts that @brittandjosie refuses to use the word "newbies" for new comers on Hive and prefers "new arrivals", so I think I do too). I am still very young on Hive. This is my forth day. Yep, my account was created last Thursday, April 29th at 11:24 AM Indonesia Time.
I posted my first hive blog the same day at 2:42 PM. It can be read here : https://hivel.ink/ecency/@janwar00/creating-hive-account-with-ecency. And so the story went with the RC and The Terminal Discord server. Hey, RC really is an issue for new arrivals. But I think I made a good decision when I joined The Terminal on Discord. So much help like I can't say thanks enough, today I don't need to worry much about running low on RC again, but still, I have to use my power "wisely". Thanks to The Terminal and it's people.


Join the server here : https://discord.gg/XZGPGpz.
So I came to Hive on late of April. I realized immediately that every new month, there is a tradition of Powering Up. It is called HPUD or Hive Power Up Day. And the day is on the first day of the month. Powering Up is staking some amount of HIVE token. The staked amount of HIVE token gives user "strength" to do their activities on Hive (only the basic idea I know, I cannot elaborate this on the technical level of knowledge). To celebrate HPUD, several contests are held. I don't really know the whole idea yet, something more to learn on hive. Or maybe the winner is picked through a random drawing. It depends on who hold the contest, I think.
The Terminal team members are paying a lot of attention to this celebration of HPUD they have a special channel for it on the Discord server. The channel is named hive-pud-room, where information about HPUD are shared along with the contest entry of eligible participants. @thekittygirl held a HPUD contest for May with one month 200 HP delegation for a lucky contestant which will be chosen through a random drawing. This time it is @friendlymoose who win the 200 HP delegation by @thekittygirl. Congratulations.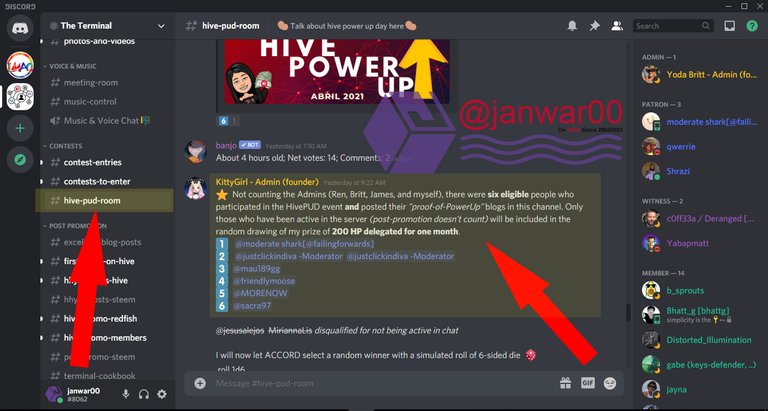 I couldn't participate in this celebration of HPUD because I didn't have any HIVE to stake, but then @brittandjosie powered up 10 HIVE in my name, so ideally I could participate in it. The problem was I passed the time to submit my contest entry blog. So yeah, I missed the contest, but I am thankful for the 10 HP @brittandjosie gave me. It is a very useful addition to 100 HP lent to me by @thekittygirl and 15 by @giftgiver. 125 HP! Something to be grateful for, considering my existance on hive just reached day 4 today.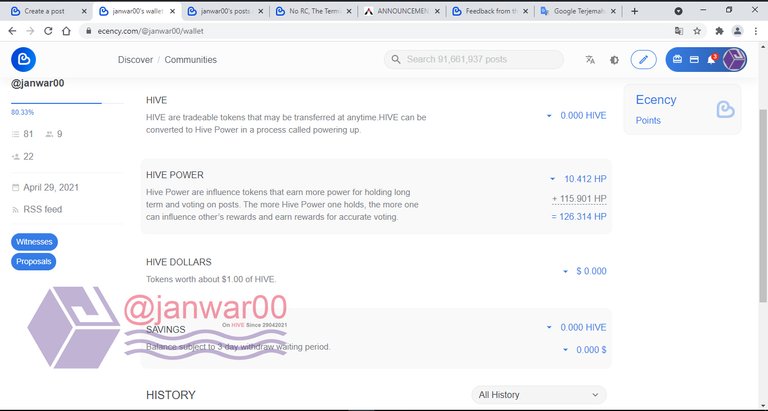 My Wallet latest condition. Monday, 3 May.
The Dream For First Power Up And Some Magic Spells
Okay, I didn't have any HIVE to power up. But what's the rush? I am going to enjoy every moment of my journey on Hive. Respect the process as I did write in my blog https://ecency.com/hive-101265/@janwar00/4-lessons-today. But I did want to feel that feeling when you do the thing, especially for the first time. And then came another surprise on The Terminal Discord server.
It was Sunday (May 2nd), @thekittygirl casted her spell in the server. Something like this : %airdrop $0.10 HIVE for 2. At first I thought her account was hacked by @stayten. (Yes, I do suspect that Stayten is a hacker, but it is a secret.) But then I came to know that it is the magic word to summon a Discord server jinn named tip.cc who was very generous to airdropping some HIVE. So yeah, the spell %airdrop $0.10 HIVE for 2 is like a command to tip.cc to come and do the airdrop as much as $0.10 equal in HIVE and pick 2 winners from all participants who might participate.

Luckily there were only 2 participants, I and @stayten. So we need to split the reward in half. And then they (@thekittygirl and The Hacker) told me what to do next. What happens with the HIVE token I just won. And how to withdraw it and send it to my HIVE wallet. @stayten suggest me to withdraw and power up. Aha! That's what I have been waiting for! So, they taught me how to deal with tip.cc and send the won HIVE token to my wallet. Later when I checked my balance I saw I have already had as much as 0.33 HIVE in tip.cc wallet of mine. It might be from @brittandjosie. She casted some spells also on my post. And so did @wesphilbin. Okay, I already had 0.33 HIVE in the wallet that I didn't realize until this moment, and now an addition of 0.081 HIVE from the airdrop by @thekittygirl. That made a total of 0,411 HIVE usable for powering up.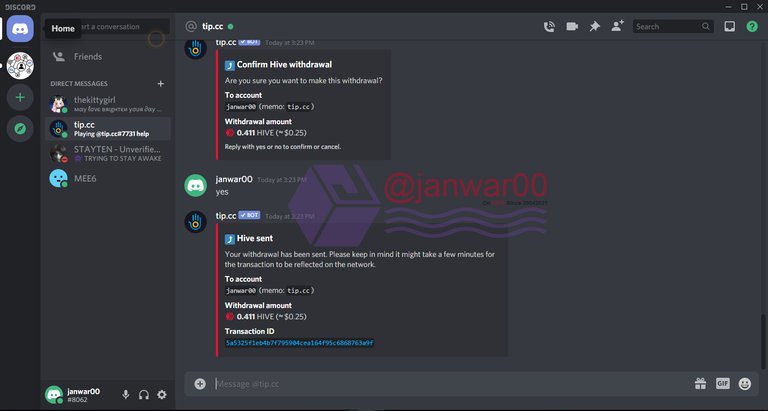 Withdrawing my HIVE token from tip.cc wallet to Hive wallet.
When I opened my Hive wallet, there was a 0.411 HIVE is now ready to power up. And I already had 10 HP which was given by @brittandjosie earlier.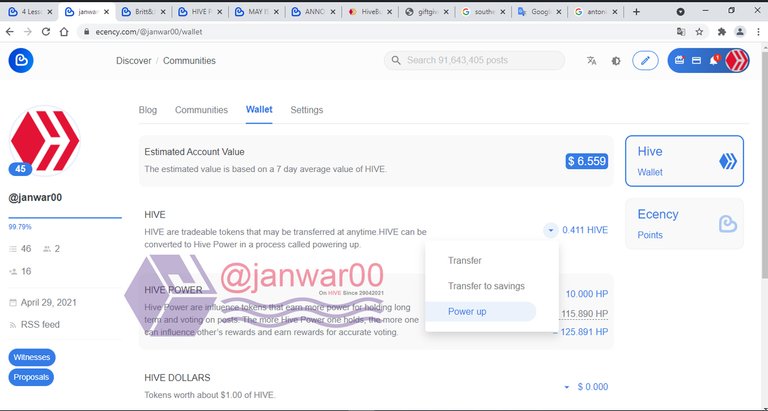 So I did all necessary steps to power up. And when I finished, my owned HP had reach 10.411.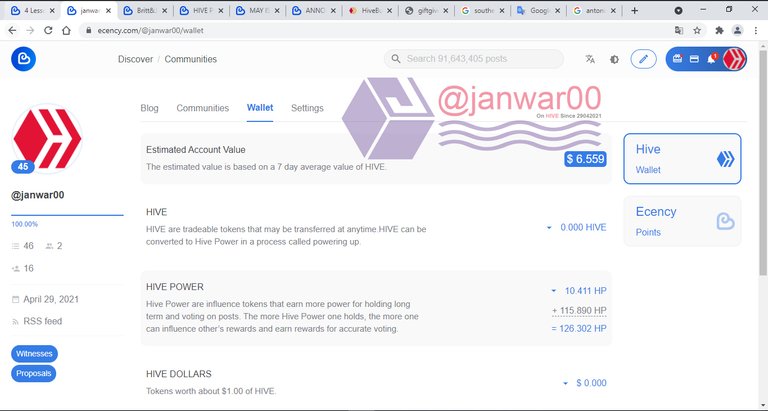 It is now 10.411 + 115.890 HP.
That's the whole story about my first power up. It was small but it did feel good. It kinda addictive. I am not planning on missing the next HPUD.
Here are some good-to-read blogs about HPUD as I collected from The Terminal Discord server's hive-pud-room:
@hivebuzz's Feedback from the May 1st Hive Power Up Day : https://hivel.ink/hivebuzz/@hivebuzz/pud-202105-feedback
@justclickindiva's If You're Looking To Increase Your Hive Power, then Join Me Today in the | MAY 1st HIVE POWER UP DAY (HIVEPUD) https://hivel.ink/hive-167922/@justclickindiva/if-youre-looking-to-increase-your-hive-power-then-join-me-today-in-the-or-may-1st-hive-power-up-day-hivepud
@brittandjosie's PRE HIVE POWER UP BLOG ~ ARE YOU PUDDING ???? https://hivel.ink/hive-167922/@brittandjosie/pre-hive-power-up-blog--are-you-pudding
@traciyork's ANNOUNCEMENT POST - Hive Power Up Day, May 1st 2021 https://hivel.ink/hive-167922/@traciyork/announcementpost-hivepowerupdaymay1st2021-5i9ogubzlrwdxti2o27q


The gif was stolen from @brittandjosie's blog post https://ecency.com/hive-114105/@brittandjosie/read-what-hive-is-and-what-hive-is-all-about-if-you-want-to-be-a-true-hiver, used with permission from @brittandjosie.

---
---