---
[ESP]
Solo pudimos comenzar a grabar la primera pista del nuevo álbum cuando tuvimos que cerrar las puertas del estudio. Como podrán imaginar, los muchachos de Fözz estaban bastante desanimados; al principio. Luego caímos en cuenta: hay algunas situaciones en las que no se puede hacer nada, por lo que lo mejor es sonreír y enfrentar los hechos. En mi país, la gente dice "si no hay pan, come tortilla", que significa "aprovecha lo que hay".
Eso es exactamente lo que hicimos. Hemos estado planeando nuestras sesiones de grabación en Discord, donde compartimos notas de arreglos, ideas, pistas borrador e incluso unas cervezas de vez en cuando. Tenemos un disco compartido en la nube (Dropbox) donde guardamos archivos a los que se puede acceder en cualquier momento e incluso los muchachos han podido hacer algunos conciertos virtuales (no remunerados). La siguiente canción que se grabará se llama "Anormal" y está terminada y lista para seguir. Esta es la última versión de la canción grabada en las computadoras y los teléfonos de los miembros de la banda, y tengo que decir que no suena nada mal (cejas levantadas).
Por supuesto, lo grabaremos en el estudio tan pronto como podamos, pero eso puede tomar algunas semanas. Así queremos compartir nuestro ánimo con ustedes, no dejen de hacer lo que les gusta.
ENG]
We were only able to start recording the first track of the new album when we had to close the doors to the studio. As you can imagine, the Fözz boys were pretty bummed out; at first. Then it sunk in: there are some situations you can't do anything about, so might as well put a smile on your face and face the facts. In my country people say "if there's no bread, eat tortilla" which means "make due with what you have".
That's exactly what we did. We've been planning our recording sessions in Discord, where we share arrangement notes, ideas, scratch tracks, and even the ocasional beer or two. We have a shared drive in the cloud (Dropbox) where we keep files that can be accessed at any time and the boys have even been able to do a few unpaid virtual gigs. The next song that is going to be recorded is called "Abnormal" and is finished and ready to track. This is the last version of the song recorded on the band members' computers and phones, and I have to say, doesn't sound half bad (raised eyebrows).
Of course we will record it in the studio as soon as we can, but that might take a few weeks. In the meantime, stay awesome, Keep your head up and keep doing what you love.
If you like what you've heard, you might want to check out some of the other sessions we've done in the studio:
Fözz Somos ( live at Recording Box)
you can also support Fözz and other independent artist like them by listening to @atomcollector
---
Anormal was written by Fözz and will be recorded and produced by Alejandro Guerra Nochez at Recording Box studio.
This video was edited by Kelvin Polanco.
Song credits:
David - lead vocals and rhythm guitar
Diego - lead guitar
Guille - Keys
Kelvin Polanco - Bass
Charlie - drums
---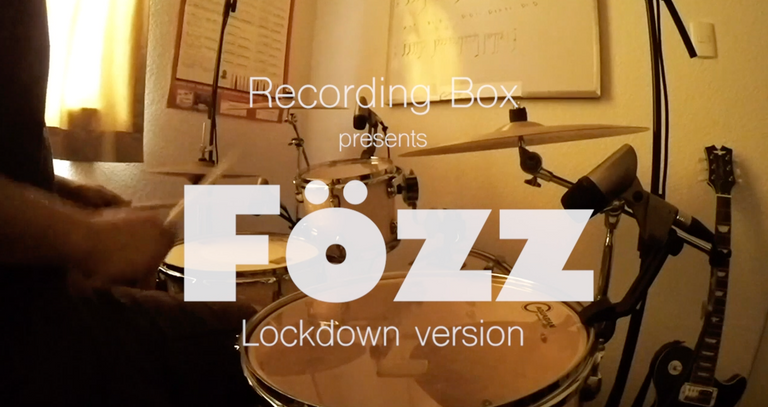 ▶️ Watch on 3Speak