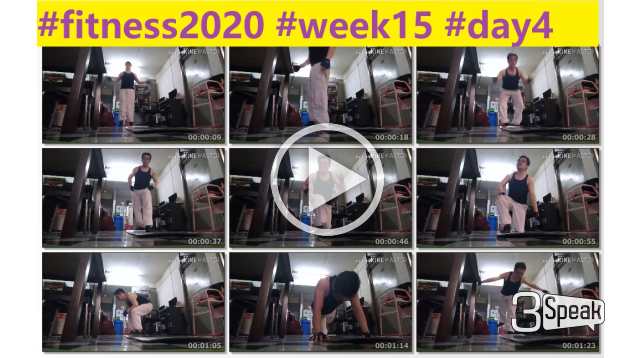 ---
It's more than 50 reps for sure! The jumping jacks alone already 50 reps yo! What are you waiting for? Join me! Get fit and get paid! A few more days ahead, the lockdown is coming to 1 month. My government said it's going to unlock by 14, which is 4 days ahead, but looking at the rate of growing more sick people, I wouldn't be so optimistic about it. Let's work it out, keep ourselves safe!
---
Previous episodes of week 15
Day 3 here
Day 2 here
Day 1 here
Contest(1st week of April)
Apparently, there's a fork going on on the 12 weeks of my workout routine(in March of 2020) and things gotten drastically changed. The video upload I've been using #threespeak is now on #hive. The original idea of #fitness2020 is supposed to call for people to workout together with me in #steem chain, and now I'm on hive and I believe some of the users are still in #steem. I did consulted not once, but twice. It seems the only few who reply me is in #steem. So, I will continue to post here on #hive and share with everyone in #steem. But the payout is definitely in #steem at this point of time.
Here's the #steem part I would like to put up. I would like to invite friends to participate in fitness. I am the guy who sign up a gym membership, but didn't go there even once because lack of workout buddy. I like "social fitness", literally go to the gym for social purpose. To me, gym is a lifestyle. I need peer pressure and I certainly hope this even will help you to continue posting daily because of the workout.
Prize
20 Steem for the winner
5 Steem for 2nd
2 Steem for 3rd
1 Steem for anyone who complete the challenge and make a summary workout report
If there's little participants, I'll just wipe my ass and walk out continue my workout with a few buddies. If there's enough participants, I will try to increase the top prize with snowball effect. When there's no taker, I will continue to add up the amount. Each week if nobody come forth and claim the reward, I will add it up.
Rules
Do the workout. Do atleast accountable for 50 reps of exercise.
Record a video as prove of work
Upload it to any social media that can allow user to watch without sign in, preferably 3speak. But if you do in any other form of video upload, kindly leave me a comment here on #hive so I'm aware. I can't possibly be reading everywhere or I myself will have no time to workout.
Make a post with your prove of work and tag #fitness2020 on the first five tag for ease of curation
Make an extra summary report by the end of challenge.
Contest end - payout date of the announcement post
No spam, no recycle video
If you have anything to say, keep the video short, within 7 minutes.
Why this contest?
You may be saying, Dave 50 reps is a joke. Why not take it up to 100? Well, despite this contest is a fitness workout contest, ultimately its an excuse for us to make a post. I would like to take this opportunity to promote fitness, and to keep author posting on a regular basis, an extra topic for everyone to participate. I have prepared some steem(possible HIVE in future) for fellow participants. Ultimately, it benefit myself too, because I need workout buddy. And you my friend, 1 post a day for the fitness, you earn your potential upvote, body is yours, fitness is yours, and do the summary report and 1Steem is yours. If you win because you're handsome, or have a sexy bikini body, there you have somemore STEEM as per prize stipulated(hopefully in HIVE in the near future).
---
Week 14 conclusion can be found here
Week 13 conclusion can be found here
Week 12 conclusion can be found here
Week 11 conclusion can be found here
Week 10 conclusion can be found here
Week 9 conclusion can be found here
February contest announcement and summary can be found here
Week 4 conclusion can be found here
Week 3 conclusion can be found here
Week 2 conclusion can be found here
Week 1 conclusion can be found here
---
▶️ 3Speak