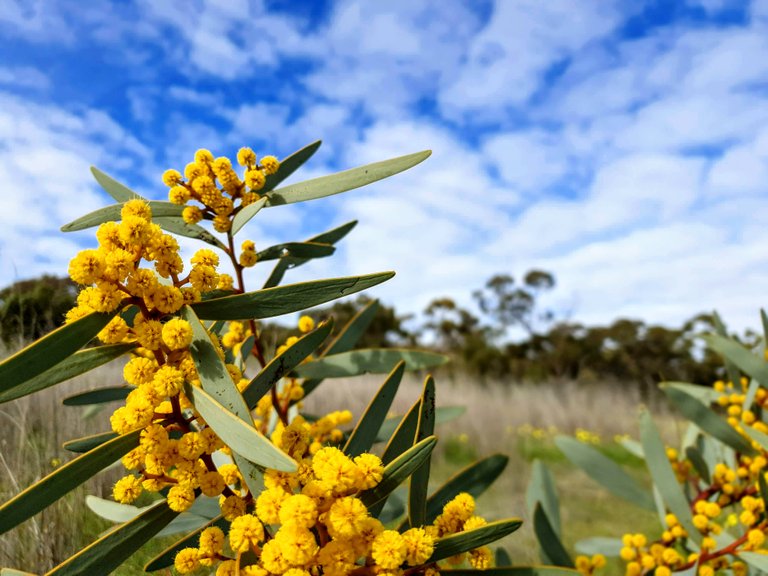 I had to dodge a few people but managed to get a really pleasant Sunday hike in today. The weather was pretty decent, cool of course considering its winter, but the sun showed its face and warmed my back a little as I hiked my way to a small group of ruins where I stopped to write this post and have a bite to eat.
The image above shows the Acacia pycnantha, or more commonly the golden wattle. It's a late-winter/early spring bloomer, very fragrant and very Australian. It's good to see them as it sort of heralds the beginning of the end to winter in southeast Australia.
When Merrell's attack
My hike was solo today as Faith is unwell and decided to stay home. She has a head-cold, nothing serious, but she feels pretty badly. I headed off around mid-morning as she'd gone back to bed for a snooze and by 1030 my Merrell boots were attacking the trails with enthusiasm driven by the legs of yours truly. My lungs were breathing fresh air to the melody of about a thousand birds and a breeze ruffled my hair, or would have if I had my cap off. Mr. Sun chimed in with some rays and I was on my way, crunching along walking trails up to the ruins. Selfie stick photo to right, below.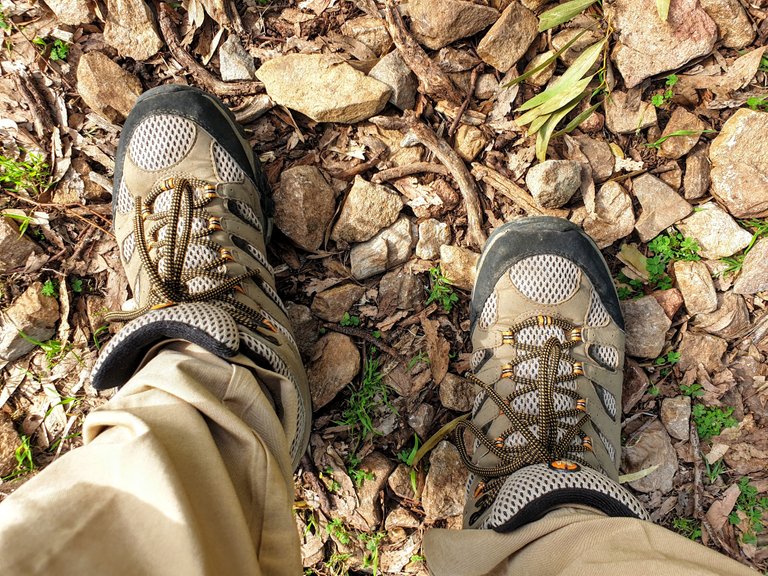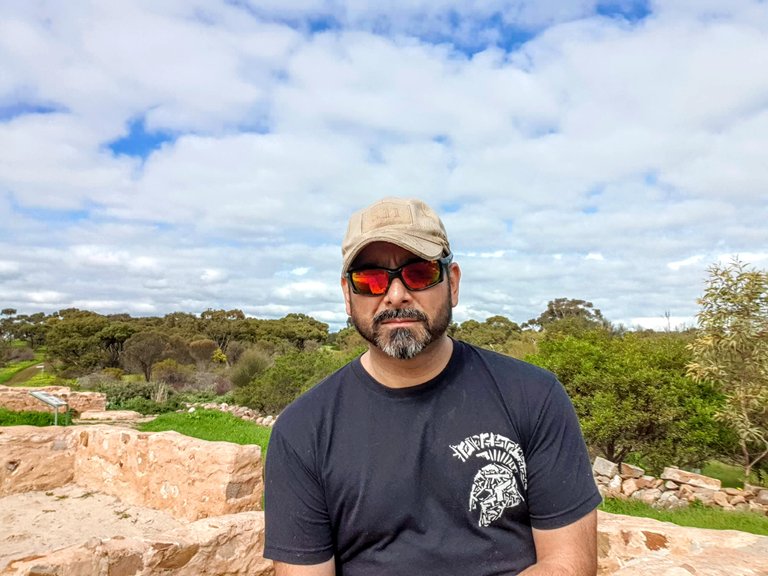 Old machinery and Paterson's curse
Pretty much everything was green except the sky, which wasn't. The yellow flowers weren't either, they were umm, well, they were yellow, except when they were not, at which time they were purple. Savvy?
Here's a non-yellow one below, called Salvation Jane. It is an invasive weed here, an introduced species, usually common to west and southern Europe, North Africa and southwest Asia. It's called Echium plantagineum but is also, and perhaps more commonly, called purple viper's-bugless, Paterson's curse, blueweed, Lady Campbell weed and Riverina bluebell. It kills horses and affects the udders of dairy cows and human skin also. If eaten by livestock it reduces weight and can cause death. It's an asshole, brought here by an asshole. Sort of nice colour though huh?
My hike brought me past this old farm machinery from, circa 1900 as well. I'm not sure what this twisted pile of rusting steel actually was however I'm assuming it dug, ploughed, harvested, reaped or some such thing. It reminded me that 160 years ago this entire area was scrubland and that a bunch of tough and enterprising buggers came along to turn it into farming land. It didn't work.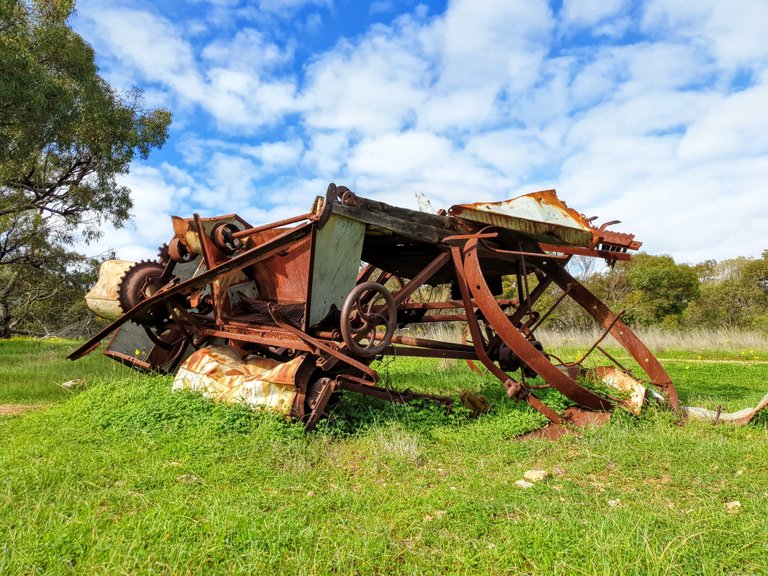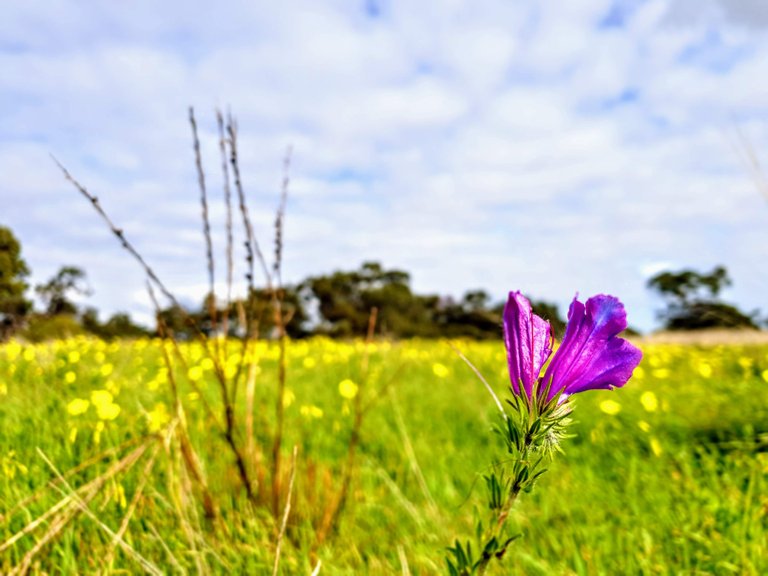 Busy bee's and bastard weeds
Onward I hiked enjoying the cool breeze, lack of flies and a packet of dried apricots I'd brought along. Everything seemed green and yellow, except of course the sky which we established earlier was, indeed, not. I came across this bastard all by itself and thought it would make a decent photo. This is Oxalis pes-caprae. It's also called Bermuda buttercup, African wood-sorrel, Bermuda sorrel, buttercup oxalis, Cape sorrel, English weed, goat's-foot, sourgrass, soursop and what I've always known it as...Soursob. Another introduced noxious weed. It hails from South Africa and has been introduced to America, Europe, Israel and Australia.
Soursob has a sour sort of taste due to the oxalic acid it contains and is sometimes used in cooking. Not here though, in South Africa. A dish called waterblommetjiebredie I'm told. Yeah, no thanks. It can kill sheep though, soursob I mean, and is not well-received here for that reason. It's sort of pretty though I guess.
In the right side image below you can see one little fella that is happy to see soursob's though. A bee inside the flower. I caught this bee stealing pollen from this flower to take back to its hive for honey production. Good bee. Anyway, after photographing it I said bye bye to the bee, and let it be.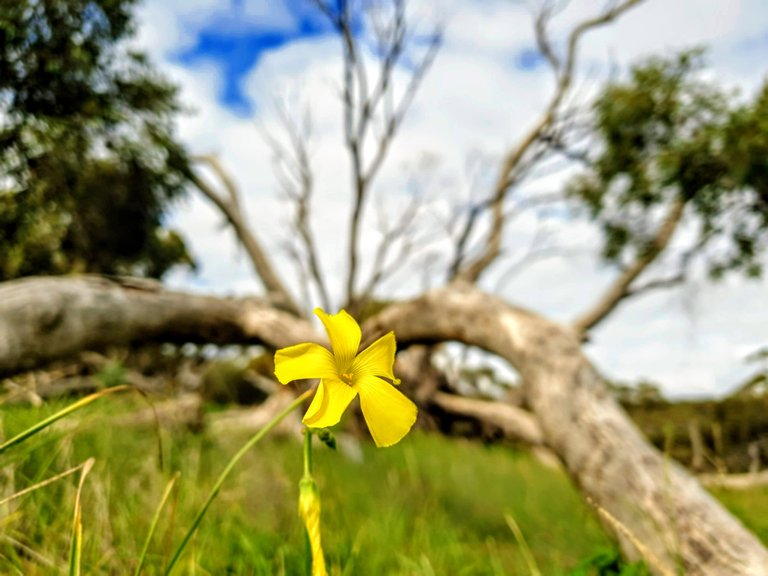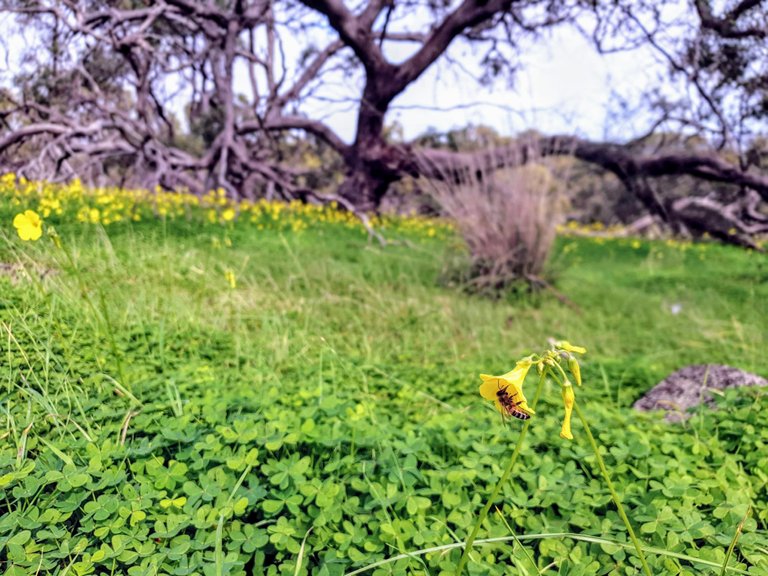 And then there were ruins
The hike up to the ruins wasn't too strenuous, despite being quite steep, because the track was quite smooth. Before too long I came to the ruins which are pretty cool. Many don't even know they are here. They have been preserved in more modern times to prevent further crumbling and decay however give a really nice image of what it would have looked like back in the mid-1800's.
No one really knows why this homestead was built at the top of this hill with the closest water a fairly strenuous walk all the way down in the valley. But here it is regardless. It was built in around 1850 by the Roberts family then bought by the Teakle family in 1883 and subsequently the Tilley family in 1920. If the walls could talk I'm sure there'd be a few choice stories...Not the bedroom walls! Get your mind out of the gutter you!
It's now just a nice ruins to visit and a good spot to sit down for lunch, soak up some rays and to write a post, especially on a nice day like this.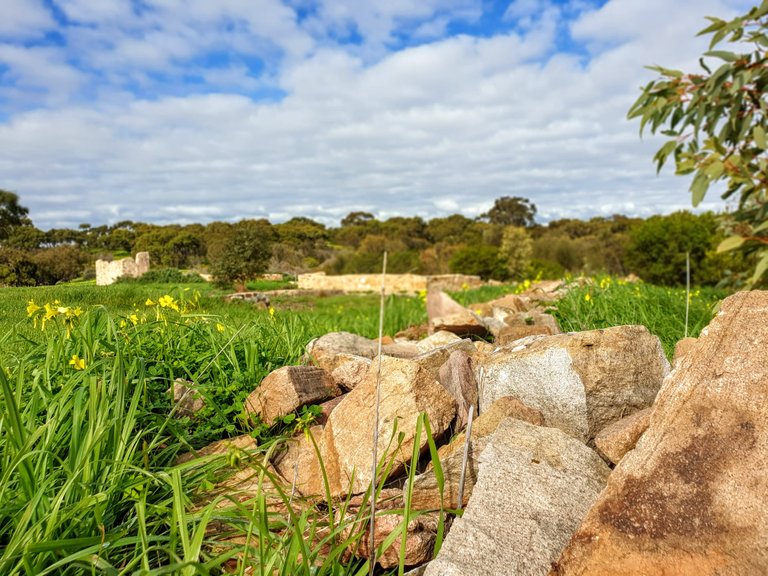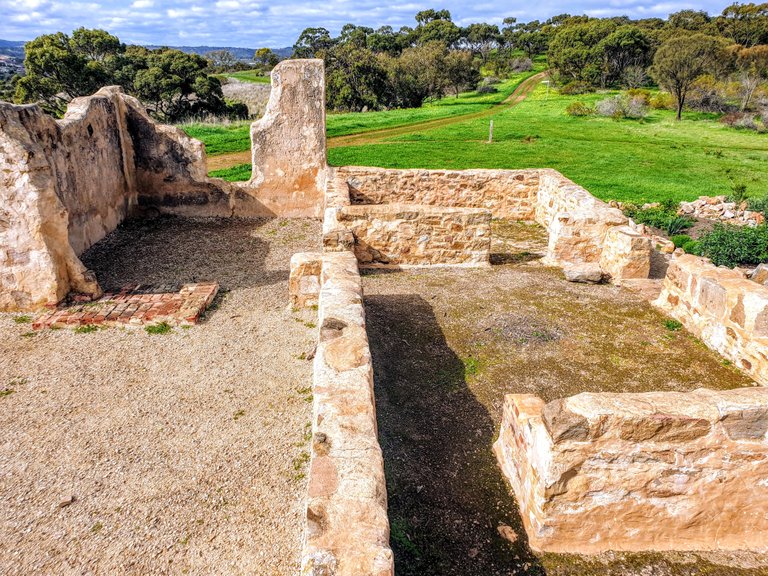 I enjoyed some crackers and tuna from a can, beef jerky and the remainder of my dried apricots then set to writing this post. I don't always take my MacBook Air on hikes with me but this hike wasn't going to be too strenuous and the day was so nice I threw it in my backpack and brought it up. A couple of people came by and probably thought I was a weirdo. Sorta am I guess.
I spent an hour up there writing this post, swigging water and wishing I had some dried apricots left but alas, all good things come to an end right? No bloody apricots left.
All roads lead to home
This is not actually the case as we all know. I mean some roads lead nowhere near home at all! I've been on roads that went in the general direction of home but then lead in completely the other direction. Let's just say that all roads lead somewhere...Well, except dead-ends...They sort of go nowhere. Anyway, the road you see below isn't a road, it's a walking trail. A road for feet...Hmm, maybe it really is a road! It sure doesn't lead to home though, but is does lead to my Landcruiser in the carpark which was the direction of my travel considering I'd made my way down the hill.
A short drive later I was home, cleaning mud from my Merrell's and putting the last touches to this post, after checking on on Faith who was still sleeping, curled up with the cats.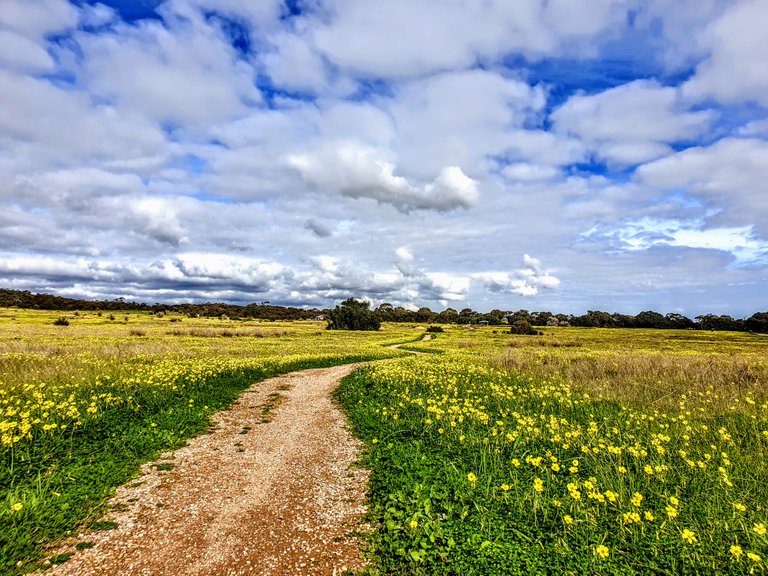 I hope y'all enjoyed your weekends and managed to get up to some mischief, good mischief I mean. I hope the roads you travelled took you someplace that inspired you. I have to go look after my sick wife now so I better go.
---
Design and create your ideal life, don't live it by default and aim small, miss small.
Discord: @galenkp#9209 🇦🇺