Welcome to my Hebrew reading & language series.
Genesis 22:13-14
We saw Abraham about to take the life of his boy last week. God interrupted him to say, "Do not harm the child, for I now know that you would not hold back your only son from me."
Then Abraham looked and there was a ram caught in a thicket. Abraham sacrificed the ram ta-chat (instead of) his son. And he named that place "YHVH Yee-ray", meaning YHVH will provide.
There is a lesson in this seemingly cruel test that The Almighty put him through, and the reward is great for passing it.
God was already planning to resolve the breaking of the blood covenant, which was yet future in the wilderness of Midian. He was preparing for and testing Abraham to make sure he is worthy to be the great, great, grandfather of God's own son, Yeshua. He was the Lamb that died as a sacrifice up on the wood - ta-chat - instead of us.
The story continues next week as the promise is given again...
---
Today's reading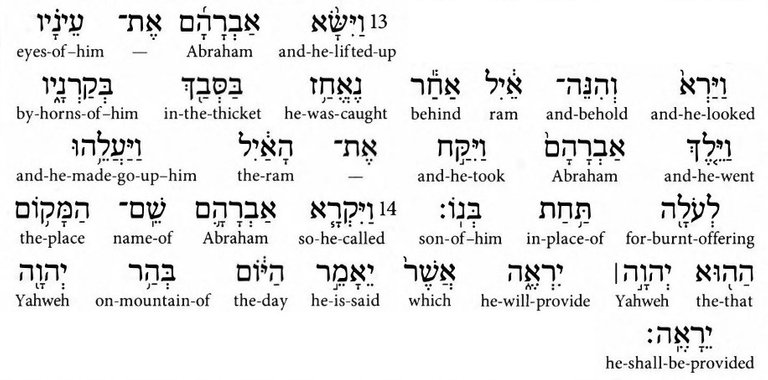 Info on each letter starting at the beginning
If you are just starting, my lessons are all here starting at Alef, adding vowels (the dots and lines) as we go. I explain the meaning of each letter and its numerical value. Just go to my blog and scroll to the bottom or click here
Get your Hebrew Bible now!
Click here to obtain the book we are using. It is a free download or browser usable.
Thanks for reading.
Shabbat Shalom