Welcome back.
Isaiah 7:10-14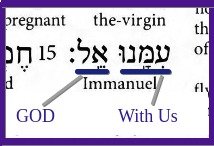 I want to side track our cover to cover reading of the Tanakh for this one day that happens to fall on the start of Shabbat. More than 800 years before Yeshua was born, there was a prophecy about him in Isaiah. There is no video today, but I wanted to talk about the birth of The King! His day has been celebrated by hundreds of different religions world-wide throughout His-story.
God with us
As clearly as it can be read. EL short for Elohim (God) - Im which means "with" - and anu which translates "us".
Reading right to left, we see Imanu-El - clearly two words. Clearly "God with us".
pronounced: eem ah-noo el
This is the prophecy about God himself, as Mashiach, coming into the world by birth via a maiden and his name will be "God with us" - the context is the prophet refusing to ask for a sign from the almighty saying, "I will not put YHVH to the test."
Jump ahead eight centuries and we see Yeshua using those words to counter the adversary in the desert. An interesting holiday comes to a close today. Whether or not this is the exact day of the birth of Mashiach (the anointed one of God) is up in the air. The question is: Did he walk among us as God with us?
This is just one of many dozens of prophecies fulfilled by Imanu-El.
Merry Christmas
You will see what I am talking about in the last verse of the reading below.
---
Today's reading
Info on each letter starting at the beginning
If you are just starting, my lessons are all here starting at Alef, adding vowels (the dots and lines) as we go. I explain the meaning of each letter and its numerical value. Just go to my blog and scroll to the bottom or click here
Get your Hebrew Bible now!
Click here to obtain the book we are using. It is a free download or browser usable.
Thanks for reading.
Shabbat Shalom