Collectively, we have been building a wide array of end of the world scenarios for a very long time. We've done our best to make these threats as immediate as possible while still going about business as usual.
We've raped the environment, we've created weapons that could destroy our entire species, we've overused antibiotics to the point where they are nearly useless, we've eaten most of the fish in the sea, we radicalize our populations to the point that they dogmatically believe each other to be evil, despite being able to go online and realize they use the same car memes we do. We've ignored countless genocides despite saying "Never Again" and we've created technology that from it's own perspective makes us obsolete.
We've built a society that requires constant growth forever. When constant growth happens in the human body, we call it cancer.
Despite all of this, we are generally able to keep our cool enough to live life as if we have a future, and I believe that some how, some way we do. We keep our cool when criminals take over our politics and when endangered species die, knowing the possibility of floods and droughts, and the destruction of everything....and a new common cold is going to cause us to panic?
Give me a break! 🤣🤯🤣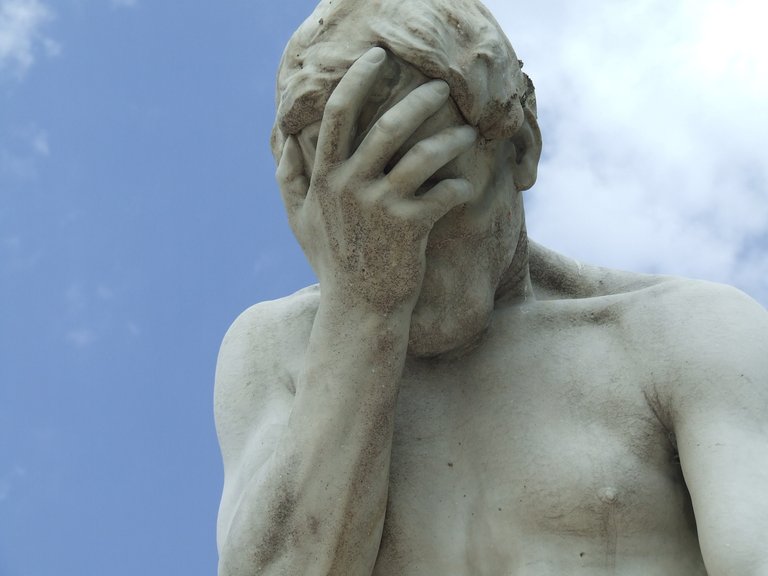 pexels
To whatever ends, it seems to be manipulation at its finest. Perhaps this will just be the straw that broke the camels back. We've grown so tall that eventually all it would take is a little tiny little something to cause it to all crash down. But this doesn't have to be a bad thing. There are a ton of positives that could come from this. The things we want can often lead to the things we don't, and disaster can be a blessing in disguise. I want to bring as many potential positives to your attention as I can to your attention because I believe the possibility that this new virus and it's fallout will save the world is much higher than most of us could imagine.
It will force us to take a hard look at the world and our place in it.
Two weeks stuck at home is actually something a lot of people need. Even if most people waste it watching Netflix and masturbating, the fallout will lead to a whole lot of questioning in the structure of society.
We have such advanced technology that can allow us to live comfortably and sustainably if we just changed a few things around. We bailed out banks and we can't bail out people who can't afford to take two weeks off work because their salary is too low? We outsource labor to countries where human rights isn't really a thing and let companies benefit off that? We hate people from other countries when meanwhile we have way more in common with them than we have this the people who make decisions that affect our lives?
This will be a great time for reflection for many people. Some will remain sleeping, but even more will realize we've been living in a dream. Even if this event itself is an attempt at manipulating us, it may expose how we are being manipulated.
It could lead to better politics
Seeing all the problems with our society highlighted in the way that they are being and will continue to be will make people angry and politicians will be forced to change their behavior to avoid riots. When people start getting evicted from their houses cause they couldn't work their part time jobs or cause they're companies went under, it will put a fire under a lot peoples asses to improve something.
It could lead to the DNC and RNC in America losing control over their manipulation and allowing for candidates that reflect the will of the people. I think we are ripe for a new right and left which have more in common than they have with these old tires parties. I hope the new right and left can agree that the purpose of government should be to make government obsolete and just have respectful debates over how to achieve that goal. I think we are building that right here, it's actually in the process of happening.
Crypto will skyrocket. We will get rich
If countries fail to keep things under control, it only strengthens the case for a currency that is not controlled by one centralized force. While I have my reservations about the dangers of making crypto too mainstream, at the very least it will give us as early investors, a lot of power. We will be able to do with that power as we wish.
Media will improve
Whether the old giants are forced to improve or whether they fail to keep up with more decentralized options and social media, it will become apparent to everyone who still watches that the mainstream media is just as manipulative and destructive as the misinformation we see online.
While this may cause some more panic among certain people, many of us are adapting and learning to create more reliable networks of information that involve connecting with people directly involved. Wouldn't it be nice if we had new media which was less manipulative and more eager to minimize bias?
It could cause brutal regimes to fall
Let me be vague and not name names here for the safety of people I care about. You are free to interpret brutal regimes as you will and it could certainly apply to a few but i can think of one that is facing their biggest threat yet due to anger over how they allowed this virus to spread in the first place. This is still a very dynamic and unpredictable domino to play with and it's impossible to predict how it will go, but something which a few months ago seemed unshakeable is now very much on edge.
A new kind of internationalization
Much of the process of globalization has been driven by industry. Much of that industry has been opportunistic and extremely negligent of human rights, the environment, local culture and the economic well-being of people from the home countries of these companies which give very little back to society.
This whole panic with travel and work stopping for many people around the world may encourage countries to become more self sustainable. While it could potentially lead to xenophobia, I believe that this is just what the old guard is pushing for, I believe most of us are too smart for this and will see through it.
Instead I think it will push countries to produce locally, to build economies that don't encourage or even allow for companies to exploit the world for their own gain. This will lead to richer culture and a variety of ideas.
The new kind of internationalization will be ideas based and human based and perhaps decentralized social media will be front and center. We will learn more about each other's lives and histories through direct interaction and community online and off, through art and culture which we aren't subjected to but which we create.
The whole situation could prepare us for potentially worse epidemics to come
If there happens to be an illness that is actually extremely dangerous that ends up spreading, regardless of the source and cause, perhaps this current situation will prepare us both mentally and practically. Perhaps we will develop the habits necessary to stop an outbreak of something much worse that could have really messed up all hopes for a future we want to live in.
Everyone needs a break anyway
Don't they? A few days off work will be good for most people. I understand how one might be nervous. To be honest, I'm not sure how I'm going to pay the bills next month, but I also have to admit that I'm relieved. I was pushing myself a bit too hard, and I know that I am better than most when it comes to taking it easy and listening to my body and emotional guidance.
So talk about doom and gloom all you want but in the end it will just tired you out. I'm going to be as positive as I can be and push for all the good that I can. I'll keep a low profile to avoid spreading anything to my elderly students. I've stocked up on a few things for the worst case scenario but I'm just as prepared for the best case scenario!