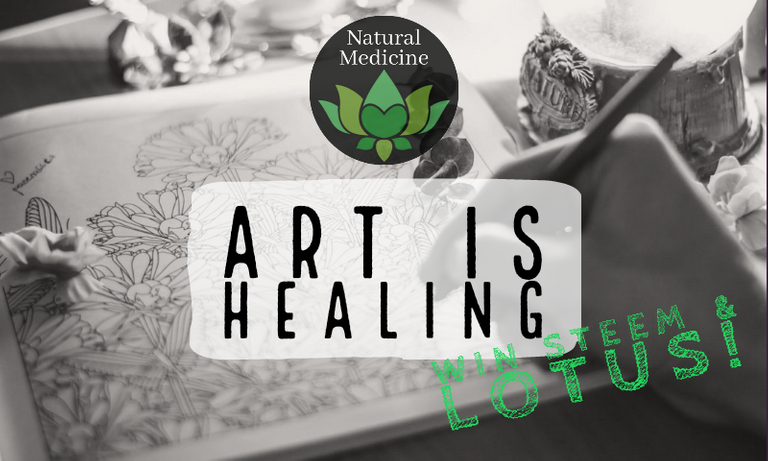 Are you a poet, a painter, a sculptor or a photographer? Maybe you draw mandala or embroider, sing or play guitar.
For many people, art is a way to express themselves, to work through problems or trauma, or to rewire their brain. We want to hear these 'art as healing' stories from you, whether you are amateur or accomplished, an everyday artist or only dabbling when you are blue.
How does art sooth, calm or steady you?
What has art brought to your life that wouldn't be there without it?
Did art find you or did you find art?
What trauma or illness has art helped you through?
Do you use art as a meditative tool?
You do NOT have to answer all of these questions - they are simply there to prompt you in whatever direction you like.
<c


Rules
Yeah yeah, we know - rules stifle creativity, but we promise these aren't too smothering!
Resteem and/or retweet this post
Refer/link back to this post in your entry so we know it's your submission
Post from www.naturalmedicine.io (log in with your steem posting key like you would any front end)
Use any relevant tags you like, such as #creativecoin
Burn 100 Lotus by sending it to @null. - just like an ordinary transfer of steem, but you're doing it on www.naturalmedicine.io so you're transferring LOTUS instead!. This helps the LOTUS ecosystem. If you don't have enough unstaked LOTUS, one of our team will burn for you, and we are happy to accept IOU. We will match every 100 burned by doubling it and sending that amount to @null from our issuing account, @lotuscoin. This helps us all by potentially raising the value of the token by decreasing supply.
The Prizes
100 Steem (divided amongst best entries)
LOTUS (amount to be decided)
100 percent upvote for worthy entries from @naturalmedicine
Resteems from @naturalmedicine and @uplotus
Best posts will be shared to our Twitter and Facebook accounts
Your post/s will be compiled and acknowledged in a curation post, with the 3 best receiving part beneficiary.
To make this giveaway worth it, we will only honour the 100 Steem giveaway if we receive at least TEN eligible entries. We love providing abundance, but it takes all of us to create abundance for all.
We can't wait to read your story!




Earn Instantly For Writing Good Natural Health Content
If you would like to earn LOTUS and STEEM rewards for sharing your natural health content on www.naturalmedicine.io, you can sign up for an free FREE account by emailing welcome@naturalmedicine.io. Read more about us on our Welcome Page. We support writers sharing about herbalism, TCM, yoga, meditation, vegan and other healthy diets, as well as earth centred practices such as foraging, permaculture and biodynamics.

We need YOU! Please consider delegating STEEM to help keep this collective going. The minimum entry for membership is 20SP (free for members under 150SP), and helps give YOU upvotes, contests, meditation sessions, an awesome discord support group, and so much more!
---
If you'd like to learn more about www.naturalmedicine.io, LOTUS and other particulars, please read our WELCOME page.
---