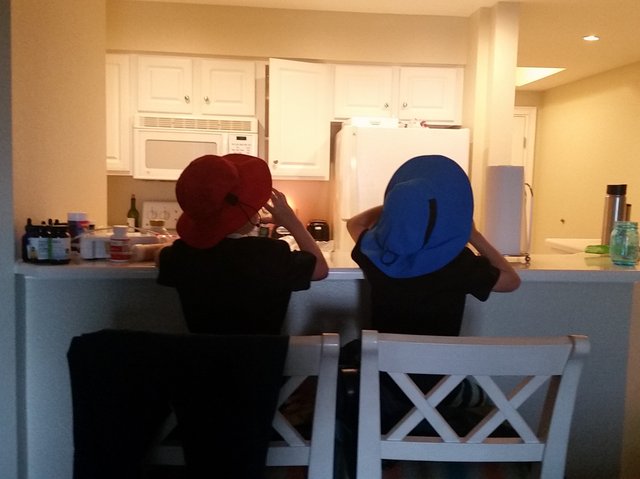 During this time last year I was begging for the pediatric neurologist to fit us in sooner than the appointment they gave us 4 weeks into the future. My oldest seedling had just suffered a neurological episode, and I was desperate for answers.
When asked about the event the next day, my 6-year-old said:
I knew the word magazine in my mind but couldn't make my body say it. I woke up woozy with a headache and my whole side of my body was sensitive to feeling, like mushy. I kept bumping into things. I had a headache while I was sleeping too. I ate some cheese and my voice got gooey a few minutes later. I think it might have been something I ate - but don't know what. Stomach hurt - felt like I was going to throw up but didn't. Vision was normal, but like when you look at a light then look away.

This is how I felt
😣painful
😖🤤😫😓😧 woozy
🤒sick
😵scared
🥝🌰🥕at the doctor's office i felt hungry
💻then i wanted to watch a movie
That's all. This is the end.
---
The nurse at the emergency room triage heard our symptoms and couldn't decide what protocol to follow because a 6-year-old was exhibiting the classic signs of stroke. If he was 66, we would have been admitted immediately. Everyone knows when a stroke is suspected, time loss is brain loss. I was shocked at how little urgency, care or even curiosity was exhibited by the nurses and doctors that morning. The ER discharged us with no diagnosis, no explanation and no follow up. There was no way I was going to accept no as the answer.
Persistent calling each day to ask if there was a cancellation lead to an appointment with the neurologist within the week. He did not have an explanation either, but this time we left the appointment with enough referrals to have an appointment almost twice a week for the next 2 months. He pulled strings with colleagues and was so very kind.
Along with the traditional tests and specialties, I scheduled assessments with our pediatrician, who is a homeopath and practices at an integrative and functional medicine clinic. We were also referred to a dentist who practices integrative dentistry. Most of this year has been spent driving hours to and from appointments and camping out in waiting rooms. We have gone down every single health path we could travel, including:
•Neurological Exams
•Ear Nose & Throat Exams
•Optometry Exams
•Electroencephalogram
•Electrocardiogram
•Echo cardiogram
•Ultrasound
•Magnetic Resonance Imaging
•Computed Tomography Scan
•X-ray
•Blood Analysis
•Hair Analysis
•Oral Surgery
•Biological Dental Fillings
•Tooth Extraction
•Ozone Therapy
•UVB Light Therapy
•Myofunctional Therapy
•Orthotropics
•Tenpenny Sensitivity Reduction Technique (T-SRT)
•Genetic Testing
•Avoidance of EMFs
•Avoidance of Synthetic Chemicals
•Folk Medicine
•Reiki
•Crystal Therapy
•Homeopathy
•Meditation and Visualization
•Restrictive Dietary Practices
•Dietary Supplementation
This single event consumed an entire year and influenced all of our lives. Our health became our homeschool curriculum. We still have treatment appointments lined up until the end of March.
---
I have learned a few things from this experience.
There are very caring people in both the traditional and alternative medical fields.
You have to push for answers and advocate for yourself no matter what type of medical practice you use.
Google IS your friend when you are looking for answers, regardless of what the memes say.
WRITE. EVERYTHING. DOWN.
Not everyone is going to understand or support your choices.
You can get lost in the bog of, "just one more appointment, just one more treatment, what if this is the answer…"
Whatever it is that you are trying to avoid, will be lurking everywhere you go.
Time and money are spent very quickly when it comes to pursuing health.
Serendipity, Grace, God, The Divine Universal Plan, should not ever be discounted.
My children are extraordinary.
---
My oldest may have a diagnosis of complex migraine with aura, although he has to have a second event to confirm the diagnosis, and we have been blessed that he has not. Both seedlings have exceptionally small airways, genetic abnormalities and allergies. All of these issues are significant and important to work to manage.
However, I believe that you can reach a point where you simply cannot be any healthier - where following the path to perfect health can actually start to make you sick. My family is soon to travel to Mexico to try on a different life. We have had enough. Instead of the stress of pursuing health in the form of tests, treatments and appointments, we are going to go and live in a healthier, less stressful environment, in a way that will help us all heal more deeply. Or at least, that is the plan.
I found that I was exceedingly grateful to the other parent warriors who did not take no for an answer. They posted about their experiences and shared their knowledge so I could stand on their shoulders. I intend to pay this kindness forward by posting about what we did and what we learned, too.
---
I am grateful to find a place with rich soil to grow a community. May we take root, and flourish together.
All artwork, photographs, and content are original and created by @bia.birch unless otherwise credited.