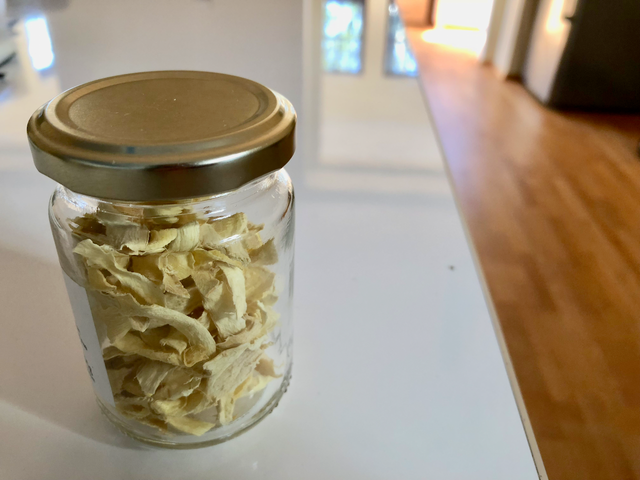 As I believed that I can earn more from desk work than physical work, I spend most of my time for desk work; writing and programming. But I change my mind and try to restructure my work.
I notice I have colder hands and feet this year, which happens when I sit in front of my computer for couple of hours without moving. I can recover my hands and feet by drinking tea with dried ginger (shown in the photo) and can keep the temperature by walking around, doing house stuffs, gardening etc. I must improve my daily routine.
Negative effects of hours of desk work a day has been discussed for a long time. Standing desk was in fashion few years ago. There are advise to stand up and move one's body every hour, walk around office, go up stairs etc. But I think they cannot be a fundamental solution for me.
For me I think it's good to have both desk work and physical work. I earn basic amount of money I need for my life by desk work and I use spare time for physical work. I will grow veggies more intensively especially Japanese ones and serve food and sell seeds and plants at a local market using them (yes, it's a big plan). I work on my food educational idea too. No one pays me for house work but when I know it's a kind of investment to my health, I'm motivated to bring garbage down stairs ;)
Physical work looks it's less payed but taking its benefit to our health, it can be as good as desk work. Of course we shouldn't over do to hurt our body though.
So it's my thought and process of restructuring my work to live 100 years healthily :)
Photo: Dried ginger slices to add to tea.
---
少し前まで、私の場合デスクワークの方が肉体労働よりも断然稼げる(ように一見見える)のでデスクワーク一辺倒でした。・・・が、最近この考えを変えつつあり、仕事の構成を見直しています。
今年はいつもより手足が冷える気がして、これ、ずっと座って仕事をしていると起きるんですよね。生姜でドーピングすると温まって、歩いたり家事をしたり、庭仕事をしたりするとキープできます。仕事&生活の仕方に改善の余地がありそうです。
現代人の一日数時間のデスクワークの弊害はずいぶん前から指摘されていて、スタンディングデスクという立って仕事をできる机が流行ったのを覚えている人もいるかもしれません。スタンディングデスクの他にも、仕事の合間に体を動かす、階段を登る、いろいろな解決策が提案されています。ただ、これらは私にはしっくりきません。
今落ち着きつつあるスタイルは、生活を支えるお金をデスクワークで稼いで、残った時間に楽しみながらできる肉体労働をするというものです。晴耕雨読ライフではないですが。デスクワークは書く仕事やプログラミング、肉体労働は野菜を育てたり、今後それを使ってマーケットで食事を出したり、食育のプロジェクトで走り回ったり。あと、誰もお金をくれませんが、家事も健康のためと思うとゴミ捨てに階下に降りるのも俄然やる気が出ます 😁
肉体労働は一見時給にするとデスクワークというか知識労働に負けるますが、健康面への影響も考えるとそこまで負けていないのかもしれません。きつすぎると健康を害しかねませんが。
そんなこんなで知識労働と肉体労働のお金と健康のバランスを探っているところです。人生100年時代、日々の収入も大事ですが、なるべく長い間健康に生きることも考えねばなりません。
写真: この時期欠かせない乾燥生姜をまとめて作りました。