Three comments on the post concerned me. They were essentially saying:
It's too late to voice our opinions (it's never too late)
They didn't know enough about the proposal (that's what were here for! to learn and grow! Go steem!)
It's only going to really affect newbies that were on their way out anyway. (Think so? Well. That's what this post is for)
Here is the problem:
Most people think that this will be a change that will "spread rewards evenly in a new pattern that we will all just eventually adjust to."
@bluefinstudios and I chose cross-section of people for this chart. Minnows, dolphins, orcas, whales.... witnesses, concensus witnesses... you get the picture. And we specifically added some people that were interacting with the last post - so they could SEE with their own eyes.
Perhaps pictures and numbers will speak louder than words.
All this information is publicly available on steemworld.org/@username, YOU TOO can find out this information about yourself - or ANYONE on the blockchain - to see how this proposed change will potentially affect each person.
Steemworld.org lists the last 30 days of curation rewards and author rewards. As much as people want to say this proposed change will help to increase curation - I'm going to show you why it won't. But I'll save that for the end of the post.
Let's get to numbers.
We can take mine for example. I currently have a project that is supported FAITHFULLY by @fundition, and my author rewards reflect that. I also spend a lot of time curating, manually - and on curation trails. I could increase my curation a bit... but I'm doing a LOT right now, and its unlikely that I'll be curating much more than I am right now. And be honest - CAN YOU?
REMEMBER: we ONLY get ten 100% upvotes a day - to distibute as evenly as we can. I currently go OVER that amount, in order to support as many people on the chain that I can. (I'm currently at 63% voting power - clearly over the suggested limit!) Could I just find the consistently "high paying posts" and just put them on my autovote? Uh. Sure. But isn't that the exact thing that we're supposed to NOT be doing? Aren't we supposed to be pushing more HONEST, manual curation? Intentional interaction? Boosting quality content WHILE supporting our friends?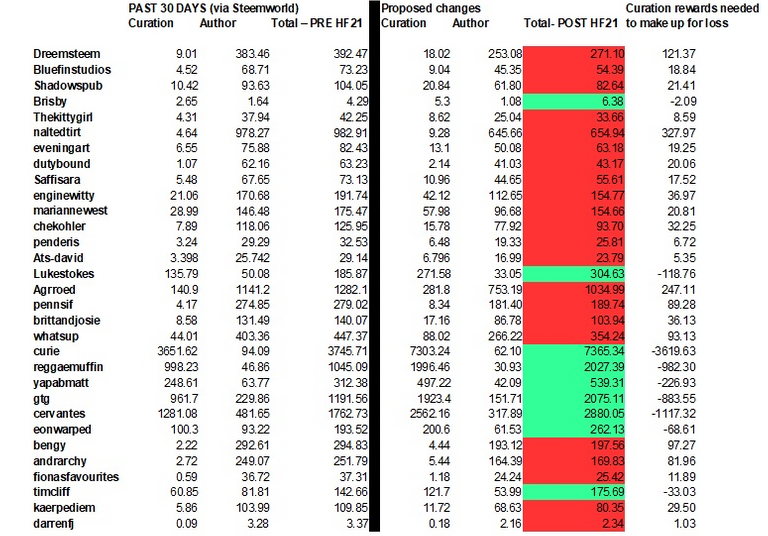 See that? Everyone in the red... get prepared for that new monthly amount. Everyone in the green - CONGRATULATIONS! This proposed change REALLY boosts your wallets!
So if you're wondering where that extra 25% from your rewards is going... Now you know! The people in the green are not the enemy, mind you. I know some of them, and I think they're awesome and often fight for good change.... BUT I surely hope that the people in the green see that they are disproportionately BENEFITING from something that THEY ARE VOTING ON.
Well, hold on @dreemsteem. If I increase my curation, then won't I earn some of that back!? You sure will!!! Let's see how much you need to earn back to break even.
Well, let's see. Take me as an example if you like - but you can look at the chart for everyone! For me? I'm currently making about 9 SP a month in curation rewards. After the changes - if I do NOTHING ELSE, and just keep doing what I am doing (which is pretty heavy on curation), that will most likely double to about 18 SP. Why? because 25% curation to 50% rewards is doubling. So, my 0.05 SP curation rewards on any particular post will now be 0.10 SP.... Follow?
In order to make up for the deficit in my author rewards (which now gets cut by AT LEAST 33%) I need to WAY MORE THAN DOUBLE my curation rewards to break even....I need to take it from 18 to 121 Mine is specific to me. Go look at yours! Go look to see how much YOU need to increase - JUST to break even with the proposed changes. It's that last column. (and if you want to know how to calculate it, if you're not on this chart... leave a comment for me below and I'll show you)
QUESTION:

How many posts are you manually reading and curating each day? And how much time do you have to increase that... SIGNIFICANTLY to make up for the loss in your author rewards?
By the way, those author rewards aren't going into some balanced and distributed pool. It's MOSTLY going directly into the wallets of people who post little, curate a lot - and ALREADY HAVE significant percentages of the curation rewards (because don't forget people... curation is stake-based).
I'm just not sure why we need to motivate the big accounts even more to curate? They are essentially going to be giving out awesome votes, and then getting HUGE amounts returned to them. Why continue to make it harder and harder on the biggest population of Steemians? WHY do we continue to destroy the foundation that we should be building??
So what I'm seeing here is... The proposed changes are showing what kind of behavior they would like to see implemented.
Write less.
Curate more (on less material, since everyone is writing less)
And purchase and powerup 50,000 steem so you can be an orca and get a high percentage of the curation rewards back.
GOT IT.
P.S. remember also - that these are not the ONLY changes. Your payout is also going to be decreased for the other proposed changes in HF21. So even though it LOOKS like nothing changes... (your post payouts will still be shiny and high! ) What you KEEP is going to be significantly lower.
So..... as I said in the last post.
Might we REMOVE this portion the HF21 proposal and consider it for another hard fork? If you agree.... go drop your name as a comment on THIS POST Perhaps if we join together and speak as one, we might be heard.
Tagging all the people that were discussing the last post with us!
@fionasfavourites, @nickhavey, @blockurator, @cheese4ead, @bengy, @zekepickleman, @thekittygirl, @bluefinstudios, @shadowspub, @chekohler, @audreybits, @omra-sky, @greencross, @enginewitty, @eveningart, @saffisara, @penderis, @naltedtirt, @hazem91, @darrenfj, @brisby, @josediccus, @thehive - and feel free to share with anyone you know will be impacted (aka. everyone)