---
La guerra golpea fuerte, siempre fue así... No hay tanques ni bombarderos, los tiempos han cambiado pero la guerra sigue ahí. ¿La humanidad contra un virus?, ¿estamentos frente a pueblo?, ¿estamos todos en el mismo barco?, ¿nuevo orden orquestado?... Los actores están difusos, nada es claro y nada importa ya. Porque el enemigo es invisible y el miedo, la culpa y la desconfianza minan nuestro día a día. Y la realidad está en las calles, que hoy guardan silencio. Cuando apenas ayer clamaban con fuerza su propia soberanía.
***************
War hits hard, it always did... There are no tanks or bombers, times have changed but the war is still there. Humanity against a virus? Estates against people? Are we all in the same boat? New orchestrated order? The actors are diffused, nothing is clear and nothing matters anymore. Because the enemy is invisible and fear, guilt and distrust undermine our daily lives. And reality is in the streets, which are silent today. When only yesterday they were crying out loudly for their own sovereignty.
---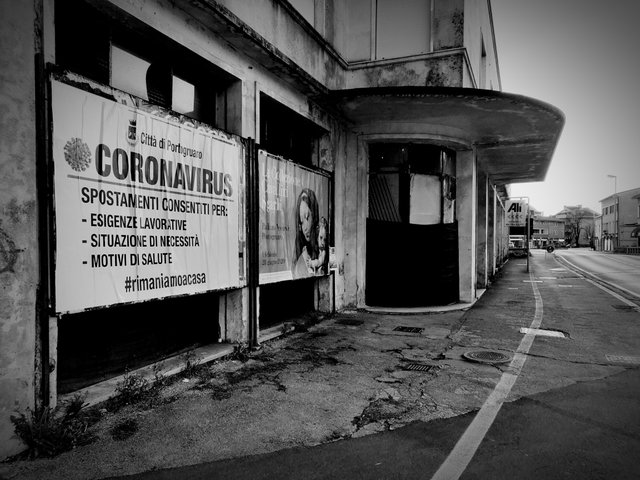 ---
El miedo viene
con cadenas psíquicas.
La vida calla.
************
Fear comes
with psychic chains.
Life is quiet.

El golpe es duro y muestra su fuerza.
*********
The blow is hard and shows its strength.
---