This is Poppy Puppet,
she wears a glorious red cape,
and that means she's a super-hero!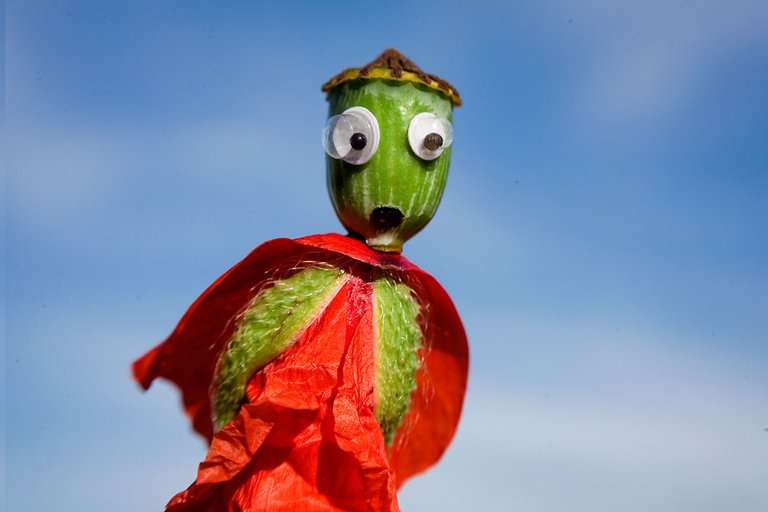 This is going to be a slightly different kind of #GooglyEyes post today, it's going to get a little bit craftier than ususal.
Not my usual #eyebombing, which is all about creating googly creatures in the public space, using just some eyes to bring random objects to life and maybe even give a smile to random by-passers on a later day.
There also won't be any quirky backstory about Poppy as a googly character and none of those pseudo philosophical rambles that hide between the lines of my googly posts occasionally.
No, actually my beloved, wiggly, plastic eyes will only be an optional accessory for what I intend to share with you now:
A few days ago, on my weekly location scouting endeavour, I found myself standing in the middle of a field of red poppies. I suddenly recalled: As a kid, I was having great fun making these little puppets from poppy flowers.
I probably learned this trick at a very young age, young enough to feel like I was born knowing it, but I think it must have been my mother who showed it to me. I don't really know for sure, though. Either way, it's about time to pass it on!
Fortunately @hazel420 was with me on that excursion and she was kind enough to patiently lend me a hand (well, both hands actually) to help show all of you how to make your very own poppy-puppets, step by step.
So this one is for the kids, for everyone who likes to play with flowers, for the whole 9-year-old-army and for all those who just want to inspire curious children and nosy nephews with this neat little trick.
Step 1 - All you need is this: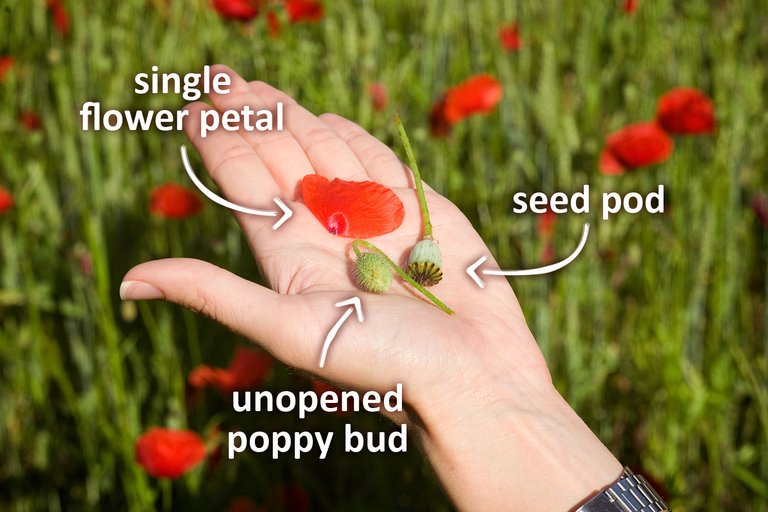 Poppy flowers have been cultivated by humans since practically forever. As a result you'll be able to find variations of this plant growing almost all around the world in different colors and sizes. This trick will work with any of those and it may even work with a completely different kind of flower that has similar features.
You'll want to find an unopened poppy bud for the body, preferably a large one with a sturdy stem; then look for a seed-pod that's already past the flowering stage, this is going to be the head, try to find a nice and expressive one; finally pick a single flower petal for the cape.
---
Step 2 - Put on the cape: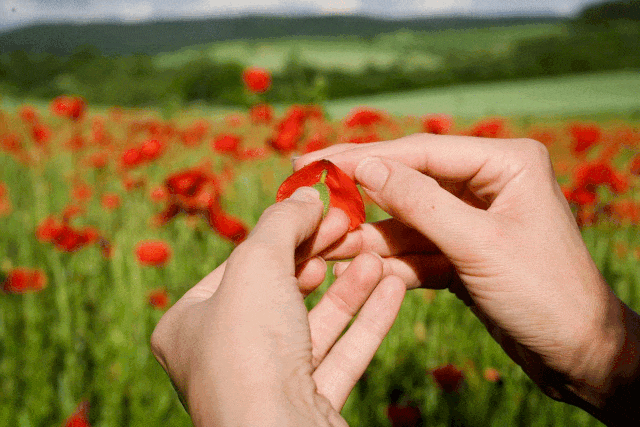 Take the unopened poppy bud with a short length of the stem still attached. Use the end of the stem to puncture a small hole into the pointy end of the flower petal and now you can keep the "cape" attached around Poppy's "neck".
---
Step 3 - Prepare the head: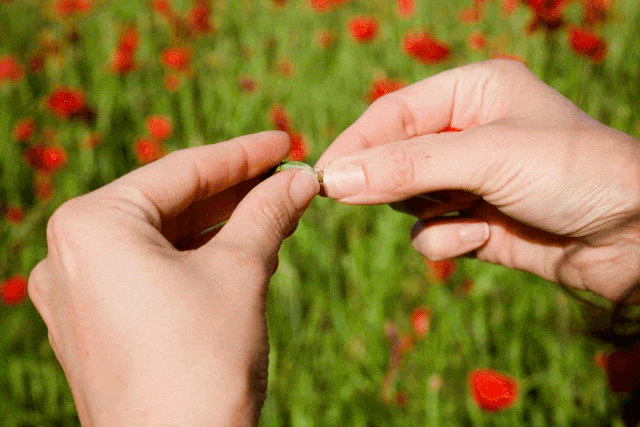 Snap the stem off of the seed-pod, slighly above its base. This will leave a small opening in the bottom of the pod. Make sure this hole will be big enough to fit the "neck", you might want to use your fingernails or a small stick to enlarge it a little.
---
Step 4 - Put head and body together: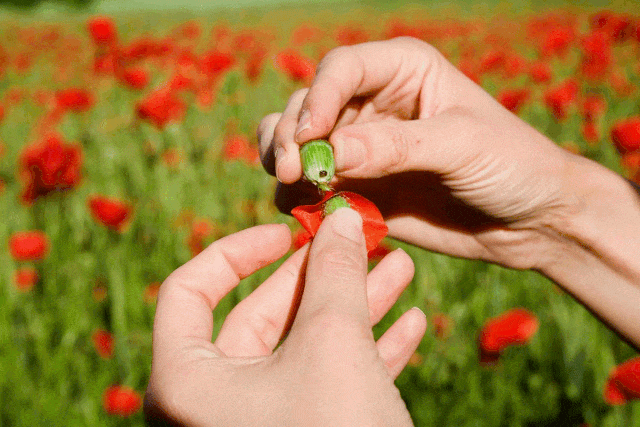 Now simply attach the "head" to the "neck" by pushing the stem of the unopened poppy bud into the hole in the bottom of the seed-pod.
We're almost done!
---
Step 5 - Unfold the silky garment:
 
This is probably the most satisfying part. Carefully open the the bud along it's natural crease and gently help the petals inside unfold in order to reveal a fancy red dress, silky and smooth to the touch.
---
And this is what you'll get: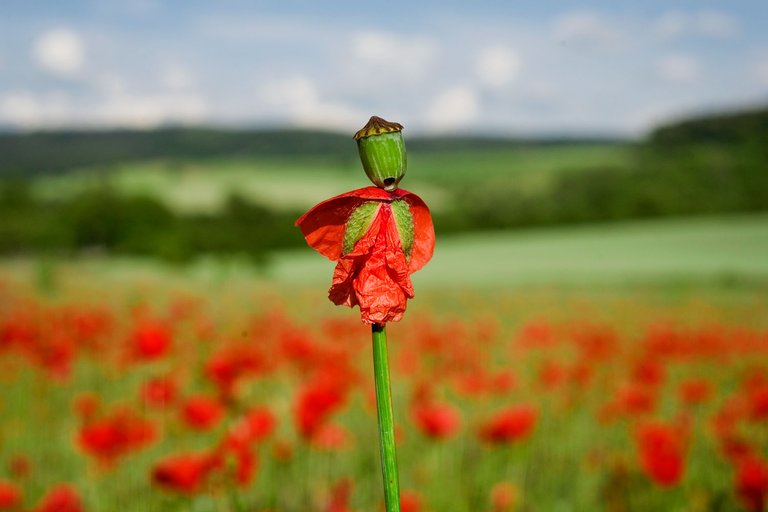 It's playtime! Let your imagination run wild and go on an adventure. Put your poppy puppet super hero on a stem and let her fly high up into the sky.
But of course, there's one final improvement that we can make. Because everything is better with... Yeah, I know I'm repeating myself, that's how mantras work...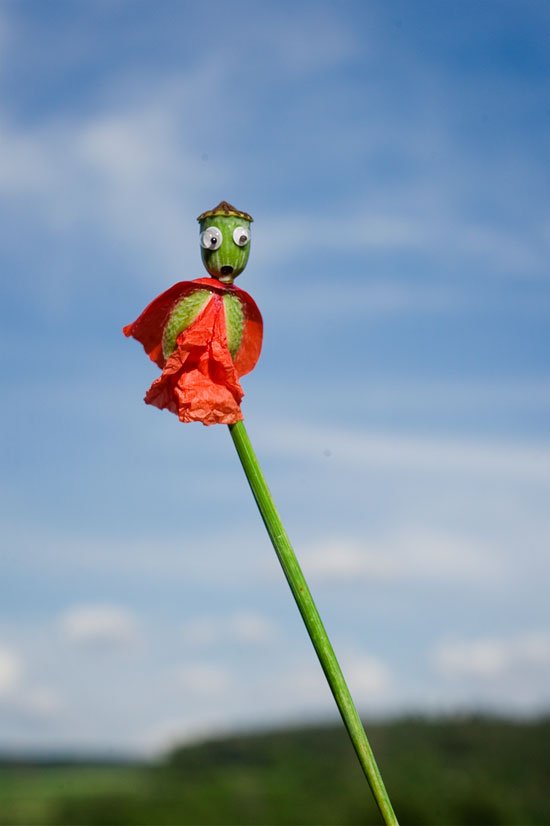 Weeeeeeeeeeee!!!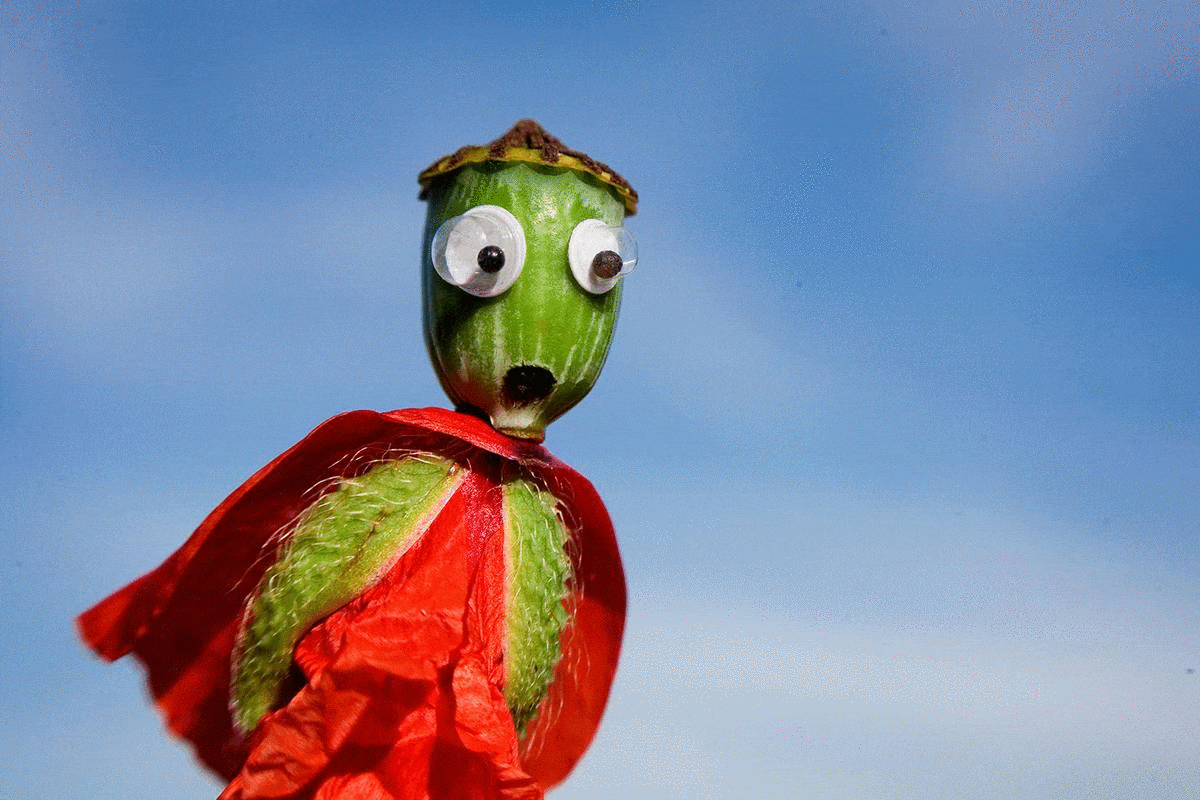 ---
everything is better with #GooglyEyes
child hood memories and super heroes, too
---