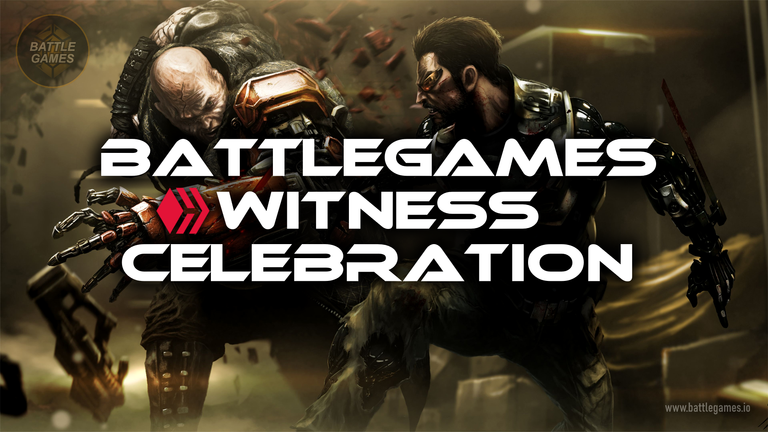 It's LootFest Time! Go Go Go! 🎁
How to Play: You have 24 hours to simply drop a comment down below to let us know which Hive Blockchain Games you play. All comments are entered into a random draw for the following prizes down below..
This giveaway is part of our Battlegames Witness Celebration Bonanza! 🏆 If you haven't already, you can catch our witness announcement post here.
Giveaway #2 Prizes:
Exode Triple Origen starter pack + 2 boosters
Exode Triple Origen starter pack + 2 boosters
Exode Single Origin Starter + 2 Boosters
Exode Single Origin Starter + 2 Boosters
Rising Star Booster pack
Rising Star Booster pack
Rising Star Booster pack
Rising Star Booster pack
Rising Star Booster pack
1 dCity restaurant NFT Asset
500 SIM Tokens
4 Splinterlands cards
---
Our Celebration Sponsors

dCity is city simulation game where players manage real in-game city assets in order to maximize their city's full potential. Players are able to climb the latter and earn HIVE by increasing population, or earn SIM tokens by putting your citizens to work and generating income.
dCity is on the verge of its first major update with loads of exciting new cards, new events, features, government, and a tech-tree! You can read up on the upcoming major update here. 🏦

Rising Star is a Free to Play music career simulator game, all you need to play is the Hive Keychain browser extension and you're good to go!
Rising star is a fun take on the life of an up and coming musician starting from the bottom and building up your fan base, playing bigger and better gigs, collecting instruments, band mates, and fans along the way. In game assets are ownable NFT's that can also be traded on a market. Quite possibly the best Hive idle game that is fully integrated with the chain. For more information you can checkout the Rising Star Discord server.

Exode is a space exploration and colonization game currently in development with a playable alpha release. The game mixes classic TCG elements and resource management in a unique way that brings an exciting new style of game play and asset ownership to the Hive Blockchain gaming scene.
Lead developer at Exode @elindos has been pushing out updates left right and centre at breakneck hyperdrive speeds in keeping with their roadmap and milestones. Pop into the Exode Discord server with any questions, the active and friendly CM's will be happy to show you around.
---
Please consider voting our witness to support Hive Blockchain Gaming.
We believe fiercely that Hive can be one of the top destinations for blockchain gaming in the world, and we've made that our mission.

---
️ Follow @battlegames for Gaming News, Curation, and Community.
---
---