We opened the windows today and cut the air conditioning, which means the growing season is winding down. It was the smallest and lowest yielding garden since we moved here, and we are not doing a fall garden for the first time. At planting time in the spring, we started a business and had a baby so we have had our hands full. So while we round up the last tomatoes and beans we are planning for next year.
Native flower garden using the sheet composting method
In the spring, I cut down a loblolly pine that had died. I used the logs for bordering the chicken run, but the branches I left lying where they stood because I promised my wife a native flower for the front yard. We are using the sheet composting method (also called lasagna gardening) to put in this bed. This no-till method is my favorite. It uses time and trash, rather than a rotary tiller and back-breaking labor, to start a new plot. You can start a garden on sod or on already tilled soil.
Burning
Over the summer, I burned small patches of branches and thin-walled cardboard (e.g., cereal boxes) to clear the weeds and fescue grass. Since this area borders a large section of pines, I did not want to start a fire so I burned cautiously. Besides debulking the weeds, burning leaves a nice layer of ash which is helpful at reducing soil acidity (like liming) which is a must with our clay soil.
Light suppression
With cardboard I received from the shipping department at a healthcare facility, I laid down a double layer of thick-walled cardboard. This is a really important step, so don't skimp on the cardboard. I used to take off the labels and tape. Now I just find relatively clean, free cardboard and lay it down with the packaging tape intact.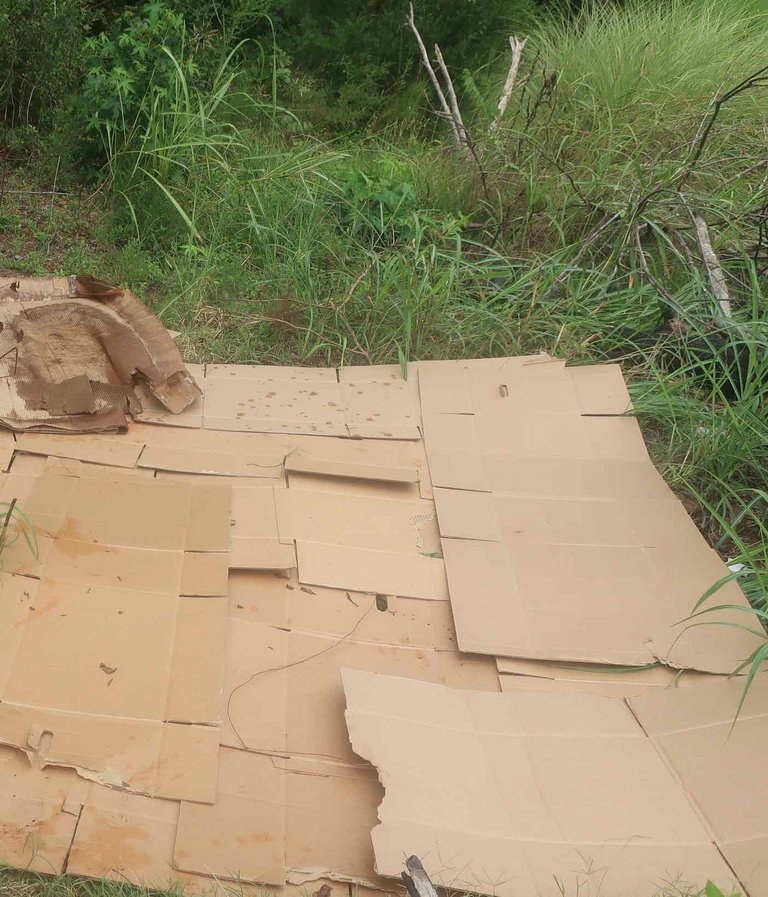 I will burn the remainder of the plot in the background over the next two months
Capping the cardboard
To hold the light suppression barrier in place, I laid down a combination of coffee grinds and pine shavings/chick crumble from starting a dozen chickens this year. The coffee grinds I get from Starbucks. I don't patronize that place, but I am happy to take the grinds off their hands and out of the dumpster.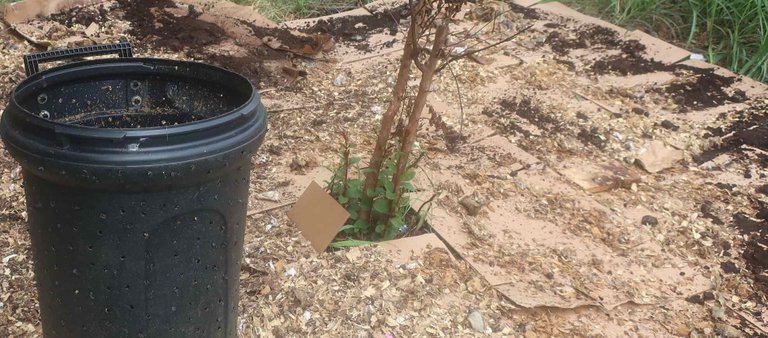 Cap to hold the cardboard with my DIY tumbling composter in the foreground
Adding carbon
While this current design would suppress weeds, you will not develop a lot of organic material. In addition, the combination of chicken poop and wasted chick feed will compost "hot" meaning it will disintegrate the cardboard quickly, probably before the winter. So we need to add more compostable materials, and more than 90% needs to be carbon materials.
Fortunately, we will start to see the leaves fall over the next couple months. I use many more leaves for mulching than my property produces so I spend the fall grabbing bags of leaves left on the curb. For the flower garden, I will shoot for 12-18 inches of leaves, which I will cap by more coffee grinds. I don't take bags of grass clippings since I don't know what chemicals folks use on their lawns.
Letting it cook and planting
I will wait until February or March for the sheet composting to "cook down" and then I will plant the native flower garden. With my trowel, I just dig right through the layers and put the plant in that particular hole. No other tilling or turning over is required. When I have finished planting, I cover the remaining layers with newspaper (at least 5 sheets) and some leaves and the garden will require minimal weeding for the season.
Looking ahead with positivity
It was the first year my children were involved in every aspect from starting the seeds, planting them through harvest. So while the actual yield in vegetables was small, our garden paid large dividends in cultivating their relationship with nature and food. Also, in the third year of our apple trees, this is the first year I still have foliage that survived rust blight and Japanese beetles so I am a proud hobbyist farmer. Now onto finishing the new chicken coop since those pullets are getting big.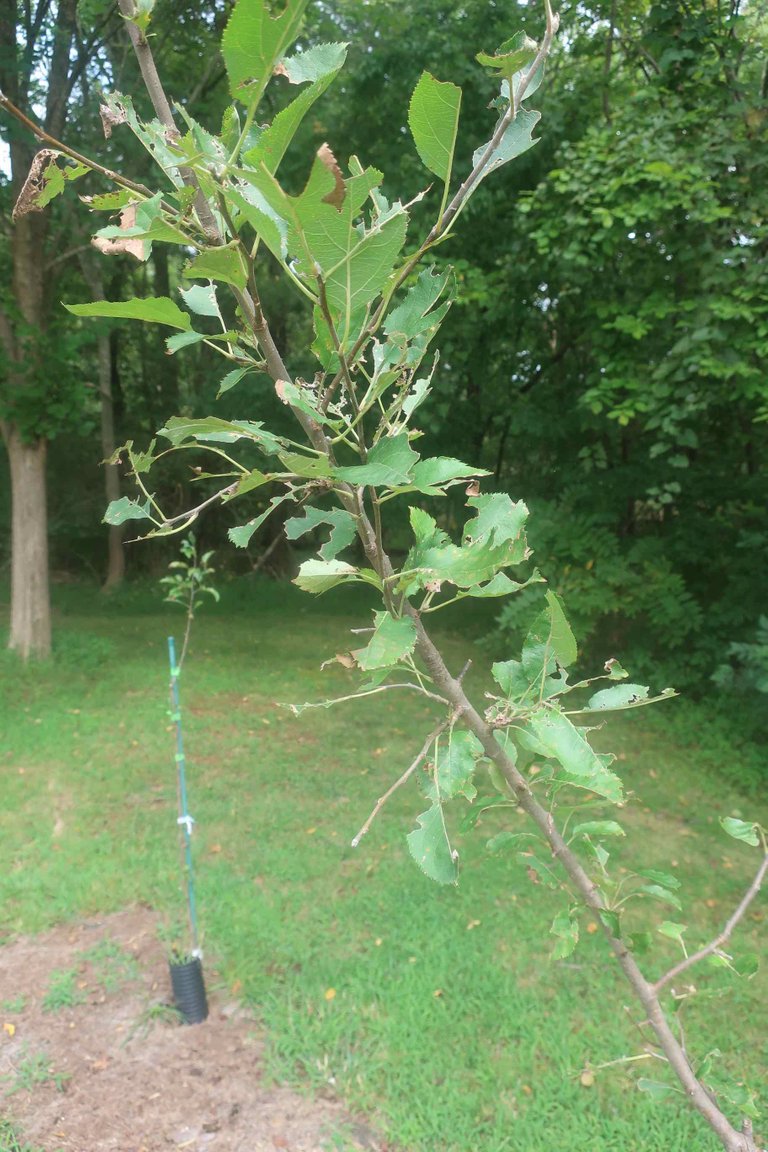 Wounded but alive apple trees, a metaphor for my life this growing season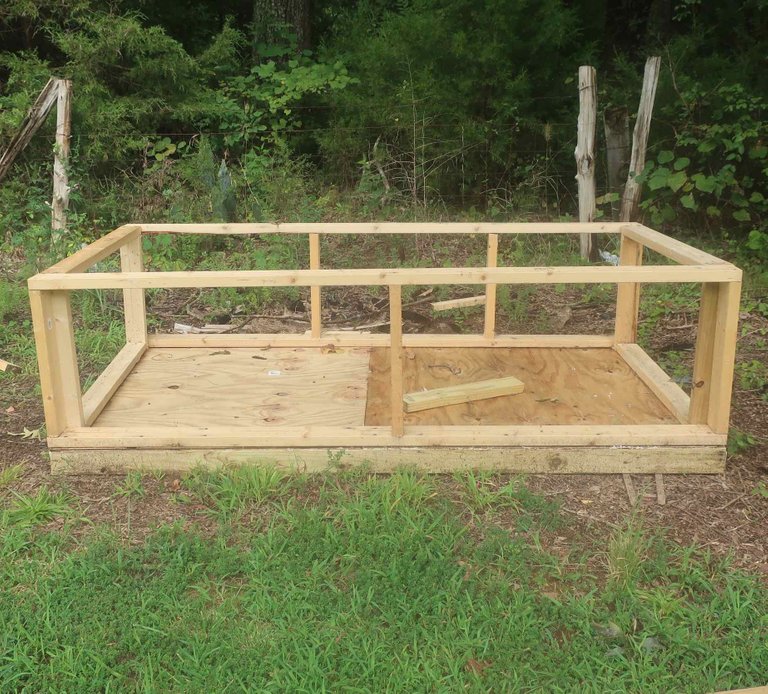 Chicken coop in progress; needs to be sheathed in and roof installed