This summer has been a great year in the gardens at Mountain Jewel. We're seen the effects of a wetter year and ever increasing fertility; our gardens are bursting with life. Our first season of growing in our high tunnel  has yielded hundred of pounds of cucumbers and tomatoes already. While our main focus is on perennial agriculture we no doubt grow plenty of annual crops. Some crops are of course hardier and more willing to thrive under neglect than others, and as such we're always open to feedback from the natural world to guide our gardening habits.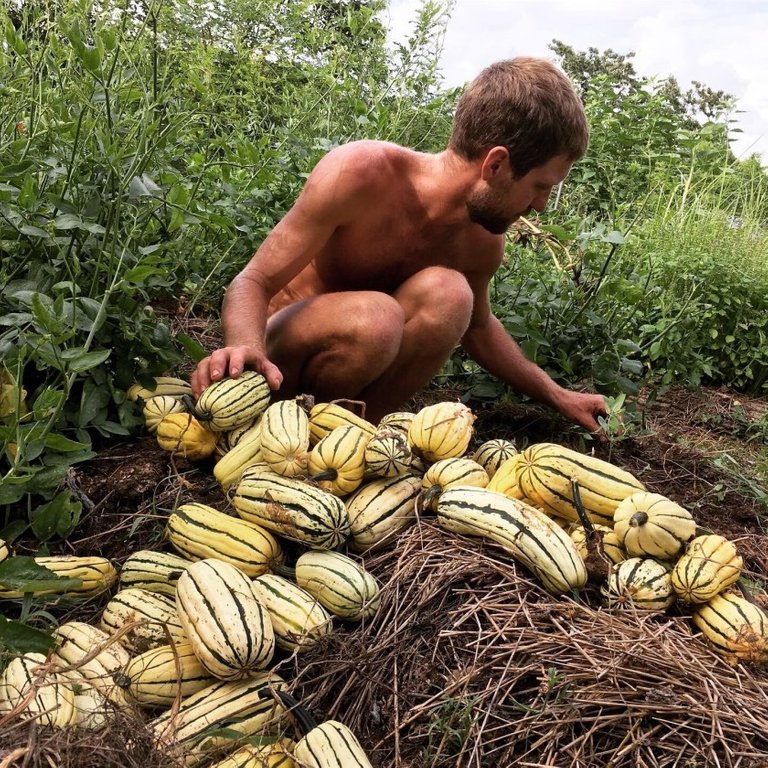 Ini with Delicata squash

Before moving here, folks told us we couldn't grow food in the rocky soil of the Ozarks. While the fertility and tilth of the soil didn't draw us here, claiming our food sovereignty is a major impetus for our lifestyle choices. We are keenly aware that with enough observation, experimentation and effort, food can be raised anywhere. Those who garden know there is always some element of uncertainty or struggle to deal with in the gardens, but what can we do to ensure high quality nutrient dense produce to feed our families and communities without being overtaxed?
We focus on feeding the soil food web and considering the life in the soil in our practices.  I'd like to share some insights and observations from the short time that Wren and I have made while raising food on our homestead. 

In years past we've seen hornworms defoliate dozens of tomato plants, cringed as squash began setting luscious fruit only to be killed by the toxic injections of squash bugs. Brassicas reduced to skeletons and so many plants struggling to get their needs met in dry low fertility soil.
We could baby some of the plants along, but we prefer to practice what Mark Shepard (a prominent force in restoration agriculture) dubbed S.T.U.N (Strategic Total Utter Neglect).
The point is is finding out what can survive and even thrive while being exposed to S.T.U.N. The next step is taking this feedback and putting it into action. 

This approach does not mean completely forgetting about plants, but rather creating conditions and choosing the right plants. This approach often means loss and while this can be hard after babying seedlings for weeks and seeing the succumb to this or that, but it also illustrates what works and how to shift efforts in the future. We're lost plenty of trees and countless veggies to this practice, but we're better off for it. 
Boysenberries thrive here. More, please!

In past years the only winter squash that yielded any fruits were the ones that volunteered in the compost pile. This year we've planted many squash family friends from a variety of species; moschata, maxima and pepo. Some of each have already succumbed to an early death due to squash bugs. What we did notice is that the plants that are least affected have the highest moisture and fertility and are notably more vigorous. By far the healthiest of all squash received the grey water from our outdoor kitchen.
What this tells me is that rather than laboring to exclude the bugs, applying natural pesticides or hand picking them, I can create better conditions for them, practice S.T.U.N. and hope to still gather a harvest without too much work. We are also experimenting with ranging chickens to see if they can knock populations down. 

We all know potatoes are a great way to grow a lot of calories with little effort. While we love our spuds, we diversify our staples by growing sunchokes and skirret that also provide delicious tubers. These plants not only thrive with little to no inputs, they also multiply year after year and provide beneficial insect forage and habitat. In fact they grow so well that you'll be up to your eyes in them before you know it. So choose the place to plant them wisely. 

While we're waiting for the hundreds of trees and shrubs we've planted on our land to start yielding, we have some time to dial in what works for our diet, our landscape and our labor budget.
Many of of brassicas got devoured this year, but the abundant wild greens offer nutrient dense fare with nearly zero effort. Plants like purslane, lambs quarter and chickweed have kept us in greens at times when our domestic crops failed or were between successions. Practicing S.T.U.N. is a lesson in letting go, but it is not a truly passive approach. Each time we lose a plant, we have a chance to learn more about its needs. It also allows us to take a step back and see if there's a better way to meet our needs as in the wild green example above. We are evolving with our gardens.
The indomitable purslane... thrives in any heat

I'm not afraid of hard work, although it's great when you realize that hard work isn't needed.
Lay a heavy layer of mulch and you'll soon forget about troubles with weeds (well mostly). Prioritize wild greens and encourage their spread and attending to finicky leafy crops may seem less important. Plant hardy and well adaptad tree species and in time you'll be glad you did. Plant more of everything than you think you'll need and be more OK with loss. Cultivating a thriving garden takes patience and hard place-based earned wisdom. It is a co-evolution- of soils, saved seeds, letting go of some endeavors and leaning more heavily into others. It's a wild journey that I'm glad we're on!
---
Posted from my blog with SteemPress : http://www.ozarkmountainjewel.com/2019/07/19/reflections-from-the-garden/
---