Hello, and welcome to my steem blog!
I think this might be my first garden post for this year.
So far, I've gotten 4 different seed catalogs for 2020. I get them because I've ordered seeds from that company in the past.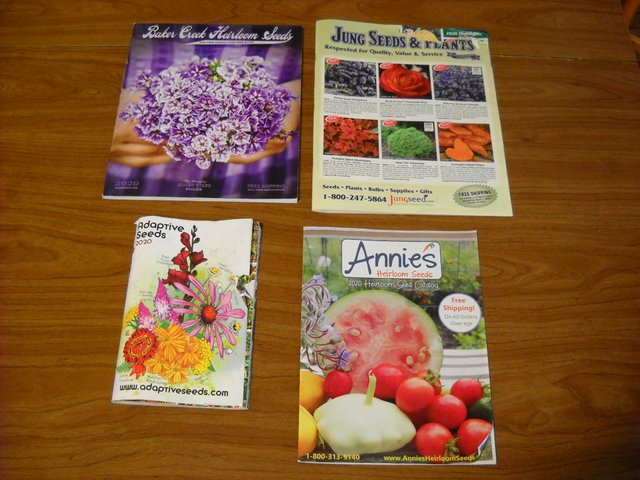 The first catalog is the Baker Creek Heirloom Seeds catalog.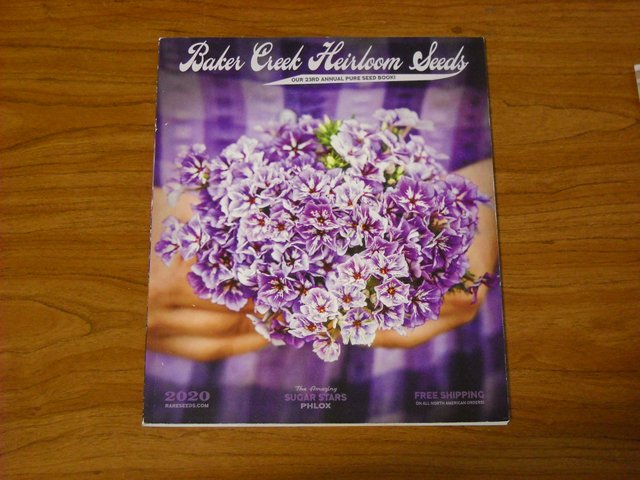 The Baker Creek catalog has a wide variety of heirloom seeds, both vegetable and flower seeds, from all around the world. If you're looking for something really unusual to grow this year, this catalog would be a good place to start. They have veggies that I've never heard of before seeing them in the catalog. This catalog is full of color pictures, and has 146 pages. I got this catalog because I ordered Painted Mountain corn from them.
The next catalog that I have is from Adaptive seeds.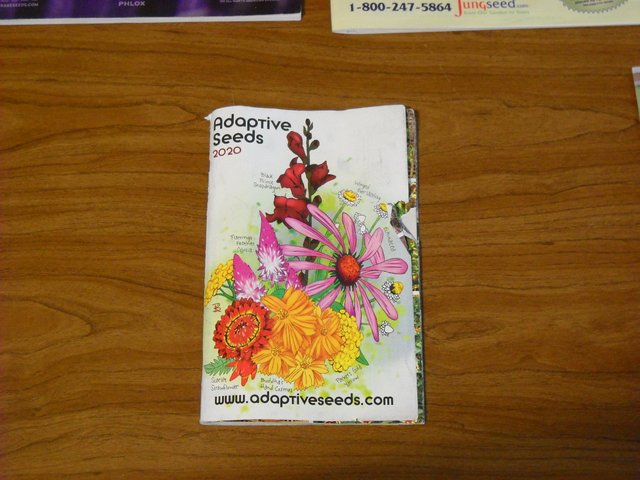 Adaptive Seeds is an Oregon based company that sells open pollinated and heirloom variety seeds that are adapted to the northern growing climate. They have a wide variety of both veggie and flower seeds. They also have some grain crop seeds as well. Their catalog doesn't have pictures in it, but it has good descriptions of what the seeds produce. This catalog has 148 pages. We got this catalog because we had ordered emmer wheat seeds from them a couple of years ago. I might order some sorghum seeds from this year to try.
The next catalog that I have is the Jung Seeds and Plants catalog.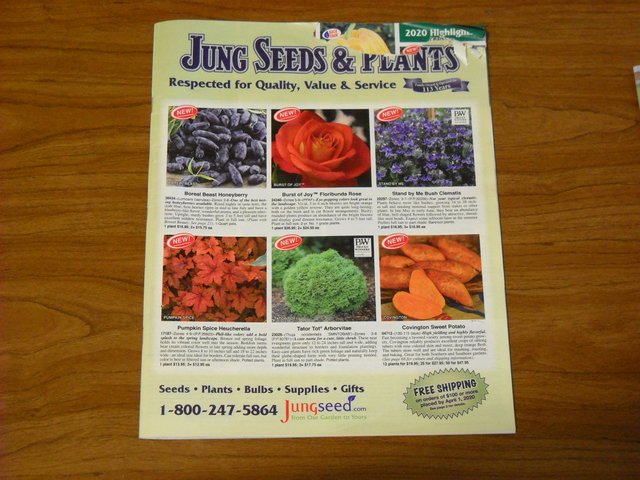 Probably a lot of people in the U.S. are familiar with Jung seeds and the Jung Seeds catalog, it's been around for a long time. Jung carries a wide variety of vegetable and flower seeds, both heirloom and hybrid, and it also has a variety of trees and bushes, and various berry plants that you can get from them. Another interesting thing about this catalog is that they have several pages of gardening stuff that you can get from them.


One of the things that I might order from them is a roll of red mulch film that I want to try for my tomato plants this growing season. I've read that the red color of the mulch sheet can enhance the growth and production of tomatoes and peppers, so I'd like to try it out. This catalog is large format, has all color pages, and has 99 pages. I'm actually not sure why we got this catalog, I think it may be because we're on a mailing list for catalogs. I don't mind that. :-)
The last catalog that I have to show you is the Annie's Heirloom Seeds catalog.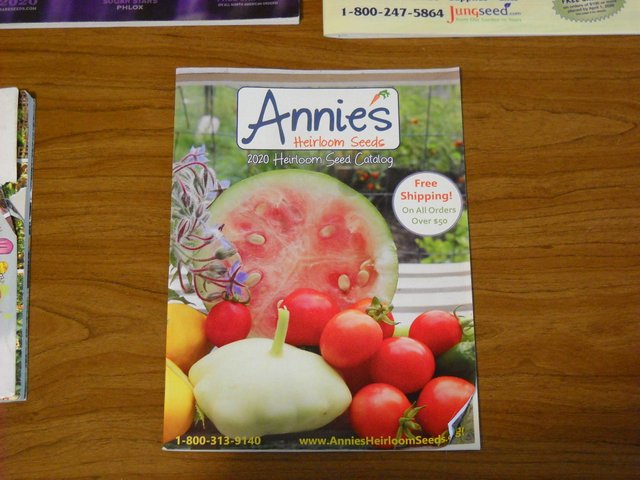 This is not the thickest catalog out there, it's large format, but it only has 54 pages. Still, it's probably my favorite catalog because of the varieties that they carry. I've ordered more seeds from this catalog than I have from the others. Their seeds are adapted for the upper great lakes region, they're based in Michigan. The catalog has quite a few pictures, and the usual descriptions for the seeds. This catalog is mostly vegetable seeds with a selection of flower and herb seeds in the back of the catalog.
I have a few packages from the seeds that I ordered from the catalogs in the past, 2 from Annie's and 1 from Baker Creek.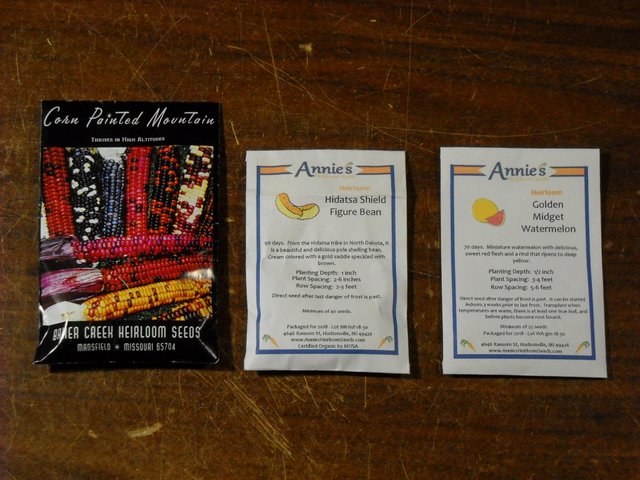 I've been growing the Painted Mountain corn for the past 2 years. It's an early season hardy field corn that is very good for flour, masa, and makes decent hominy. It's reported to have high nutritional value as compared to any of the modern commercial type field corn varieties, and it grows well in short season or higher altitude areas. It's not a sweet corn, but if picked early, in the milk stage, can be eaten the same way as sweet corn.
Hidatsa beans are my favorite dry bean to grow. This is the pole bean variety, there is also a bush variety that I haven't tried yet. I've grown them using the corn stalks as the poles for the vines by planting them next to the corn after it comes up. I've also grown them on a trellis. They do well either way as long as they get enough sun exposure.
I tried growing the midget watermelons in the greenhouse a couple of years ago, but they didn't get much pollination because the bees generally don't come into the greenhouse. I'm going to try them outside this year if the seeds are still good. I'll start them in the house and then put them outside when summer comes.
I haven't ordered my seeds for this year yet, I haven't decided what I want to grow this year, but I have some ideas. I'm going to be changing my corn type this year to Bloody Butcher heirloom field corn. We've grown that in the past, and it seems to make the best hominy for our use. A lot of the choices will be the same as last year, I usually always grow the same varieties of dry and green beans because they're dependable growers for me. I'll also get the Amish paste and Roma paste tomatoes because I have good luck with them. I'm going to try some different types of beefstake type tomatoes to see if I can get something less susceptible to blight. I'm not sure what else I'll grow, other than potatoes.
Well, that's it for this post, thanks for stopping by my blog to check it out!