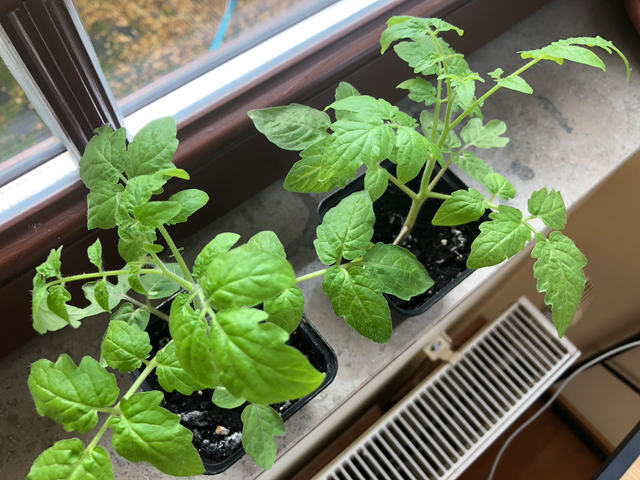 Few years ago, I read about an article about growing tomatoes indoor during winter. The idea to have own tomato in the winter time attracted me a lot.
I think it was this page. Somehow I remember the tomato photo with snow in the background.
How to grow indoor tomatoes - Tomato Dirt
It's warm inside house in Germany. The problem is that day time is too short and the sun light is too week. Grow lights can be an option but I don't like the color so much. So I hesitated to grow tomatoes indoor during winter.
But, this year I had chance to buy seeds of a compact tomato called "Polarnye", which is from Murmansk, Russia. Murmansk is away more north up on map than Leipzig. Yeah, it may be possible to grow it indoor in Germany. (I got to know the article above recommend cherry tomatoes instead of compact ones ........)
Deaflora - Tomate Polarnye (Samen)
I sowed two seeds and they grow slow but well on a window sill so far. I wonder I can harvest some tomato this winter :)
---
何年か前に冬に屋内でトマトを育てられるよという記事を読みました。多分この記事です。雪を背景にしたトマトの写真が記憶に残っています。
How to grow indoor tomatoes - Tomato Dirt
育てたい!と思ったものの、ここはドイツ。室内は暖かくても、冬の日照時間は極度に短くて日差しも弱いので、さすがに無理かなあと半ば諦めていました。
そんな中、この夏ロシアのムルマンスクのPolarnyeというコンパクトなトマトがあることを知り、食育プログラムで使えないかなと種を注文していしました。
Deaflora - Tomate Polarnye (Samen)
ムルマンスクを地図で見てみると、ライプチヒよりはるかに北で、これならドイツの冬でもなんとかなりそう??と種を2粒まいてみました。今の所無事育っています。
(冒頭で紹介した記事を読み直してみると、コンパクトなトマトよりもチェリートマトなんかの方がいいよと・・・でももう育っているし今年はこれで行ってみます。チェリートマトもまいてしまうかもしれません ;))
余談: Polarnyeの種を買ったDeaflora、いい種・植物屋さんなんですよ。。以前この種屋さんに苗を見に行ったことを書きました。