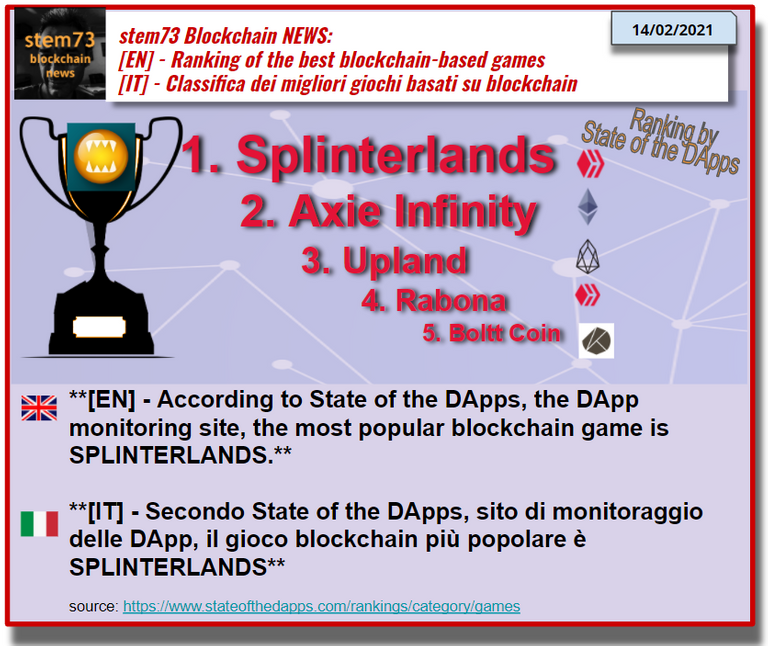 [EN] - According to State of the DApps, the DApp monitoring site, the most popular blockchain game is SPLINTERLANDS
[IT] - Secondo State of the DApps, sito di monitoraggio delle DApp, il gioco blockchain più popolare è SPLINTERLANDS
source: https://www.stateofthedapps.com/rankings/category/games
[EN] - My opinion
SPLINTERLANDS changed the game rueles a month ago. I struggled a bit to get used to According to State of the dapp, Splinterlands is the most popular of the blockchain-based games. The first and second place have remained unchanged for 4 months, that is Splinterlands and Axie infinity are respectively first and second from October 2020. However, we have a novelty in third place. Upland moves up from 5th place to 3rd place. Another novelty is Rabona which rises from 6th place to 4th place. Given the popularity of this game I expected this entry into the Top 5. Among the top 5 we have two games built on HIVE, one on Ethereum, one on Eos and the other on Klaytn.
Below is the ranking that goes from sixth to tenth place:
06-Cometh
07-CryptoBrewMaster
08-The Tap Platform
09-Sorare
10-Prospectors
Let's see where the two games I'm testing are, Gods Unchained and ChainZ Arena. Gods Unchained is in forty-first place, while ChainZ Arena is in forty-second place.
Among the top 10 most popular games built on the blockchain we have 4 games based on Ethereum, 3 based on HIVE, 2 on EOS and 1 on Klaytn.
This small analysis just made, shows how HIVE is also imposing itself in the gaming sector, in addition to that of blogging.
[IT] - Considerazioni personali
Secondo State of the dapp il Splinterlands è il più popolare tra i giochi basati su blockchain. Il primo ed il secondo posto rimangono invariati da ben 4 mesi, cioè Splinterlands e Axie infinity sono rispettivamente primo e secondo da Ottobre 2020. Abbiamo però una novità al terzo posto. Upland sale dal 5 posto al terzo posto. Altra novità è Rabona che sale dal 6 posto al 4 posto. Vista la popolarità di questo gioco mi aspettavo questo ingresso nella Top 5. Tra i primi 5 abbiamo due giochi costruiti su HIVE, uno su Ethereum, uno su Eos e l'altro su Klaytn.
Qui di seguito la classifica che va dal sesto l decimo posto:
06-Cometh
07-CryptoBrewMaster
08-The Tap Platform
09-Sorare
10-Prospectors
Andiamo a vedere dove sono i due giochi che sto testando, Gods Unchained e ChainZ Arena. Gods Unchained si trova al quarantunesimo posto, mentre ChainZ Arena è al quarantaduesimo posto.
Tra i primi 10 giochi più popolari costruiti sulla blockchain abbiamo 4 giochi basati su Ethereum, 3 basati su HIVE, 2 su EOS e 1 su Klaytn.
Questa piccola analisi appena fatta, fa capire come HIVE si stia imponendo anche nel settore del gaming, oltre a quello del blogging.