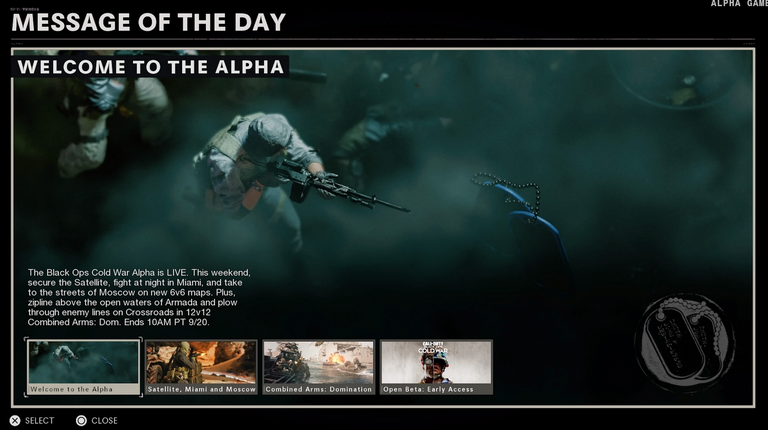 While most gamers have had their attention focused on the details of the Xbox and Playstation launches into the new generation of consoles, one of the events surprised many with an exclusive look for players into the new addition to the Call of Duty franchise, Black Ops Cold War. While details of the new game have already been circulating for a couple of weeks with some interesting marketing, the game used the PS5 Showcase to show a mission and also announce an exclusive PS4 Open Alpha for players last weekend.
It was only available for two days but my friends list was completely on the game as most are excited for the newest Treyarch take at the popular franchise. Even I was interested and it was able to get me off Destiny 2 which has once again consumed my time. However, I really did not stay too long because I found the Alpha a bit underwhelming. While I could definitely see the Treyarch side of the development, it felt a little slow and inconsistent. I was happy about seeing a good overall connection but everything else was ok.
The bigger maps of the new Combined Arms mode was not really fun as I felt that most of my time on the map was spent looking for the battles taking place around the map. I was also reminded by the issue of play spending more time in corners rather than discovering the map most of the time. My friends had split thought as some really liked it and other were aligned with me. However, we must consider that it was just an Alpha and improvements should come soon. The next time we get to try it is for the announced Beta early October so hopefully we get a different experience!

Discord: @newageinv#3174
Chat with me on Telegram: @NewAgeInv
Follow me on Twitter: @NAICrypto
The following are Affiliate or Referral links to communities that I am a part of and use often. Signing up through them would reward me for my effort in attracting users to them:
Start your collection of Splinterlands today at my referral link
Expand your blogging and engagement and earn in more cryptocurrencies with Publish0x! Sign up here!
The best new browser to protect your privacy while still being faster and safer. Try the Brave Browser today with my affiliate link here: https://brave.com/wdi876
DISCLAIMER: The information discussed here is intended to enable the community to know my opinions and discuss them. It is not intended as and does not constitute investment advice or legal or tax advice or an offer to sell any asset to any person or a solicitation of any person of any offer to purchase any asset. The information here should not be construed as any endorsement, recommendation or sponsorship of any company or asset by me. There are inherent risks in relying on, using or retrieving any information found here, and I urge you to make sure you understand these risks before relying on, using or retrieving any information here. You should evaluate the information made available here, and you should seek the advice of professionals, as appropriate, to evaluate any opinion, advice, product, service or other information; I do not guarantee the suitability or potential value of any particular investment or information source. I may invest or otherwise hold an interest in these assets that may be discussed here.