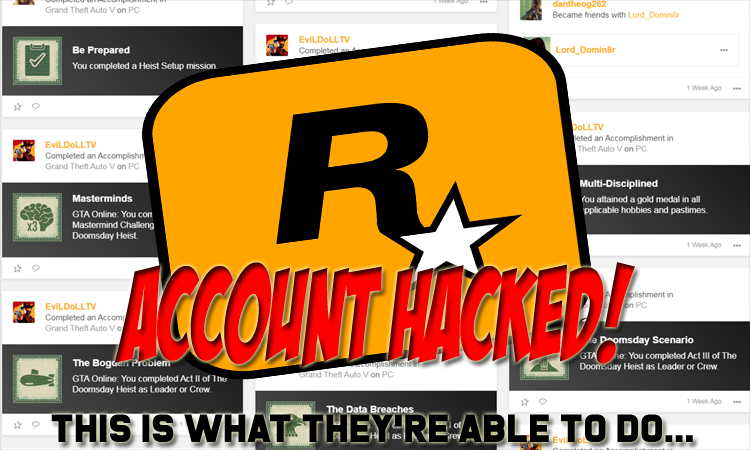 ---
9 days ago, my Rockstar account was hacked.
To be fair, my account was hacked before that. My account was actually hacked on 2019-11-16, but I wasn't aware of it until December 15.
I used to play GTA V online a long time ago but I didn't use my account until Red Dead Redemption 2 came out, so it was just lying there, with zero activity for more than a year. When RDRD2 came out, I was quick to buy it and I played it for about 2 days straight...
You see, I really like the game, but my computer can't handle it too well and I've always been more of a "competitive" guy, so I like to play games like CSGO and Apex instead of other games. I haven't finished a singleplayer game in years. No matter how amazing it is.
Anyhow, my friend asked me if I was up for some RDRD2 online, and even though I wasn't really in the mood for it, I agreed. I tried to login to my account but my password was wrong. I didn't care too much about that because it could easily have been me who forgot the password. So, I did this "lost password" thing, and was able to create a new password.
I logged in to my account and found tons of new friends, and my activity feed on the social club was extreme. My username was also changed. JailBreakXxX. Fitting name...
---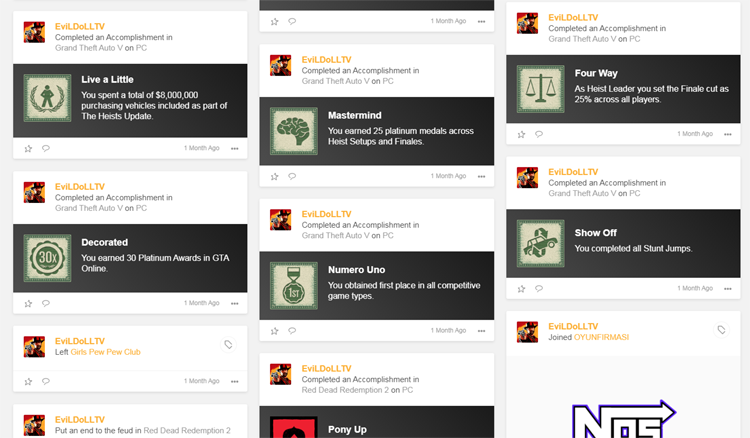 ---
I noticed a bunch of different accomplishments, new friends, messages etc. My activity feed was filled with stuff. The crazy part is that I actually played RDRD2 during the time this hacker-guy was using my account as well... But he didn't change my username until later.
Anyhow, when I realized this, I obviously sent the support a ticket immediately. I told them that my account had been hacked and that I wanted them to reset it, or delete all the activity on my account from 2019-11-16 and forward. I told them that "JailBreakXxX" had changed my username and played GTA V. I told them everything.
The first response was an automatic reply. It basically said that I would have to reply to their email, so they could make sure that I was the owner of the account. This is how they confirm my identity.
(Imagine my email being hacked too.. Bye bye account!)
Anyhow, I obviously replied and started to wait. It took them 7 days to write me back, and this is what they said:
---
Dec 22, 14:43 EST
Hello JailBreakXxX,
Thank you for writing to us back.
We have reviewed your account and we found that your email has been restored on the date you made your ticket to us. Therefore, we need not change it. However, as you said your nick name has been change as well we are glad that you inform us at the earliest in which we can secure the account to the rightful owner. In your next login you will find your nick name been restored. Hope you are enjoying our games.
Please do not hesitate to write to us.
Best regards
Zen M.
Rockstar Support
---
I didn't even pay much attention to what they said in their email, knowing they would simply restore my account so everything was fine.. Until I logged in.
I basically realized that they had done nothing at all. I went back to read the email again and quickly noticed how they just confirm changes I have made since I realized I had been hacked.
And oh, they did change my username, but they are still calling me "JailBreakXxX" when they email me...
So, I wrote them back:
Dec 22, 15:20 EST
Hello,
It seems like you did not change anything except for my username...?
Like I said in my ticket, I want to remove all activity AFTER 2019-11-16. I don't want to have all the achievements this hacker has gotten using my account and I don't want to have all the friends and all the messages he has sent using my account... Please remove all the activity on my account AFTER 2019-11-16 until the day you fix this.
I mean, I could probably have said something different, but despite spelling errors or whatever, they should at least be able to understand what I am talking about...
This time, it took them about 25 minutes to answer.. So that's pretty cool actually.
---
Dec 22, 15:56 EST
Hello JailBreakXxX,
Thank you for writing to us back.
As of your concern, we have restored your account such as, reverted your rank and Maze bank GTA$, however, we are unable to remove the friends in your account. But you need not worry about that. We will help you how to resolve it.
You need to get it done by yourself, i.e from your Social Club Account, just unfriend them and block them from messaging you. In order to keep yourself save from hackers further, please go with 2-step verification.
Please do not hesitate to write to us back.
Best regards
Zen M.
Rockstar support
---
Okay...
So I have to put in some work on my own. I need to block and remove all of these friends... Well, before doing anything at all, I had to ask them some more questions.
---
Dec 22, 17:54 EST
Thank you for the quick answer.
So, all the things I see on my "Activity feed" is actually gone, even though I can still see all of it?
What I mean is for instance:
(Showing a bunch of accomplishments)
I don't want any of these accomplishments in game and there are like 50 of them... I don't want them to show up on my activity feed either.
However, as long as all of that has been deleted in game, I am okay with having the announcements on my activity feed. Even though it's very awkward.
And yes, I will go with 2-step verification as soon as this is sorted out. Thanks!
---
This time, it took them a little longer to get back to me. It's also the first time they are using my real username, instead of the hackers. This is also the last response, as I have not replied since.
Dec 23, 16:58 EST
Hello EviLDoLLTV,
Thank you for getting back.
I sincerely like to apologies to you because we cannot restore you in-game activities. I did my best in restoring what we could. To clear claim, i would like to inform you that the accomplishments and achievements cannot be restored rather then you flip to new account. I hope you will enjoy our game.
In near future if you face any additional issue, please contact to us back.
Cheers
Zen M.
Rockstar Support
---
So, that's that. It doesn't seem like they can restore anything except for my username. They cannot delete accomplishments, or friends. They can't delete messages or anything on my activity feed.
Then, they tell me to "flip to new account". - What does that even mean?
No further information than that. No links, or any helpful information on how to do it. So they basically told me to delete, unfriend and block friends and messages myself... And they told me that they can't do anything about the in-game accomplishments either.
Is that really how customer support should handle things? Not handling anything at all...?
Am I supposed to "flip to a new account" and start from scratch again...? Like playing the games for the very first time? If so, how do I even "flip my account"?
Perhaps I am too harsh...
But I think the support sucks.