I have finally jumped into this game last week, and I am now having some fun with it. Check my last post about it here.
This is my city!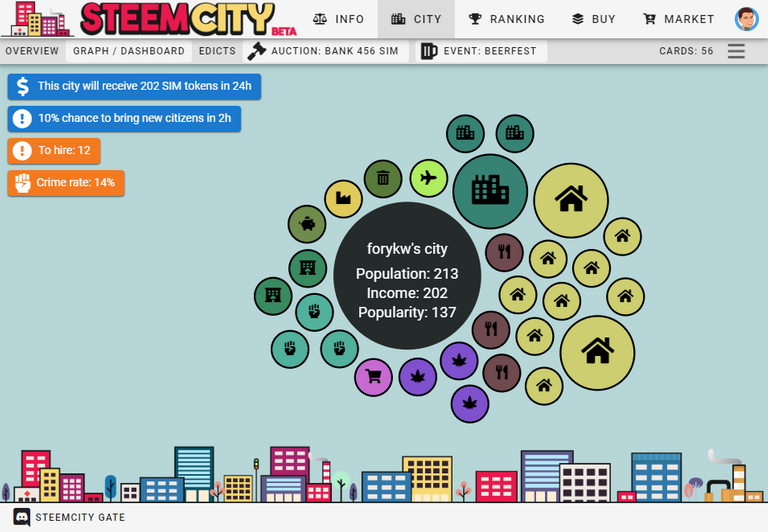 Quite a big jump from last week and this was basically a consequence of what I have seen so far from @gerber dedication. I think that when you are depositing as much effort like this on top of STEEM blockchain, then it's work investing, no doubt (save me from the latest dramas, please).
Hence I sold a couple of probably undervalued stuff I had, and funneled those into STEEM and then SteemCity. At least I am double joining efforts here. One side, by helping the growth of STEEM value and on the other with the value brought to this game.
Remember how did it look like before?
I had just started it... yes, miserable. But hey, this is just an example of you can become. There another way more powerful than this. In fact, if you check for example, themightyvolcano City, you will get 😱.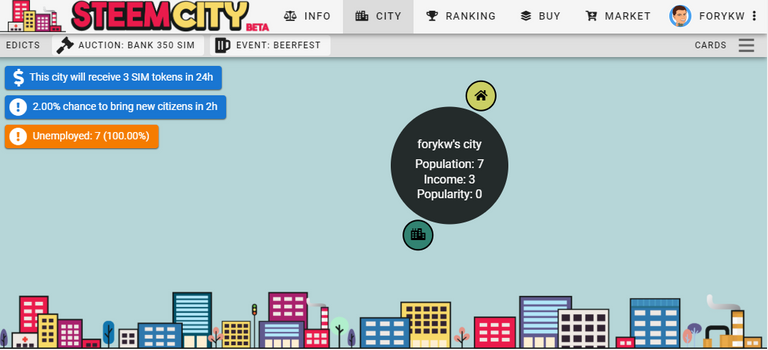 New Stuff I noticed from last week
(note that these could have been implemented before I actually knew)
Integration with SteemConnect (before I believe it was just Steem KeyChain)
Distributions of STEEM based on ranking by population (this actually happened last week, but I was just a tiny noob)
Dust card (to overcome the chain difficulties, let's put it this way)
City layout does not bundle in groups (bigger circles) when you have more than 10 together.
UI Improvements
What it's coming next?
Come and check it for yourself on the SteemCity Gate discord server.
But in a resume and from my own interpretation (will amend if wrong):
Government: (SIM Voting power) - based on holdings of SIM token, snapshot every 24h before rewards distribution, average from last 30 days. In addition, new mechanics to the game, including presidential elections, policy funding, and maybe more!
New Events
New Cards
Technologies Cards (NEW): Mined via Research Center building
And if even more, I will update ASAIK
Cooool stuff
In my view, the BEER token (by @detlev) introduction in the game is a super nice idea (more please @gerber). This is what I have envisioned for SMTs in fact. Cooperation and flowing everything within the STEEM blockchain harnesses the value brought to STEEM, inside of it, it is a natural behavior of how economies work.
The fact that you can also sell/buy cards on the market, is another example of this symbiosis.
Complementing this, you can also buy BEERs or SIMs on the Steem Engine market, or any other coins you wish to use to sell/buy stuff on the SteemCity market.
I will be buying some BEER for this Beerfest event
Especially after getting this:

This is probably one of the most appealing places to fight for (for now). Everyone will get weekly distributed rewards in STEEM by competing in population. Last time I just got an amazing amount of 9.588 STEEM. How crazy is that!
What can you help with?
Or "how" for that matter. I believe that trying the game out is the best way of helping to be honest. Things are evolving at a very rapid pace but @gerber is a human being "I believe" and might need some rest eventually. So, keep your eyes open and attempt to add value to this game, by reporting any inconsistencies you may find and if your mind made up something up you may think interesting, please dump it on the usual place.
If I am not mistaken this game is already in a "partnership" between a couple of other STEEM users. So they might be all good with "resources" for now. But keep your eyes sharp as WHEN this game explodes, there might be some need of assistance, I am guessing. And I only hope so, it will represent that people find the game very awesome like I find it so far.
More ideas?
For sure right, let's begin:
Ability to lease cards (I have not explained this one correctly last time @gerber): Simply, by assigning (similar to delegation) a card to a specific account in exchange of something per day (similar to leasing a card). This feature is highly desirable in my view. This is something parallel to the market and at current infrastructure, I can only see it happening on a daily basis when the SIM gets paid.
Defence(/attack) cards (long term shot in my view): This would be something to think about in the future I reckon when cities start playing against each other. Creating some cards to avoid being hit by other folks is just another level to add in the game strategy cycle. Yes, you guessed also, attack cards would be something nice too! =) Stealing some SIM! Yeah, why not! NUKES PLEASE! - that can create lots of dust! 😜
Link buildings feature: Again, similar to the stake protection system, the idea here would be to lock buildings in groups (not allowing you to sell anything inside of the group while locked) to generate special conditions, making building groups more strategic. For example, for each 3 police buildings connected, it will increase the income rate of that group by 10%. Or, if you get 10 factories staked together, you get a GigaFactory that boosts popularity to 100! LOL Stuff like this.
Probably more stuff... but my head also needs rest. And this might actually create more pain in @gerber head than probably comfort, but hey, can't help it. 😎😉😁
Thanks for the game @gerber!
Hopefully, this post will reach others that would love to start playing it too. I will keep testing it and doing what I like most, exploring and having fun.
---
Check these Cryptocurrency 💳Cards