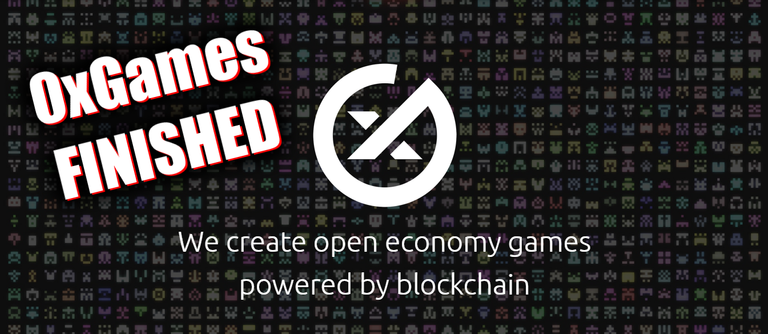 This morning I was pointed to this post from the 0xGames Team discussing their hard decision to shutter operations. Thank you @enjar for the tweet!
The 0xGames team offers a fair amount of detail into the reasons behind their decision to close shop and this is a learning opportunity for those in the industry. First of all I want to say that being good at businesses is hard, building a business model that can scale is no easy feat, and finding product market fit is something that the majority of entrepreneurs fail to achieve.
I don't doubt the 0xGames team will be back in some shape or form in the future and wish them all the luck in their next venture. That said I would like to highlight a few key points from their post that I think can be valuable lessons for future entrepreneurs in the blockchain gaming space.
Etherium Not a Viable Blockchain for Crypto Games
Ethereum blockchain is poorly suited for games
Surely this is something that a number of game development groups must be coming to terms with.
Ethereum is the darling child of crypto, with it's large and ambitious open source development communities how could this not be the blockchain to build games upon? The network simply can't scale, as a result it's too slow and expensive. One of the primary value adds of crypto gaming is asset ownership. As we know assets only have value if they can actually be exchanged.
It's too expensive to exchange assets on the Ethereum blockchain. Maybe this will change in a few years time, but that doesn't help those building games today.
Make It Easy To On-Board Game Develpors
We spent a lot of time connecting EOSIO, but failed to contact its developers and therefore did not receive support from them.
The 0xGames team recognized the short falls of Ethereum and we're slow to pivot to a multi blockchain interoperability model.
The problem appears to have been compounded by not reaching out to the EOSIO development team. I think it's important to point out that the 0xGames team is taking ownership of this issue and hasn't criticized the EOS group for this.
A good question may be does the EOSIO group have an easy to access development portal? If you're looking to potentially adopt their infrastructure is there an easy on-boarding process, an SDK, or robust documentation available?
I think this is an area that HIVE should consider pursuing. We've already suggested that an SDK should be built to allow streamlined adoption into a modern game engine.
The bottom line is, let's make it easy for game developers to discover and implement HIVE. This could be in the form of a dedication development on-boarding channel on the official HIVE discord, with a dedicated contact person to connect with. Streamline it!
TRON's Reputation as a Scam
Then we connected Tron, the developers of which were quite friendly at first and promised both marketing and financial support. But in the end, the Tron team turned out to be scammers – marketing support was minimal, and they still owe us money.
TRON is a trap involving a group of scammers.
Sorry you had to find this out the hard way, as many people have. Again I think it's important to note that the 0xGames team is making a point of letting people know they feel they were taken advantage of and ripped off by the TRON group.
TRON has a reputation as being mostly scam project and for this reason we have steered clear of Dapps built on TRON and ran far away from STEEM when it was purchased by Justin Sun and the TRON foundation. Run,..run far away.
Game developers, you have been officially warned by the 0xGames team that TRON is not a viable option for Dapp development.
ROI vs Marketing
But even worse was the fact that the audience of blockchain games did not grow as our investor expected.
From the sounds of it their investor was ok with the team focusing on marketing instead of first finding a model that produced ROI. The team found some marketing success but when they weren't able to generate ROI the investor got cold feet, can you blame them?
If you don't have a model that generates ROI why would you attempt to scale, they had this backwards, thanks in part to the influence of their investor that encouraged this behavior.
As a result when the marketing results dry up for any number of reasons the team is left worse off. Money has been spent, growth isn't being achieved, and you still don't have a business model that can generate ROI. At this point you're really up shits creek without a paddle.
First find product market fit with a product and model that can generate ROI, then scale it. In that order. But like I said earlier business is hard and I don't pretend to be an expert or make this sound easy because it's not.
On the plus side this tells me that crypto games need marketing opportunities and audiences to connect with and this can't be ignored. When a game is ready to scale it needs networks available to connect with it's target audience.
This is the avenue that Battlegames is pursuing. Currently we have a dedicated Hive blog, a Publish0x blog, a Youtube Channel, and our https://hiveblockchaingaming.com website. In addition to this I am pivoting my Hi5's twitter account to focus on blockchain gaming and am now sharing administrative duties with the Hive Blockchain Gaming telegram account.
As a community we believe fiercely in gaming as a blockchain use case and look forward to helping blockchain games connect with a larger audience and grow their user base. 👊
---
💖 Kindly Vote our Witness Here With Hivesigner, Every Vote Counts!
---
🕹️ Follow @battlegames for Gaming News, Curation, and Community.
---
---