dCity Releases the ProGamer NFT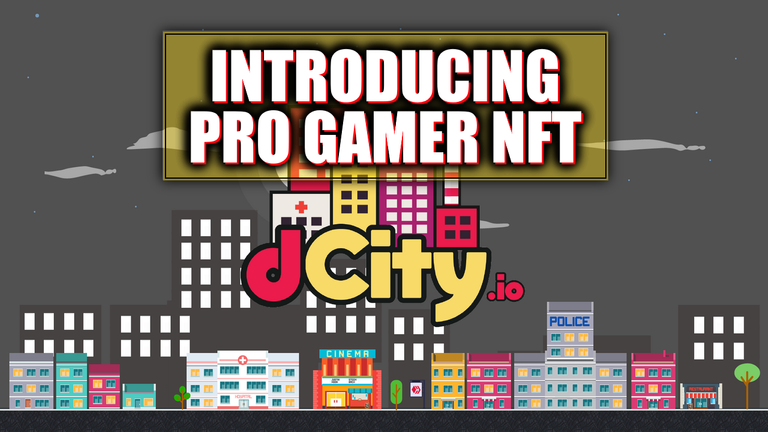 The first dCity ProGamer NFT has been purchased by @thegoliath in a tightly contested auction held only hours ago! You can catch the results and latest bids in the dCity Discord server 🔥
The ProGamer
Here's a peak at the newly revealed dCity NFT: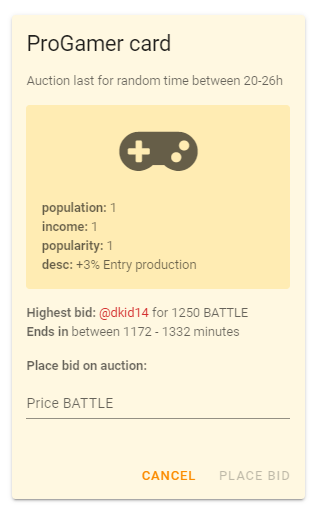 Apx once per day the ProGamer will be awarded to the highest bidder.
Each ProGamer provides a +1 boost to Popularity, Income, and of course population. But as a BONUS it also provides players with a 3% boost to ENTRY token production!! 🎮
After all this is a ProGamer we're talking about, and they want into those dCity Splinterlands tournaments.. The ProGamer NFT goes hard to work helping you mine ENTRY.
How to Bid on the ProGamer

Visit dCity.io and click on the AUCTIONS tab in the main menu bar. From here you are able to bid exclusively with the BATTLE token.
Enter the number of BATTLE tokens you are willing to bid then keep track of the highest bid in the dCity Discord server.
If you are outbid your BATTLE tokens will be refunded to you. BATTLE collected by dCity for winning bids will be burnt.
Thank You
Thank you to lead dev and game designer @gerber for incorporated our community token into the wildly popular Hive Blockchain game dCity 🙏 Special thanks also to current dCity President @ecoinstant who helped craft the concept for the ProGamer NFT.
Tag #battle to Earn BATTLE
It's that easy! When you blog about gaming like playing dCity or any game for that matter make sure to use the tag #battle. Doing this will make your gaming content visible to community curators who will vote on your content earning you BATTLE and HIVE plus a number of other tokens such as LEO, ARCHON, NEOXAG, PAL, etc.
Our main curation account @battlegames votes with 100k staked BATTLE and 12k staked HIVE + other coins, so make sure to tag #battle on your gaming content!
---
💖 Kindly Vote our Witness Here With Hivesigner, Every Vote Counts!
---
🕹️ Follow @battlegames for Gaming News, Curation, and Community.
---
---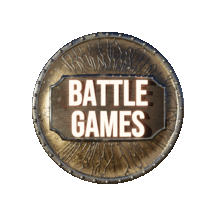 ---
---