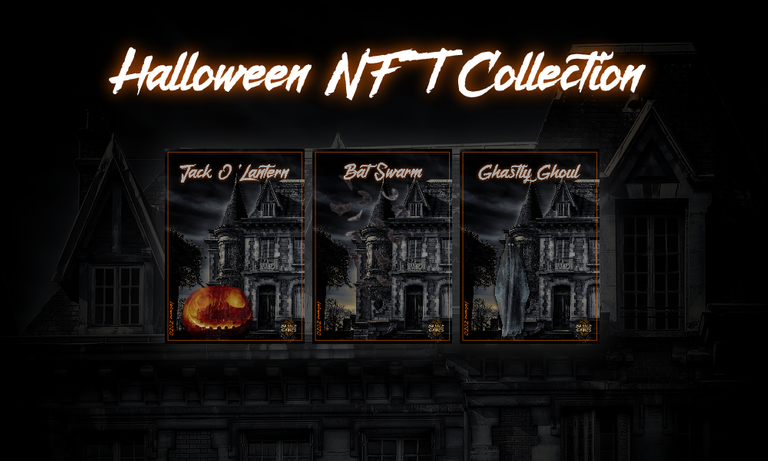 Our Halloween NFT collection is here and features 3 unique cards; The Jack O'Lantern, Bat Swarm, and the Ghastly Ghoul. Together they make up this spooky digital collectible card set.
Only 100 of each card will ever be minted, and they can be yours for FREE!
Halloween Collection Airdrop
To receive your Halloween set all you have to do is either drop your WAX wallet address in a comment below or participate in one of our Discord giveaways over the next week!
Airdrop will take place Sunday, Nov 1st, 11:59pm EDT - after which point any remaining unclaimed cards will be burnt.

WAX wallet addresses commented below will receive this 3 card set while supplies last.
This digital collectible NFT set lives on the WAX blockchain and can be seen here. These digital assets can be traded and sold on the Atomic Asset Market, or even burnt to reduce supply.
If you don't have a WAX account not to worry. You can easily create a WAX Cloud Wallet account in seconds using your Google login.
Future Airdrops
Holding a Battlegames NFT in your wallet will give you exclusive access to future Airdrops. Our way of thanking the blockchain gaming and NFT community for your continued support over the past year plus. In compliance with Atomic Hub guidelines our NFT's are never airdropped into accounts that haven't demonstrated prior interest in receiving our drops.
Artists
If you're an illustrator interested in publishing digital collectibles let us know! We're looking to work with a few talented artists as we dive deeper into the NFT collectibles space. You can connect with us through our Discord here.
---

25% of All Account Rewards Distributed To Delegators!
Read about our Delegation Rewards Pool program here, and how you can earn by delegating to @battegames!
You can help us reach our goal of curating gaming content with 15,000 HIVE Power!
100HP | 250HP | 500HP | 1000HP | 2000HP | 5000HP
Big thank you to our current delegators 👊
---
---
🕹️ Follow @battlegames for Gaming News, Curation, and Community.
---
---