Playing on STEEM has now A City Game!
Yes indeed. I am myself a fan of SimCity, therefore for me, this one is a must-try one. Still developing like any other blockchain game. But looking for supporters to try it and talk about it for sure.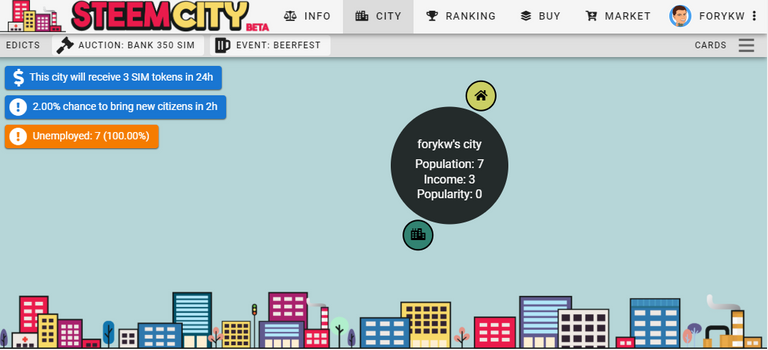 I have got my mild two houses and will be grabbing some more STEEM to buy cards (the best way to get great stuff in my view).
Login options?
Currently only using STEEM Key Chain (available as a browser plugin). But later it might become more broad to basically onboard more users.
Hey, why can't this have a sort of standardized webish view and work on @esteemapp for example? Its a no brainier into the adoption thing.
Basically, what keychain is on the browser for this, @esteemapp (for example) could just be "the keychain" for this same game, allowing you to "play the game" within the app.
It's not simple I know that. Just throwing the idea of standardized development frameworks. So that any app developer could easily support anyone's app. Something alike what @openseed is trying to do.
Critic
The game logic is great. I love SIM City kind of games. Especially ON CRYPTO! But, the joy of gaming goes way beyond that. We need more visuals, like @splinterlands or Prospectors in EOS/WAX blockchain.
User interaction
One of the best gamification factors of software is communication. How people interact with each other. If I am "for example" able to just send my workers to another city and host some other cities people, then we have a "business" right?
Let me know if you got my click @steemcitysim!
Buying options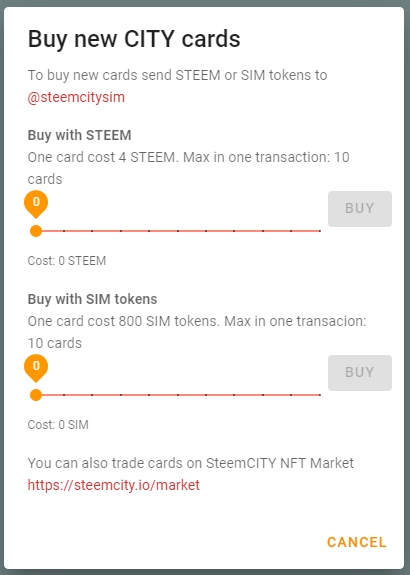 I was blasted by the fact that this could just simply use other STEEM market tokens to create a whole new economy about the game.
I value that effort and feature. Next? Cross-chain stuff... right! LOL
Please make STEEM and STEEMP more clear within the app. Also, automatic converting options, from and to SIM.
More strategy options...
I have like a ton of ideas for CITY type games. I have played SIM City 1, 2, 3, 4 and... all of them...
It comes naturally now. Especially with what I know now with blockchain.
MORE Interaction
Users get attracted to interaction. If you bring user behaviour into the app, then you get adopters bang, just right there. Imagine something as simple as moving workers to different places and getting different "work" strategies.
Ok... even more, killing a worker? (avoiding a virus spread life!) I am not kidding... There are basically endless ideas of designs. The gamification managers or product designers CAN never have anything to say... otherwise, fire them! Hire me! LOL Probably almost for free if for the fun and experience I usually like to trade-in.
Overall Outlook
I think and HOPE this one will stay for granted... around for many years. I deeply believe in the gamification of gaming INdustries... Both users and manufacturers need to adapt to the NEW here.
Play it on!
Any questions, let me know. Especially for the ones not understanding about STEEM Keychain.
Need a Crypto 💳card?
I have had quite an experience so far about cards and banks providing support for them. One thing I can tell you. It's not easy peasy to catch the right one for you. But to avoid everyone having to do the same, I sometimes write about them. Check my own posts and the links below.
Many of them (if not all) have a referral bonus. Be sure to read the technicality of how you can get the bonus (or ask me about it) before going in. So that you get from them the present at the same time the nice experience.
YOU SHALL NOT⛔PASS!
That's my saying from Lord of the Rings to the COV'19 folks. Stay safe, self isolate and work your hygiene very hard.
---
Check these Cryptocurrency 💳Cards