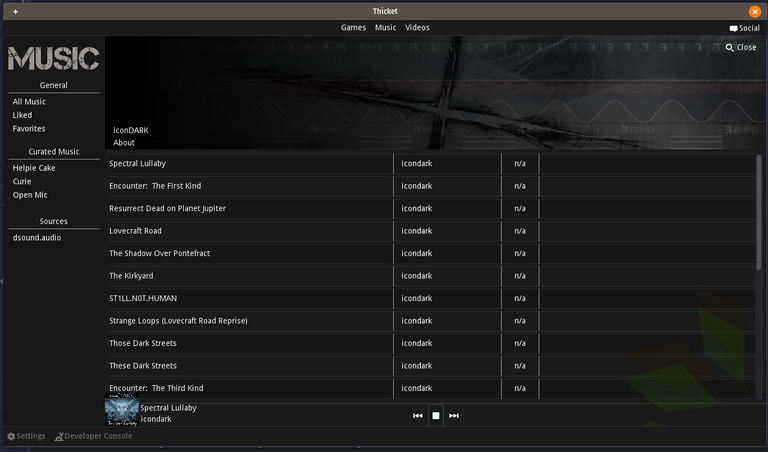 Thicket Music View (Artist)
Thicket - Music Update
---
Artist Search View:
As a part of the MVP the ability to search for an artist via STEEM was on the list. This displays the tracks that could be cataloged and verified by the OpenSeed server.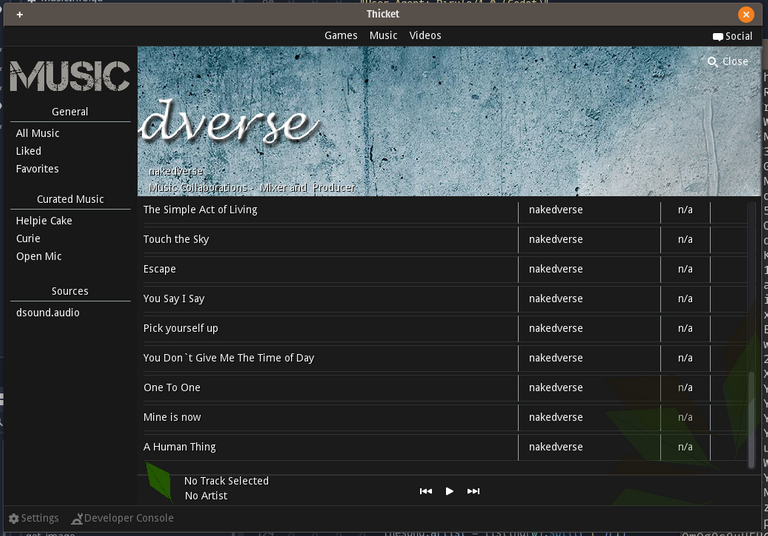 ---
Search:
Currently only artist searches are allowed. Once activated, the search finds as many tracks as possible linked to the search critiera (if any) and begins to fetch and record them on the main OpenSeed server via IPFS. If the IPFS link is dead the listing is not returned. This ensures every link visible will work and will continue to work as long as the project is alive. The server will also act as a backup server for dsound (the only source that uses STEEM I know about) which should improve the playback on their site as well. We're in this together after all!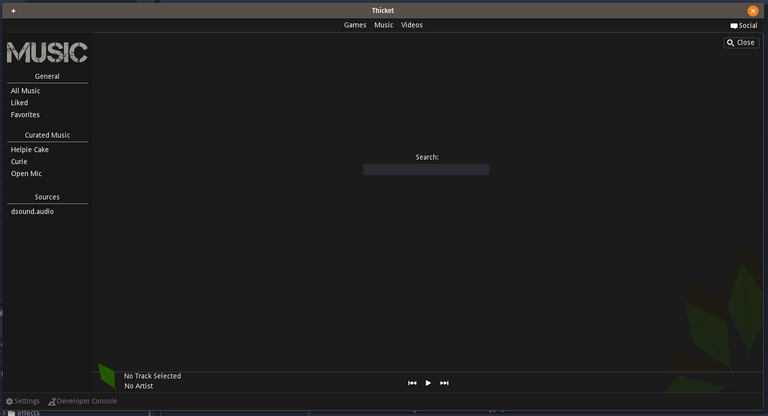 New Search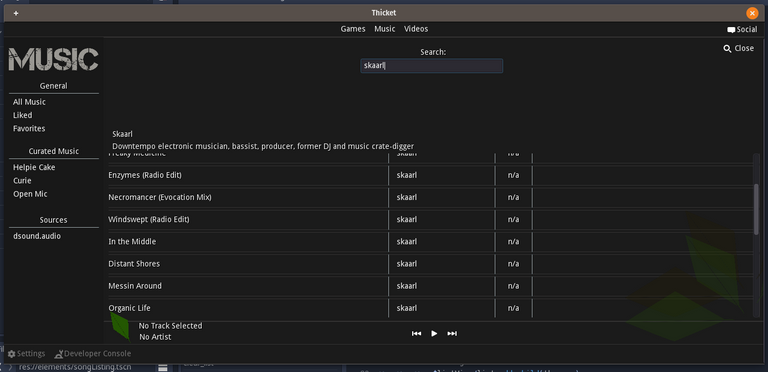 Search Return
Note: There is a slight lag when the search is first run as its looking for new tracks. I hope to hide that behind some sort of animation when the project is more stable.
---
Less visual updates:
Controls all work as needed. Play, Stop, Previous,Next.
Continuous play after track completes (continues down play list)
Better handling of tracks that haven't been cached yet but are set to play
General networking improvements
Default window size is now set to 1360x760 which "should" fit within the format on low end laptops. Enables track post to show at all times. (See Below)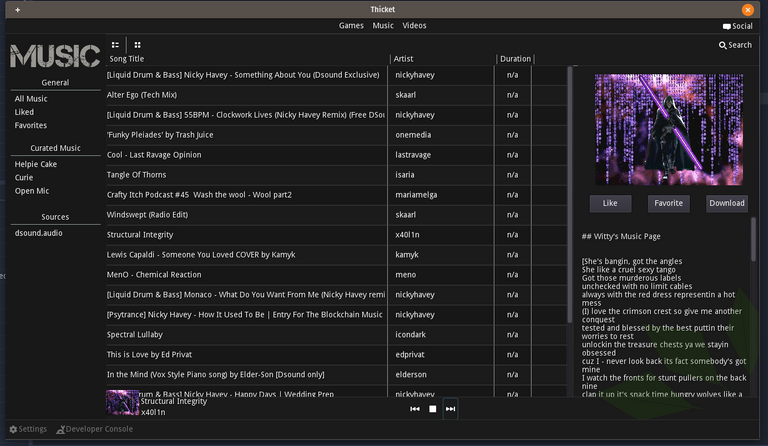 Okay this one is visual too, but not as noticeable unless you are using the application
---
Road to MVP
Not a bad amount of updates for only 3 days since the last post (check it out). For those keeping score.
Gaming
Game Developer setup
New Game dialog and initial upload of content
Payment dialog functioning
Downloading of content is reliable and maintainable.
Music
Searching for musician via STEEM account
More interface tweaks to make sure it behaves as expected
Playlists (needs an interface to create them)
Payment dialog
---
I would like to say thank you to @helpiecake for curating the list I've been using to build the application. I would also like to thank all the musicians on that curated list (@nickyhavey,@skaarl,@meno,@onemedia,@lastravage,@isaria,@mariamegla,@x40l1n,@kamk,@icondark,@edprivat,@elderson,@nakedverse) for making development a musical treat.
Also, though it wont be an amazing amout, 20% of the rewards from this post will go to the @dsound account because you guys rock, and I hope that whatever comes of this project that it helps everyone from the artists to the providers.
I currently have a proposal on the proposal system. Which you can find here along with others hoping to fund their projects. Thank you in advance for your support.